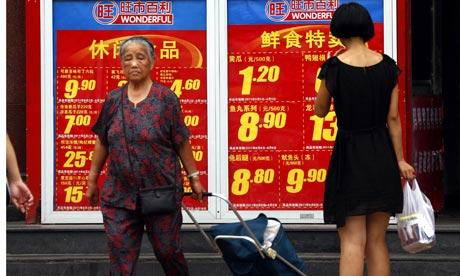 The Chinese economy is likely to replace the United States of America as the world's superpower by 2030, said Arvind Subramanian, the country's chief economic advisor, here on Monday.
He said the recent slowdown in the Chinese economy was unlikely to disturb that country's economic ascendancy.

"I am not surprised that China is slowing down. . . the richer you are the slower you grow," he said.
Subramanian was speaking at a lecture titled 'Eclipse: Living in the shadows of China's economic dominance', organised by the Institute of Chinese Studies.
He reasoned that China's rich resources, political will and a deep desire for stability would ensure that the Chinese economy returns to stability.
Earlier last month, the Chinese stock-markets registered sharp fall after the Chinese government devalued its currency, following slowdown in exports and low gross domestic product or GDP growth.
Subramanian argued even if China's economy grew at five per cent annually, it would still overtake the US as the world's dominant power.
Subramanian saw the genesis of the present slowdown among three factors: First, he argued that the slowdown could be due to the fear of a bubble in the Chinese economy due to 'a real build-up in real-estate and credit sector'.
However, he said the Chinese had enough foreign reserves to contain any bubble burst.
Second, he argued the fall in growth could also be explained as a result of 'reshaping' of the Chinese economy: A shift from manufacturing towards services, and from investment to consumption.
Lastly, Subramanian said slowdown was likely, if the Chinese government was to reform its political system to make it more liberal.
The CEA also made a strong pitch for renminbi's entry into the International Monetary Fund's Special Drawing Rights.
"We have an unambiguous interest in the renminbi becoming a part of the international basket. . . Because as the Chinese currency becomes more international, China will have to open up its economy and it will be able to less manipulate its currency.
"So we have a strong stake in China's country getting internationalised."
Image: Earlier last month, the Chinese stock-markets registered sharp fall. Photograph: David Gray/Reuters