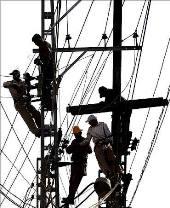 To bridge the demand and supply gap of power, the government has said it would take numerous steps, including monitoring the progress of on-going generation projects and import of coal by utilities.

Power Minister Veerappa Moily informed the Rajya Sabha, on Monday that steps are being taken by the government to bridge the gap between demand and supply of power in the country.

The steps include rigorous monitoring of capacity addition of the on-going generation projects and thrust on import of coal by utilities to meet the shortfall in fuel supplies to thermal power stations from indigenous sources, Moily said.

"Development of ultra mega power projects of 4,000 MW capacity each to reap benefits of economies of scale, advance planning of generation capacity addition for 12th plan, augmentation of domestic manufacturing capacity of power equipment through joint ventures," he said that these are some of the steps which are being taken by the government.

In order to optimally utilise power and reduce losses in transmission and distribution, the government is working towards strengthening of inter-state and inter-regional
transmission capacity for optimum utilisation of available power.
Moily said steps are being taken for strengthening of sub-transmission and distribution network as a major step towards loss reduction.
On being asked whether the government has decided to acquire overseas coal mines for thermal power projects, Moily said that the as per information state-run Coal India has decided to acquire coal resources abroad.
International Coal Ventures Ltd, a special purpose vehicle, has been set up by the government, which would work for acquisition of coal assets or mines or companies in overseas territories primarily to meet the current and the growing requirement of the promoter companies.
"The thrust areas of this overseas venture are to acquire thermal coal assets, undertake their exploration and development, operate the mines and finally import the fuel back home," he said.