'We don't trade with any business where we have specific concerns,' a De Beers spokesperson said.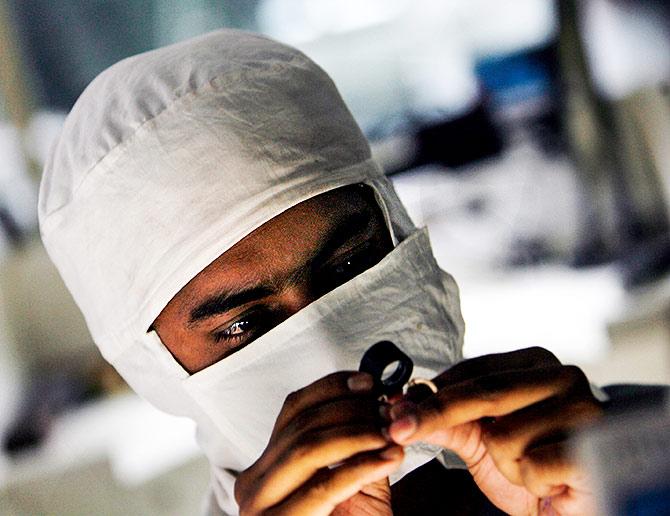 The world's leading diamond mining group, De Beers, has reduced its India "sight" or allocation for rough diamonds for February by around 10 per cent.
The involvement of big names, including Mehul Choksi of Gitanjali Gems and Nirav Modi, has made this company cautious, industry sources said. The industry is also cutting down on business ahead of the closing of the financial year, they added.
De Beers Group press office declined to give details of specific sights but responding to an email query regarding recent cases of frauds in the diamond industry, the spokesperson said, "We do not comment on individual businesses, but we require compliance with strict criteria at Global Sightholder Sales relating to financial propriety and industry reputation issues -- we don't trade with any business where we have specific concerns."
A leading sight-holder, however, said since a January sight had always been bigger, traditionally February was always lower. But he did not rule out further tightening of finances to the industry.
Sight-holders are an exclusive group of companies that have access to prime rough diamonds.
"Many processors have cut credit sales and businesses with buyers whose creditworthiness is weak," an executive with a leading Surat-based diamond company said. "However, for recovery, banks will have to worry more than private players since diamond is an industry where making payment adjustment abroad is frequent," he added.
"We hope any future precautionary measures should not hamper genuine diamond businesses since they do not use letters of credit or letters of undertaking, which were misused in recent cases," said Anoop Mehta, president, Mumbai-based Bharat Diamond Bourse, a diamond trading hub.
Many also fear that banks will now cut down on funds to the diamond industry.
"When banks set new limits for existing diamond clients for the next financial year they will see the impact," said a leading market player. "Those who want to genuinely increase their business and need more working capital may find it difficult."
To ensure greater financial transparency in the diamond industry, De Beers has taken several measures in the recent past.
Its spokesperson said that the measures include, "An annual consolidated financial statement expressed in IFRS or US GAAP, providing a clear understanding of a financial group structure, an unqualified audit opinion on financial statements from an approved auditor and the maintenance of a minimum debt-to-equity ratio."
De Beers spokesperson also said that compliance on these issue has to be continuous and all De Beers sight-holders are required to provide evidence that they meet these criteria in full for the accounting period starting on or after January 1, 2017, and to continue to meet them thereafter.
De Beers is expecting that audited financial statements will be submitted to us through the course of 2018 for sight-holders to prove their full compliance.
"The company reviews situation on a quarterly basis and in the event that roadmap milestones are not met by sight-holders, escalating sanctions are applied, which can include -- and have included -- the cessation of supply," said the spokesperson.
This means that in recent past company has discontinued sights in cases where their compliances have not been met.
Photograph: Arko Dutta/Reuters.