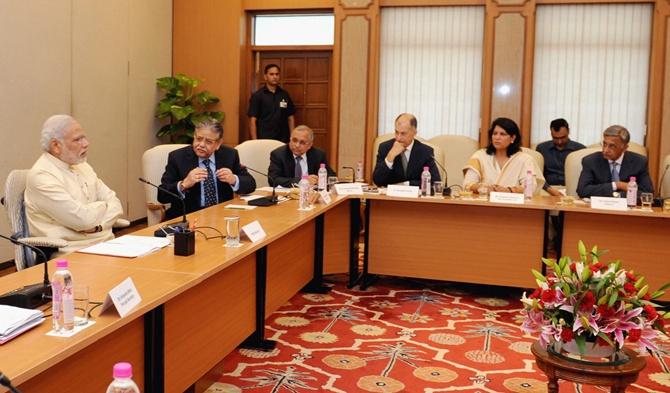 Prime Minister Narendra Modi on Tuesday met business leaders to hear their grievances on issues ranging from high capital cost to ease of doing business to certainty on taxation matters, as he interacted for the first time with the Indian industry chambers since taking charge over a year ago.
Modi held separate meetings with the delegations of the two apex industry bodies -- Confederation of Indian Industry (CII) and Federation of Indian Chambers of Commerce and Industry (FICCI).
The industry leaders told Prime Minister about investment not picking up due to high cost of capital, poor credit growth and difficulties faced by small and medium enterprises in doing business, top FICCI sources said.
A statement from the Prime Minister's Office said the delegations "appreciated" the work done over past one year and steps taken to improve ease of doing business.
The Prime Minister has met any Indian industry chamber delegation for the first time since taking charge on May 26, 2014 and follows concerns having been raised in some quarters that not much has moved on ground in the past one year despite good intentions and their grievances were not being heard.
In his meeting with the CII delegation, Modi asked the industry to cut the import reliance in oil, electronics and defence sectors and said his attention has been on speeding up the projects. He also called on the industry to innovate and Make-in-India to create jobs.
"The Prime Minister reiterated his vision of governance based on trust and simplification of processes, and exhorted Indian Industry to work towards technological self-reliance," the PMO statement said.
Modi also asked industry to be more proactive towards the cause of sanitation, as part of their corporate social responsibility (CSR) initiatives.
In his meeting with the FICCI delegation, Modi urged the industry "to work towards growth in key sectors such as agro-products, textiles and defence related manufacturing".
He also asked the industry leaders to take advantage of the various initiatives being taken by the Union Government for the infrastructure sector, including railways.
Reliable sources in FICCI told PTI that they raised issue of business environment for small and medium industry not being conducive where something like settling of commercial contract is becoming difficult and called for better coordination between state and local bodies.
"We also raised the issue of competitiveness. We pointed out that unless cost of finance comes down we won't see domestic investment picking up and creation of demand. We also raised poor competitiveness vis-a-vis low tariffs on FTAs.
"We raised the issue of financial markets where capital markets are performing well but credit market is not doing good. We mentioned that the regulatory environment in India is good but regulators should also be facilitators to promote industry and growth," the source said.
The delegation also expressed hope that GST would be introduced soon and the tax rate would be reasonable. "The Prime Minister was extremely happy to hear our views," the source said adding the land acquisition issue was not discussed at the meeting.
The 11-member Ficci delegation was led by its President Jyotsna Suri. "The meeting was a constructive one. We all came away feeling very positive," CII President Sumit Mazumder said.
The official statement said the CII delegation appreciated the work done by the government over the past year and said that the government has strategically shaped a new economic direction for the future growth and development of the country.
"They noted that the credibility of the government has been restored as a result of determined steps towards transparency," it said.
CII members praised government initiatives such as Ease of Doing Business, Make in India, Smart City Mission, Housing For All, Swachh Bharat Abhiyan, Clean Energy Mission, and Jan Dhan Yojana, describing them as "visionary, innovative and high-impact."
They said the speed and scale of roll-out of these campaigns have been remarkable and unprecedented, it said.