The 30-share gauge ended the year on a positive note at 27,499.42, up 95.88 points.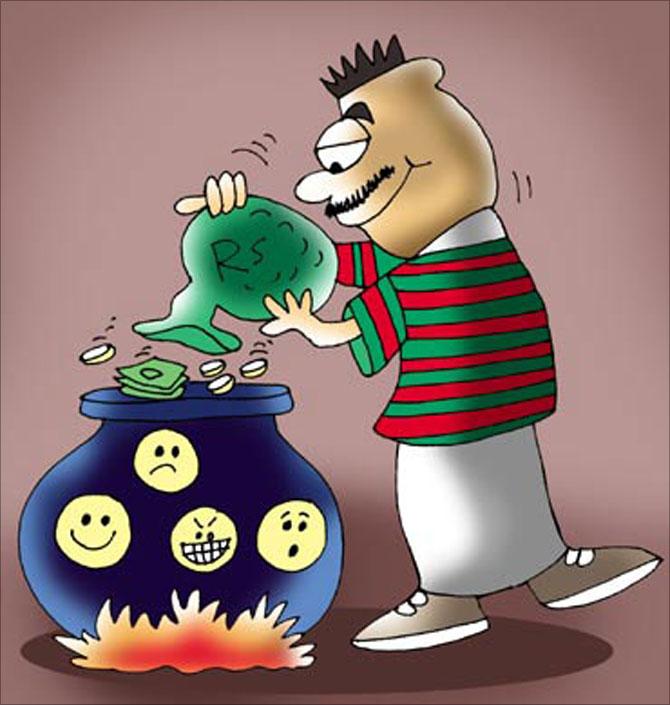 Stock market investors became richer by a whopping Rs 28 lakh crore (Rs 28 trillion) in 2014 as a record market rally boosted the valuation of all listed firms to Rs 98.36 lakh crore (Rs 98.36 trillion) at the end of year.
This was the fourth consecutive year of rise in investor wealth.
The year also saw investor wealth hitting Rs 100-lakh crore (Rs 100-trillion) mark.
In 2014, the benchmark Sensex rose by 6,328.74 points or 30 per cent and recorded a record high of 28,822.37 on November 28.
This is the highest annual gain since 2009 when it had rallied by 7,817 points.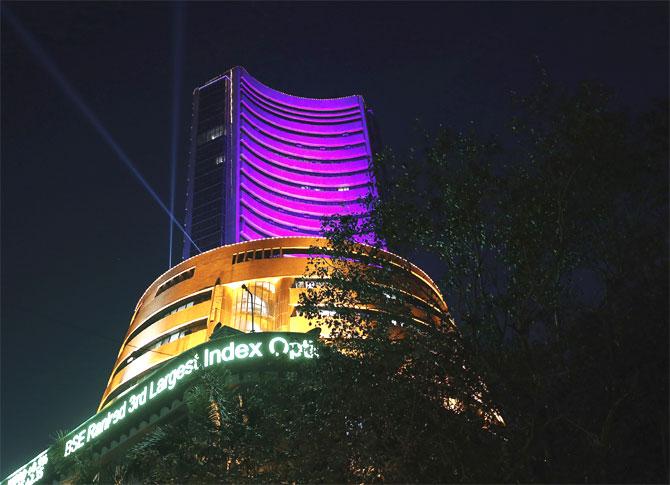 Image: The Bombay Stock Exchange. Photograph: Reuters
The 30-share gauge ended the year on a positive note at 27,499.42, up 95.88 points.
The broader CNX Nifty of the National Stock Exchange also firmed up by 34.45 points to end at 8,282.70.
It has risen by 1,978.7 points or 31.38 per cent for the year 2014.
The rise in investor wealth was also on account of the continued rise in the number of listed firms.
At present, the total number of listed companies stands at 5,542.
Analysts said that Indian stock market saw an excellent year riding high on robust investor sentiment, impressive foreign fund inflow, formation of a new majority government at the Centre and economic reforms.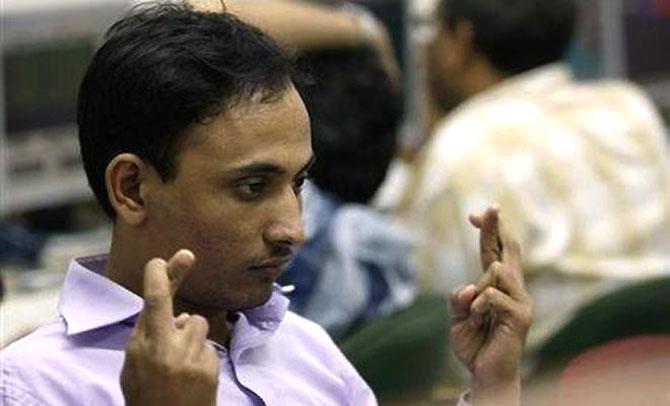 Image: A stock trader reacts. Photograph: Reuters

"Markets rode higher on the back of hope of structural reforms driven by a decisive political mandate and improving macro-economic balances.
"The new government reinforced its position in the elections in some of the important states and initiated the reforms in a gradual manner including those on foreign direct investment norms, direct transfer benefit, diesel de-regulation, labour reforms, coal allocation, ordinance on land acquisition, the 'Make in India' initiative," said Devendra Nevgi, CEO, ZyFin Advisors.
In the stock market, TCS continued to remain the most valued firm as its market valuation stands at Rs 5,00,396.24 crore (Rs 5,003.96 billion).
TCS is followed by ITC, ONGC, RIL and CIL in the top five companies list.
In 2014, shares of Tata Motors zoomed 31.8 per cent, ONGC surged 18.22 per cent, TCS gained 17.67 per cent) and ITC firmed up by 14.55 per cent.
Foreign investors have infused over $16 billion into equities this year.