In the second of a two-part series, former telemarketers at low-end BPOs describe what it was like to sell the credit cards of two leading private banks in the country.
Part 1: Of murky alleys, credit cards and faceless staff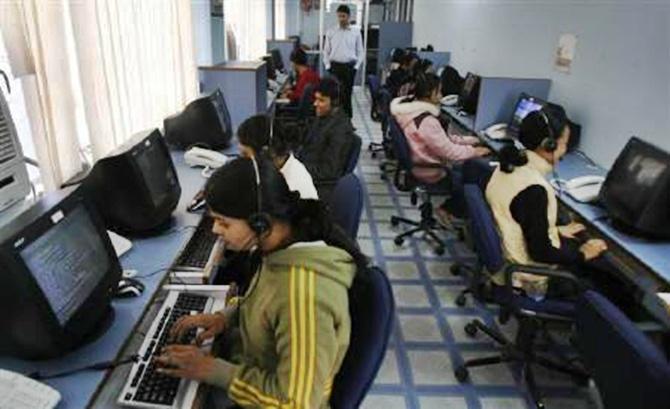 Image: Employees at a call centre provide service support to customers in Siliguri. Photograph: Rupak De Chowdhuri/Reuters (Images used for representation)
Manoj, Rajesh and Manish, government-school educated 19-year-olds from Mandawali in East Delhi, have never set foot inside the well-appointed branches of the country's top private sector banks.
Nor has Namita, her family's only graduate, living in a narrow lane near Mayur Vihar, also in East Delhi.
But each of the four has spent hours repeating over the phone in Hindi while facing a wall divided into a row of small wooden partitions that they are calling "on behalf" of one or the other of these banks. (Some names have been changed for this story on request.)
Namita sold credit cards for six months in 2013. The others did, too, for shorter periods at various telemarketing outfits over the past year or longer.

Namita, Manoj and Rajesh have even worked at different times for the same company Call Connect Services, in Laxmi Nagar, a commercial hub in East Delhi, where they telemarketed credit cards of two leading private sector banks in the country. (Call Connect Services head Naveen Gupta declined Business Standard's request for an interview, and emailed questions went unanswered.)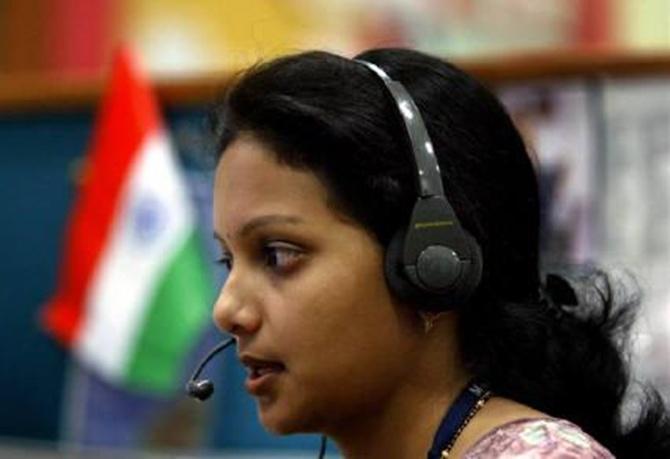 Image: Telemarketers are seen as annoying ill-trained callers. Photograph: Reuters
In popular perception, telemarketers are seen as annoying ill-trained callers with poor English skills. However, their often working-class families see them very differently, as educated children who have landed office jobs.

As Manoj explained, "My father, who is a plumber, always wanted me to do something better."
Manoj did not want to be a plumber either. Rajesh, Manish and Namita, too, did not want to follow the paths of their parents and be a water-vendor, an electrician and a housemaid, respectively.
That they aspired for office jobs makes the story of how these jobs treated them poignant.
Namita went quickly from being pleased to be doing "bank work" even if for Rs 6,000 a month, less than what her mother earned as a maid, to uneasily discovering on the job that she would actually get Rs 5,000.
The extra Rs 1,000 per month promised for regular attendance never materialised.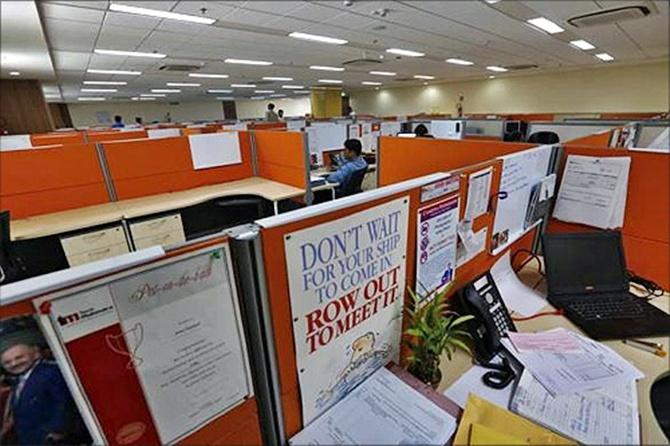 Employers make false promises. Photograph: Reuters
Another surprise came when at the end of her third month she took home Rs 4,000 for not meeting her target of selling 25-30 cards a month.
She would get an extra Rs 1,000 if she did better next month, she was told. Namita did do better but never got the thousand rupees that had been deducted from her pay.
Alongside she stopped drinking water at work because she often found the unisex toilet shared by 50-60 junior employees on her floor too dirty.
The most disorienting aspect of the job for her, however, was "standing and calling" on days when she was falling behind target.
Namita, a diminutive woman in her mid-20s, explains. "If you had a slow day and there was no lead (sale) by mid-morning, our supervisor would ask us to stand up and call. She said that when your feet hurt, you will get leads. Sometimes seven or eight of us stood for two or three hours at a time."
Manoj, Rajesh and Manish, boys rather than men with their small frames and confiding ways, were not asked to stand up and sell credit cards.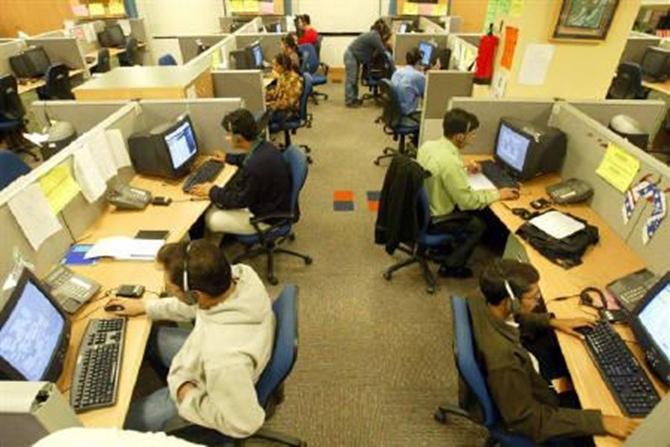 Images: Dreams shattered for many young telemarketers. Photograph: Reuters
But their friend Rohit, who accompanied them to their meeting with us in a park, recognised the practice instantly from his old job selling life insurance from a desk in Noida. "The floor is too quiet," our supervisor would say," he recalled. "Stand up everyone."
In crucial respects, Namita's experience and that of the others were identical. Constant pressure to make leads, arbitrary salary cuts, no overtime for extra work. "I tell my friends never to work for call centres," says Rajesh.
"The employers call you names and don't pay what they promise. They lure you by saying there will be no targets, but they go back on these promises in a week."
Importantly, none of them possesses a single piece of paper that says they sold bank credit cards. No appointment letters, no salary slips, not even an identity card.
A verbal contract was convenient for employers not meeting statutory obligations like paying the minimum wage, currently upwards of Rs 10,000 in Delhi for clerical staff, provident fund and other benefits, or not wanting to specify other terms of service like working hours and leave.
But this casualness was one-sided. The employees themselves had to furnish documents - educational certificates, proof of identity and proof of address - which left them wary of speaking out openly against their employers. And when they finally gave up jobs that they on paper never had, there was a final indignity. Each left with two to three weeks of unpaid dues.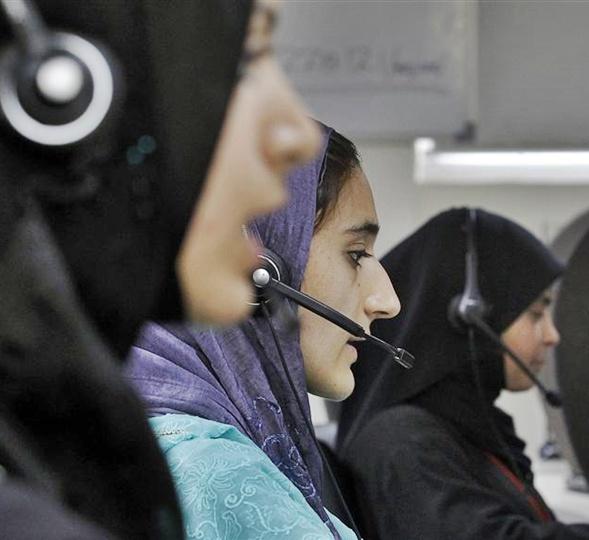 Image: A verbal contract was convenient for employers not meeting statutory obligations. Photograph: Reuters
"They call these office jobs and they treat you like labourers," said Namita of her six months in an air-conditioned sweatshop.
Her words echo what researchers say about low-end call centre staff like herself. That they are not materially different from informal sector workers.
Rajib Nandi of the Institute of Social Studies Trust in Delhi, notes in a 2014 paper that out of 1,000 low-end information technology and related workers surveyed in Delhi some years ago, more than half were employed without written contracts.
"They are in the strange situation of being employed yet not recorded as employees," Nandi said in an interview. The irony in the present case is that they thought they had begun to ascend the ladder of social respectability by "working" for the country's top banks.
Manish Sabharwal, chairman of leading staffing company Teamlease, estimates domestic business process outsourcing (BPO) makes up about 20 per cent of the BPO sector, and low-end BPOs constitute only about one-fifth or less of domestic BPOs. "Most large customers wouldn't want to deal with bucket shops," he says.
Analysing the phenomenon of low-end service jobs, Sabharwal cites three prime reasons: That manufacturing is limping, that education does not make people employable, and that labour laws breed informal sector working conditions and bad employers. Yet there is a positive aspect to such jobs, he argues.
They can help young people improve their "signalling value" and climb the ladder of employment.