Photograph: Kind Courtesy, Etihad
Every few years airlines update their first class spaces to give fliers an experience that no one else offers.
With introduction of double-decked Airbus A380, the whole game has changed. You can now take shower in the air and even have a 'suite' or a 'cabin' to yourself.
Among the well-known airlines globally here are six that are top of this game. We have included amenities offered in the double decked A380s as well as other single-decked planes.
---
Etihad
Photograph: Kind Courtesy, Etihad
Etihad has one of the most luxurious first class. The company kept the entire upper deck of its A380 for premium fliers.
In May, the airline unveiled a product called The Residence. Accommodating single or double occupancy, it features a living room, separate double bedroom and ensuite shower room. Guests in The Residence also get a personal Butler.
Then there are First Apartments, which are fully private suites with a separate reclining lounge seat and full-length bed, as well as a chilled mini-bar, personal vanity unit and wardrobe.
On about 89 aircraft, the company offers facilities such as Wi-Fi, mobile services and Live TV.
The other facilities include a personal chef, a 23-inch cinematic widescreen TV and in-built massage in your seat.
---
Emirates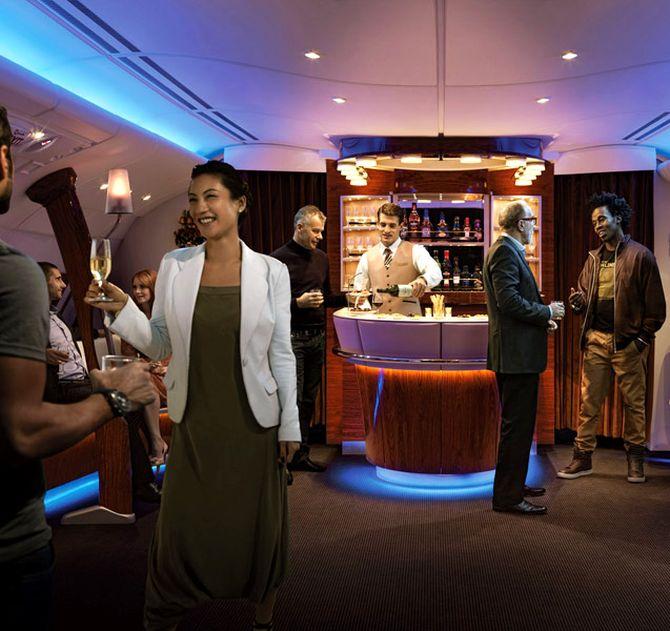 Photograph: Kind Courtesy, Emirates
The airline calls their first class as Private Suites. Each suite comes fully equipped with a sliding door, a personal mini-bar, adjustable ambient lighting, and its own vanity table, mirror, wardrobe, and privacy divider.
And if the flier wants to stretch out and sleep, the seat can be converted into a flat bed.
Emirates also have two Shower Spas as part of the First Class experience on the A380.
On this aircraft there are also two lounges where passengers can socialise. Here fliers can order five-star delicacies prepared by some of the world's leading chefs, as well as fine wines.
---
Air France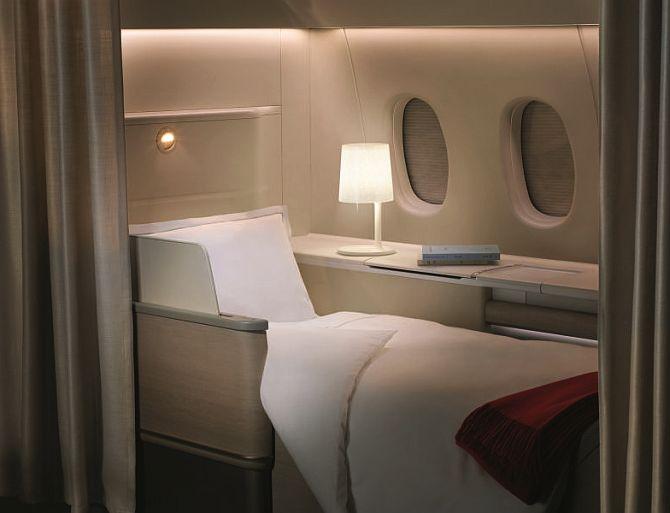 Photograph: Kind Courtesy, Air France
Recently Air France too unveiled new First Class on their Boeing 777-300 aircraft called as La Premiere suite.
Right from the fabric to the mood based lights; the suites are designed for a luxurious experience.
The sitting area can be transformed into personal cabin by the touch of a button and using thick curtains. Seats can be transformed into a bed extending over 2 metres.
Each guest has a personal 24-inch (61 cm) HD touch screen offering movies, games, music, TV series, etc. Close to 1,000 hours of programmes on demand will soon be available. All this can be enjoyed with a Bose noise-reducing headphones.
Guest can order dishes made by world-renowned chefs such as Joel Robuchon, Regis Marcon, Guy Martin and Michel Roth. And you can savour all this on a special tableware done by famous French designer Jean-Marie Massaud.
---
Qantas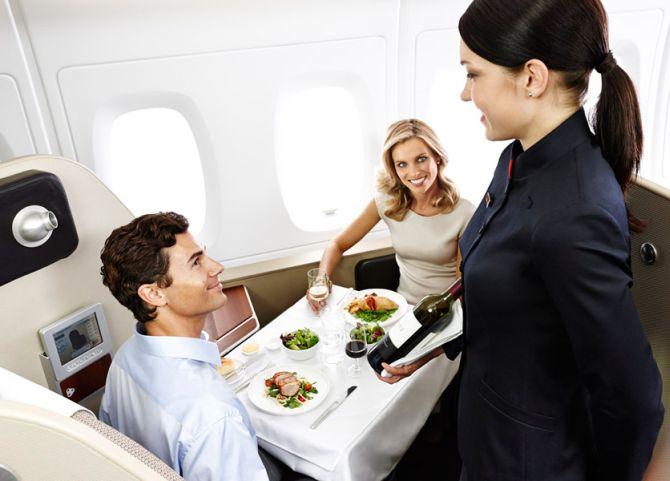 Photograph: Kind Courtesy, Qantas
Qantas offers many amenities similar to that of Air France's - customisable seats with massage functions, wide 17-inch screen for entertainment, mood lighting, designer in-flight clothes (pyjamas and top).
When it comes to dining, a flier is offered eight-course meal with signature dishes designed by celebrity chef Neil Perry, which are prepared on board.
For drinks, you can ask for a sommelier's suggestion on wine and champagne that goes best with your meal.
The bed in the company's A380s is slightly bigger than in B747s.
---
Singapore Airlines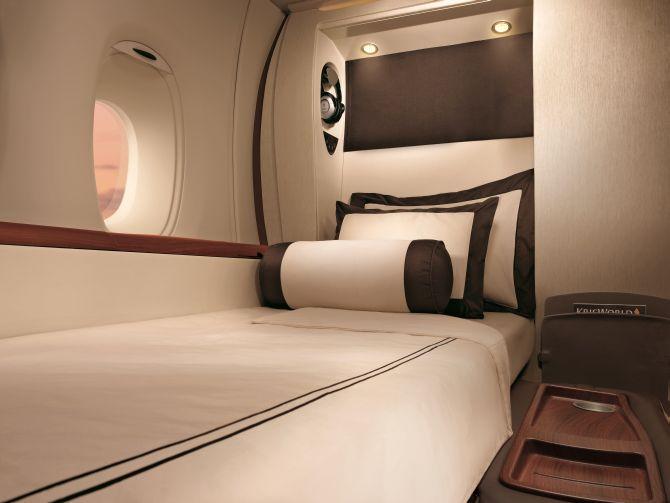 Photograph: Kind Courtesy, Singapore Airlines
Like Etihad, Singapore Airlines too have suites on their airplane. Each individual cabin features sliding doors and window blinds, offering the flier the freedom to decide on the level of privacy he or she prefers
These cabins come equipped with standalone bed - not one converted from a seat.
The armchair in the first class suite is designed by the master Italian craftsmen Poltrona Frau.
Singapore Airlines have a panel of international chefs and offers 60 dishes to choose from. The food is served in tableware designed by Givenchy. And yes, you can order the best wine and champagne.
For in-flight entertainment, the suite features 23-inch wide LCD screen. These services are, however, offered only in A380 aircraft.
---
Cathay Pacific
Photograph: Kind Courtesy, Cathay Pacific
Cathay Pacific has paid utmost attention to detail for making the journey an experience. Colours, fabric and texture are chosen carefully to give the area an elegant feel.
The airline has also installed hand-crafted sculptural artworks. These individual artworks, made of copper and steel and created by Maria Lobo and Linda Leviton, have been individually etched and painted by hand.
All food is made to order and fliers do get to choose from Cathay Pacific's award winning wines.
For entertainment, the airline provides Bose QuietComfort Acoustic Noise Cancelling headphones that you can use while watching your favourite movie.
The company achieves all this not in double-decked A380s but in smaller Boeing 777-300ERs.