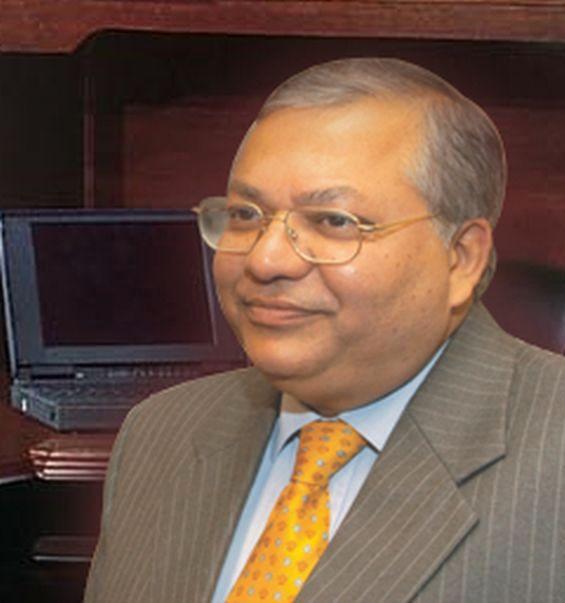 Image: Ravi Jaipuria.
Photograph: Courtesy, Devyani International Limited
Ravi Jaipuria turned 60 on Thursday. As he likes to do things in style, the preparations at his home in New Delhi's Aurangzeb Road were elaborate.
A couple of days before the gala, his mobile phone rang non-stop. Jaipuria was apologetic but happy that his friends from all over the world were coming over to wish him on his birthday.
Jaipuria has every reason to celebrate. Just a few days ago, Varun Beverages, the flagship company of his group, bought over PepsiCo's entire company-owned bottling plants in north India.
This has made him the beverage major's largest bottler anywhere in the world after Tingyi, its Chinese bottler.
The deal entails the transfer of four plants and two co-packaging units to Jaipuria, which will make him the sole PepsiCo bottler in the north and east.
The price at which the deal was finalised has not been divulged but it could be around Rs 300 crore (Rs 3 billion). This will also ensure that Jaipuria controls over 50 per cent of PepsiCo's beverage volumes in the country, up from around 33 per cent before the deal.
For Jaipuria, this is a part of a larger plan that he has drawn up for his holding company, RJ Corp.
The jovial entrepreneur, who is known for his famous Holi parties in Delhi, wants to grow in double-quick time in all his businesses: bottling (which is now 50 per cent of his business), quick-service restaurant (QSR) chains, dairy and healthcare.
Jaipuria says that he wants to double his turnover every two years and expects that he will hit Rs 20,000 crore (Rs 200 billion) by 2016.
Image: Bottles of Pepsi cola are seen in a display.
Photograph: Mike Segar/Reuters
To do that he will require a lot of cash for expansion: more than $600 million, if not more in the next few years. That is why he will take two of his companies, Varun Beverages and Devyani International (through which he runs his QSR and foods businesses), public in the next two years.
Jaipuria hopes to raise about $300 million by divesting about 10 per cent in each of these two companies.
In Devyani International, he has already raised about $100 million by offering around 15 per cent stake to Temasek Holdings.
Jaipuria says he would have taken Varun Beverages public earlier but was waiting for the deal with PepsiCo to fructify so that he could get a better valuation: his estimate is that it should be between Rs 10,000 crore and Rs 12,000 crore (Rs 100 billion and Rs 120 billion). "If you want to grow, you cannot remain closely held, you have to go public," says he.
The takeaway is that Jaipuria is in growth mode. He is not content being a player in the ice-cream business through Creme Bell (which he says figures in the top three brand in the country).
He is looking at setting up his first big dairy plant in the north next year and launching an entire portfolio of products: yoghurt, milk powder, cheese and butter.
"What I look for is backward integration. Pizza Hut needs cheese, and ice creams use milk powder and butter, so I will manufacture them and sell them too," says Jaipuria.
In QSR, Jaipuria, a few months ago, bought over 30 Pizza Hut outlets run by Yum Brands in the north and east. This year, he plans to add 80 more stores, taking the total to 380.
He is also negotiating to buy Yum Brands' KFC outlets in the west and south. He is also pushing his own south-Indian vegetarian brand, Vaango, and hopes to open 50 outlets in the next 12 months. "I am looking at other QSR options like Chinese or Thai," he adds.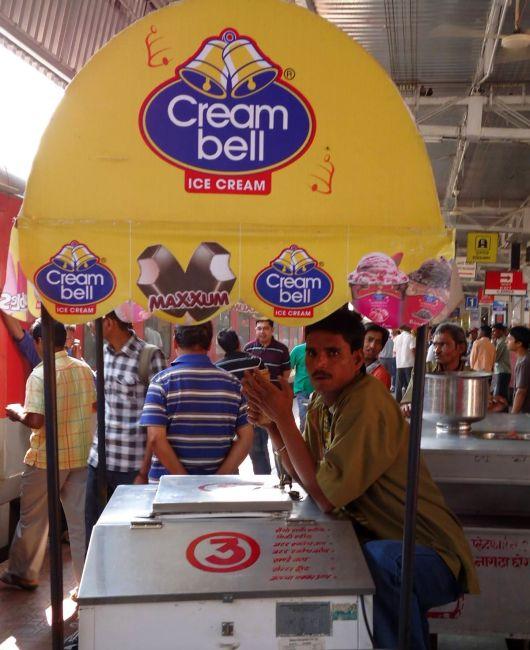 Photograph: Courtesy, Cream bell
The debt burden
Jaipuria's decision to take two of his companies public also stems from the fact that he is feeling the pinch of growing through debt - it is impacting the bottom line of his businesses.
In 2013-14, Devyani International made a loss of Rs 60 crore (Rs 600 million) on revenues of Rs 679 crore (Rs 6.79 billion), the second year when it has been in the red.
The company gave two reasons for its losses: high finance costs which nearly doubled in a year and high depreciation.
The same story was repeated in Varun Beverages: in 2013, the company made a loss of around Rs 8.5 crore (Rs 85 million) on a turnover of Rs 1,764 crore (Rs 17.64 billion).
In this case, the finance costs went up over 50 per cent during the year, while depreciation was up 39 per cent (most bottlers have to break bottles and put in new ones every two years).
Also, many of Jaipuria's new businesses are in the red and have to be supported with cash, For instance, Cryobank International, which is in the stem cell business, saw its loss more than double to over Rs 29 crore (Rs 290 million) in 2012-13.
In many areas, Jaipuria faces tough competition and it is only becoming more intense. For instance, in ice cream, Amul and Hindustan Unilever dominate the Rs 2,000 crore (Rs 20 billion) market with about 70 per cent share. Even players like Mother Diary and Vadilal are strong only in regional markets.
To break into this market with a major share across the country, won't be easy for Creme Bell which has been at it for five years.
Similarly, the dairy business is not easy to crack because it is dominated by Nestle and a host of cooperatives that have a strong distribution network. And the battle will only heat up further with the entry of Danone and ITC, which has 8-9 million tobacco and FMCG retailers that it can leverage to sell dairy products.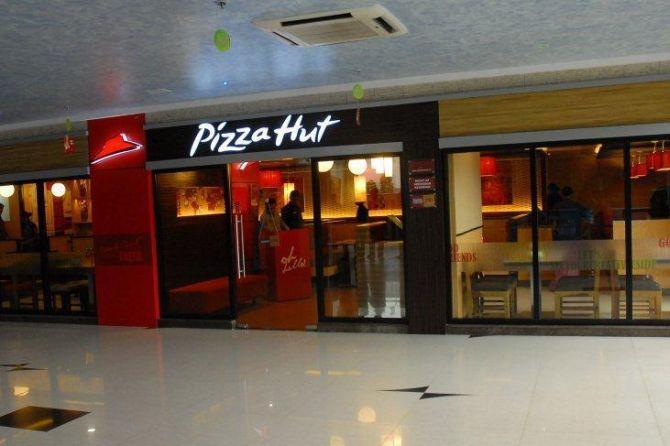 Photograph: Courtesy, Pizza Hut
"I think Jaipuria is overreaching himself by getting into too many areas, hoping to leverage the bottling distribution. He is a street fighter, but now he will face the big boys who have a lot of cash," says a senior executive of a competing FMCG company.
In QSR, if Yum Brands' (Jaipuria is its franchise for all the three brands: Pizza Hut, KFC and Taco Bell) numbers are anything to go by, same-store sales have been declining steadily: 4 per cent in the quarter ended September, after falling 2 per cent in the June-ended quarter.
Growth will come by opening up more stores, which again means fresh investments.
Jaipuria also runs Costa Coffee in India, but the sector is highly competitive. He admits that it has not been easy and says there have been differences in the expectation that his partners have of growth and his realistic assessment of the market.
But Jaipuria is not the kind who worries about challenges. In the 1980s, his father gave him the responsibility of running just one bottling plant, as he had done with his other sons, but Jaipuria build a huge bottling empire within a few years. He also build up a substantial bottling, QSR and dairy business empire in Africa.
Of course, there were businesses that did not blaze a new trail; for instance, he dabbled in real estate but it is no longer an area of focus. He even tried investing in radio with a friend in the UK but the business did not take off.
What is attracting his attention now is healthcare; he already has the second largest cord blood bank in the country. And now, after successfully experimenting with his up-market mother-and-childcare hospital in Jaipur, Jaipuria wants to take it pan-India.
"It is a seven-star facility and I want to set up 50 such hospitals under the Cocoon brand."
He might have turned 60, an age when many retire, but Jaipuria has just started a new race and wants to reach the finishing line as fast as possible.