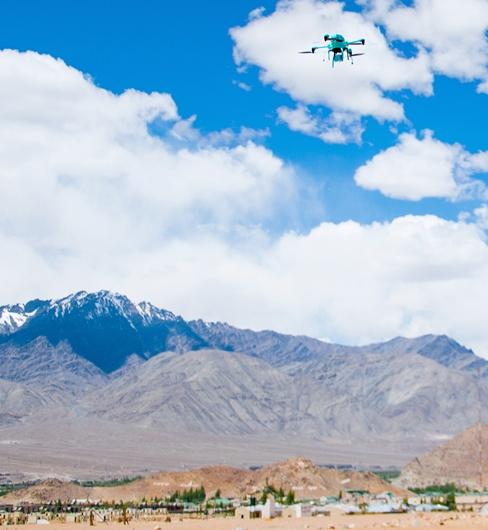 Image: Drone built by ideaforge called Netra. Photograph, courtesy: ideaForge
In 2003, three Indian Institute of Technology Bombay students got together to build a hovercraft by using engines and components from bikes abandoned by their seniors.
The three prototypes they made didn't excite them. So they decided to make something that could fly.

They aborted their plan to make a helicopter because it was too complex and cost a lot of money. Instead, the threesome hit upon an idea that would change their lives: a drone with four rotors.
After many heartbreaks and serious accidents, they got a fully autonomous quadcopter to hover in the skies. It was good enough for them to launch a business.
With financial help from their alma mater, Indian Institute of Management Ahmedabad and angel investors, ideaForge was born.
The drone it built, Netra (Sanskrit for eye), was recently used by Mumbai Police to keep vigil on idol immersions during Ganesh Chaturthi.
Hovering a few hundred feet above the ground, it gave the police an aerial view of the crowd movement. With help from this eye in the sky, the event passed off smoothly.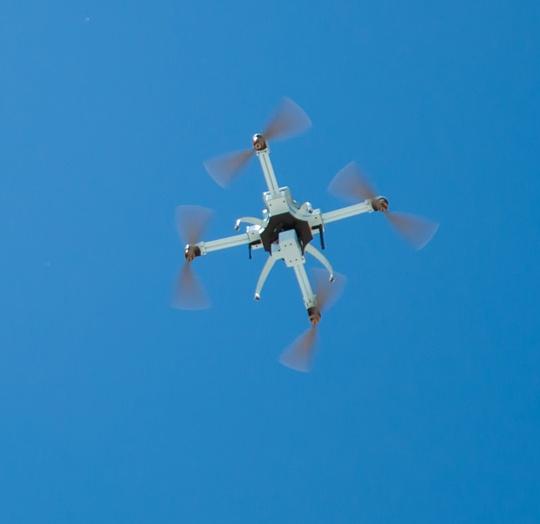 Image: Drone built by ideaforge called Netra. Photograph, courtesy: ideaForge
Ankit Mehta, one of the co-founders of ideaForge, says as many as 70 drones made by the company are being used by the Defence Research & Development Organisation and the police forces of Uttar Pradesh, Gujarat, Kolkata and Mumbai. ideaForge's drones cost about half what the imported ones do.
This shows the business has attained critical mass — enough for it to seek fresh funds of up to $4 million. The buy-in from the government has been swift.
Recently, the Delhi Police used drones for surveillance over congested Trilokpuri where communal riots had broken out.
The Kerala Police is considering using drones for traffic and crowd surveillance at the popular temple in Sabarimala later this year. The Odisha government is deploying them in its anti-Naxal operations.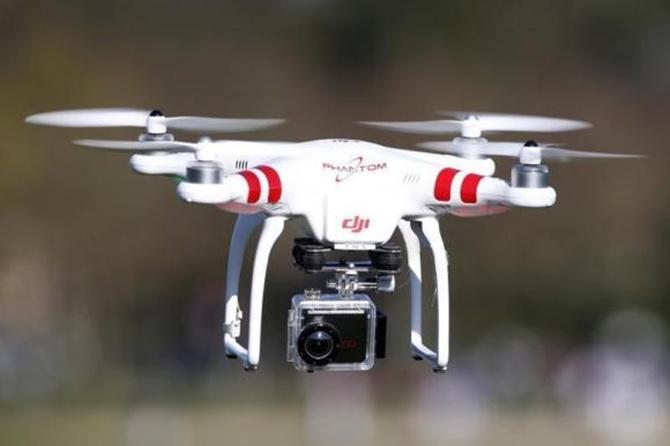 Image: A Phantom drone by DJI company equipped with a camera. Photograph: Charles Platiau/Reuters
Samarjit Singh, the promoter of online property site IndiaHomes, has just ordered 20 drones from abroad at a cost of $120,000 which he plans to use to show customers real-time footage of construction sites in Delhi, Mumbai, Pune and Bangalore.
His 600-odd salesmen across the country who are armed with iPads and a special application will stream the footage live to the customers.
"Of course, this entails extra cost, but it gives confidence to the customers who cannot visit the site," he says. Red Chillies, Shah Rukh Khan's production house, used a drone (ordered from Spain) to shoot a fight sequence on a rooftop helipad for Happy New Year in Dubai. Manush Nandan, the director of photography, found the drone more versatile, hassle-free and non-intrusive than a helicopter.
While renting a helicopter would have cost Rs 15 lakh, the Spanish drone was acquired for just Rs 1.5 lakh.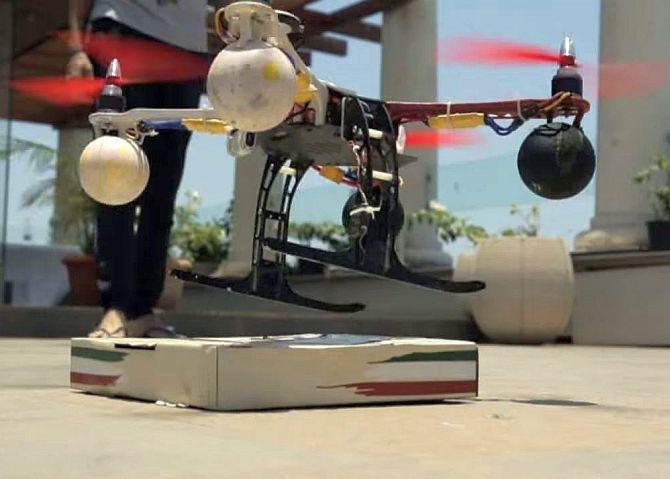 Photograph: : Courtesy, Francesco's Pizzeria
Suddenly, there are drones everywhere in the Indian sky. It is already being touted as the next big opportunity after e-commerce. Amazon, the online retailer, has said it plans to experiment with drones to deliver packages in the country.
Home-grown e-retailer Jabong actually delivered a packet of apparel and shoes using a drone. Francesco's Pizzeria, a pizza delivery service in Mumbai, shocked everyone by delivering a pizza on the roof of a high-rise in Worli, only to face the ire of the police after its video went viral on YouTube.
At the same time, nearly a dozen-odd startups around the country are quietly assembling drones. They have collectively put over 300 drones of different shapes and sizes in the air. And if enthusiasts are to be believed, there are as many drones with people who use it just as a hobby.
Drones are being sold by e-retailers like Flipkart and Snapdeal for less than Rs 40,000 apiece. Flipkart, which stocks about 40 drones sourced from China and the US, says sales have doubled in the last one month.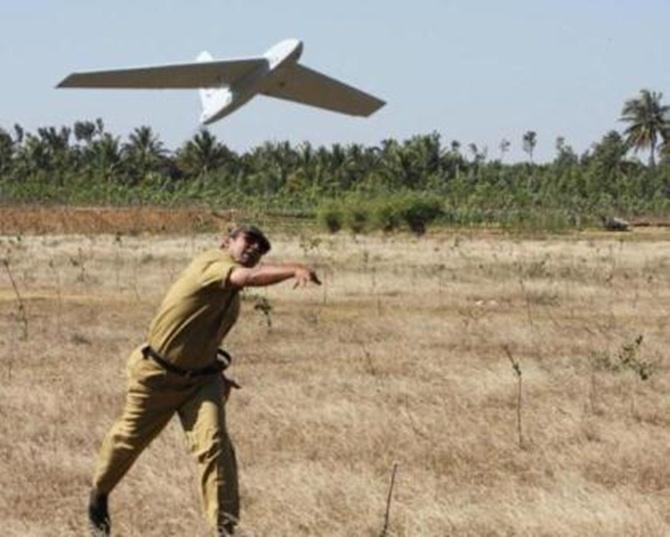 Photograph, courtesy: Aurora Integrated Systems
The prospects are bright enough for large corporations to join the bandwagon. Tata Advanced Systems has bought a majority stake in Bangalore-based Aurora Integrated Systems which was set up by IIT Kanpur engineers.
The company in 2012 received orders for six dozen drones with a price tag of Rs 10 lakh to Rs 30 lakh — an order CEO Raman Puri is confident will double by next year.
He feels that with prices coming down, commercial usage of drones will take off. The company has been approached by people who have sought to use the drones for delivering medicine, to videograph marriages and for aerial photography.
The firm's current licence, however, is for a defence industrial unit, which Puri says clearly states it would need permission from the defence ministry to sell the drones for commercial use.
"It is a serious piece of equipment," he says, and both safety and security aspects need to be kept in mind. In the United States, for instance, there have been instances of drones being used to deliver cigarettes and marijuana to jails.
At the moment, the biggest user of drones is the government: the police, armed forces, wildlife institutes and disaster managers (drones were used to locate stranded people during last year's Uttarakhand floods). That is because the rules permit them to use these unmanned aerial vehicles (UAVs). Civil usage of drones is unregulated and so is its manufacturing.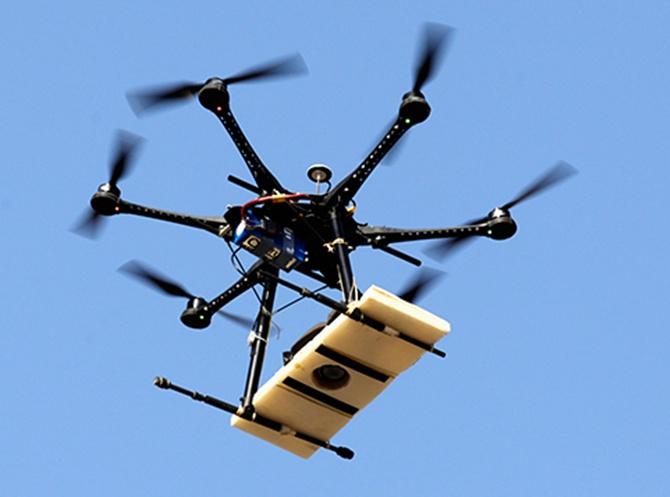 Photograph: Mariana Bazo/ Reuters
Like in the US and Europe, India is grappling with the challenges of regulating drones. After all, what can stop drones from transporting weapons or even bombs?
The good news is that the civil aviation ministry has promised that it will come out with a policy on the use of drones in the next two months. The government is also expected to mandate a dozen or so companies, including Ashok Leyland and Punj Lloyd, to make UAVs for the armed forces.
The bad news is that the government has decided to ban the use of any kind of UAVs in the civil airspace. Legal opinion on the matter is divided.
Some say drones can operate below 500 metres as that is not within the airspace limit. Others say what is allowed is the toy version of UAVs that can be flown at a visual range of 150 metres only — that too not in congested areas.
The industry sees it as a limiting factor. An executive of a leading drone-assembling company says, "By the government's logic, even throwing a ball in the sky is a violation of airspace."
Yet, there is consensus that there has to be clear regulation to avoid accidents, security breaches and invasion of privacy. Mehta of ideaForge feels the industry would get a boost if the use of drones is licensed, so that access to the device is controlled and flight paths are determined.
Also there should be parameters for reliability of the device — some kind of quality certification.
Pritam Ashutosh Sahu, one of the founders of Bangalore based Edall Systems which assembles drones, says that the hype created around the use of drones by e-retailers for delivery has given it a bad name — these can have significant public utility too.
"Imagine delivering life-saving vaccines in a remote rural area. It could take hours in a car. You could do that in minutes and save lives. It is these areas where the government regulations should focus on rather than pizza delivery."
Drones can be put to various such uses. Tarun Bhojwani, the technical head of Delhi-based Quidich, which assembles drones and then leases them to users, says his company is doing a project that could make a huge difference in agriculture: farmers would get a fair idea of the yield and productivity of their crops.
"Drones help in taking a normal as well as infra-red picture of the crop that helps in calculating the chlorophyll absorption and provides a pretty accurate idea of yields. Earlier, this could be done only through satellites; that was at least 10 times more expensive and the quality of pictures was poor," says Bhojwani. Spraying pesticides on farms through drones is much more cost effective than using planes, he adds.
Of course, these drones don't come cheap: each could cost between Rs 10 lakh and Rs 20 lakh. But Bhojwani says a farmer can recover the investment by loaning it to others — like tractors.
Photograph: Charles Platiau/Reuters
Quidich also wants to undertake 3D mapping of the Jhelum basin with a drone, which it hopes to pitch to the Jammu & Kashmir government as a tool to help tackle floods in the future.
Naturalists too are realising the potential of the technology. Dehradun-based Wildlife Institute of India collaborated on a project that used drones to survey the movement of tigers in the PannaNational Park in Madhya Pradesh.
"We are now looking at using drones in at least five reserved forests. They could be used for tracking tigers by putting in radio tracking devices on the drone and later even to control poaching," says K Ramesh of the Wildlife Institute of India. He also says that drones will help in estimating animal population in different terrains. Right now, many of them are just guesstimates.
In spite of the lack of regulations, corporations are ready to enter the drone ecosystem. It can be used for outdoor promotion - the rent for hiring one for a whole day is just Rs 50,000.
Volkswagen tied up with Quidich to use drones to photograph the Polo-R-Cup, a car racing event. Bhojwani says the company customised drones that had a speed of over 240 km an hour and were therefore able to follow the speeding cars with ease, giving a spectacular view of the race.
And Board of Control for Cricket in India has experimented with drones to take aerial pictures in some matches.
A week ago, Sistema Shyam used drones at its kiosk at the Bacardi NH7 Weekender Music Festival. Participants were given five seconds to perform something in front of a drone and the feed was shown live.
"Nearly 1,000 people performed in front of the drone in Kolkata. It creates a different level of excitement and brand connectivity," says Amitesh Rao, director for brand and media, in the telecom company.
Shapoorji Paloonji has used drones to provide customers the view they would get from their apartment on each floor in all directions, by stitching together pictures taken from a drone.
Praveen Shetty, associate vice-president (sales and marketing), says, "In real estate, the view commands a premium. Earlier, such pictures could be done only through a kite sent at a particular height but they could carry only a certain kind of camera. Drones have high-end sophisticated cameras."
Moreover, drones work out cheaper than the other options: kite, balloon and helicopter. The builder wants to take its tryst with drones forward and use them to transport small equipment and material to the construction site.
Yet, there are technological challenges that need to be overcome for drones to take the next step forward. One big challenge is the battery life: just 15 to 45 minutes.
As a result, drones have to be bought back to the base station within a limited time for recharge. Bhojwani says the answer could be harnessing solar energy to increase the battery power.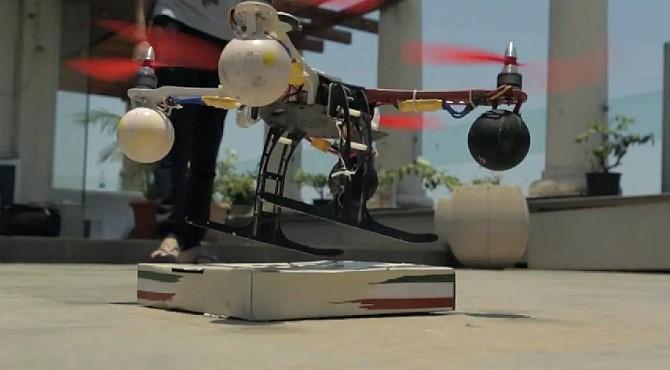 The second challenge is the money that will help the sector to grow to the next stage. Will private equity funds be prepared to put money into an unregulated sector where the market potential is not clear and failure rate is high?
According to industry estimates, the market for drones would not be more than Rs 150 crore in 2016 - pretty small for the big boys to get interested.
Still, if global trends are anything to go by, the use of drones, in the public as well as commercial space, is all set to boom once the regulatory issues are sorted out by the government.
Aurora's Puri says, "The way costs are coming down, there is no doubt that you might have a personal UAV one day, perhaps picking up groceries for you. That is no longer in the realm of science fiction."
FLIGHTS OF FANCY
DRONES can be of different sizes, and can carry varying payloads: the higher the payload, slower its speed and ability to stay in flight.

The most common drones are quadcopters which are propelled by rotors. They can be in the air for 15 to 45 minutes, and traverse a distance of around four kilometres from the base station.
These can be controlled remotely through a computer or mobile device and are priced between Rs 1.5 lakh and Rs 25 lakh, depending on the functions, payload and software sophistication.
Some quadcopters look like toys and can be bought for as little as Rs 1,500. Then there are quadcopters for which the flight path is fully automated. Other drones have to be controlled by a pilot who will always have a line of sight on them.
Another option is a fixed-wing drone which looks like a plane. But it requires a runaway to take off and land. However, it can fly for longer distances, climb higher and can be in air for up to three hours.
Indulekha Aravind, Ranjita Ganesan and Urvi Malvania contributed to this report.