Very few flights, fixed fares and virtually non-existent airport security, manual ticketing and check-in processes and absence of loyalty programmes were the order of the day.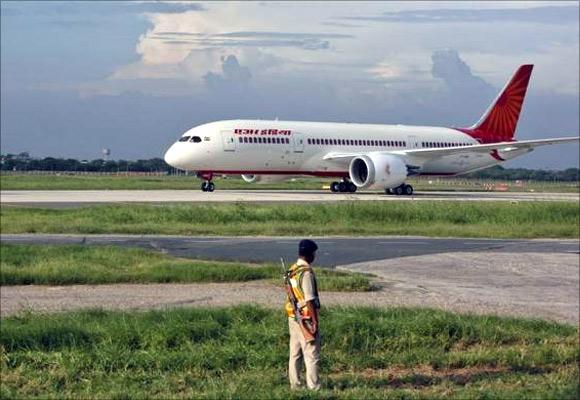 Image: Air India had monopoly on foreign routes. Photograph: Reuters
From the late 1970s to the early 1990s, Indian Airlines had to take permission of the Gujarat High Court every time it wanted to revise airfares, recalls T V Dorairaj, retired general manager. This was due to a writ petition by consumer activist Manubhai Shah.
The life of air passengers was different in the 1970s. There were only two airlines - Air India (only on foreign routes) and Indian Airlines (monopoly over domestic routes) - and fares were fixed, irrespective of when you bought tickets.
"Passengers booked in advance for seat availability, bu not for the price. The ticket price remained the same whether you booked one day before travel or a month earlier," says Devesh Agarwal, editor of aviation blog Bangalore Aviation.
Formed in 1953 after the merger of eight private airlines, Indian Airlines largely flew Dakota planes and because of range restriction, it did hop flights between two destinations.

Caravelle, its first jet aircraft, was introduced in 1965. It was in the 1970s that Indian Airlines inducted its first Boeing 737.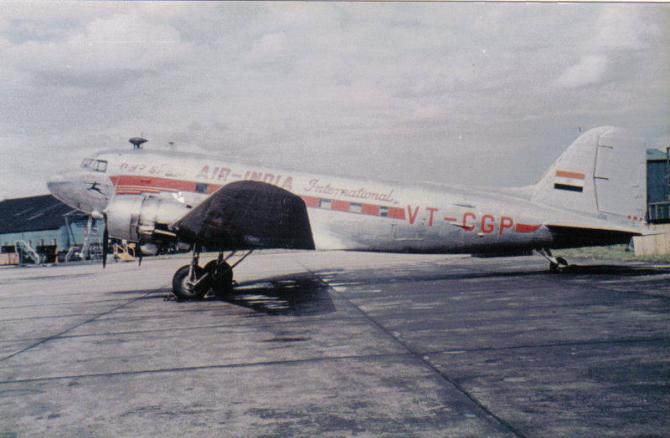 Image: Air India Douglas DC-3 at Heathrow Airport, London. Photograph, Courtesy: Jim halley/Wikimedia Commons
Air India inducted its first jet (Boeing 707) in 1960 and two years later, became the first all-jet airline in the world. The Boeing 747 was introduced in the Air India fleet in 1971, enabling a non-stop Mumbai-London flight.
Very few flights, fixed fares and virtually non-existent airport security, manual ticketing and check-in processes and absence of loyalty programmes were the order of the day.
Reservation and check-in processes were automated in 1980s. Until then, ticketing was manual and it could take up to 24 hours for travel agents to confirm bookings and issue tickets.

This became simpler in the 1990s when the airline global distribution system (GDS) was launched. This allowed agents access to inventories of multiple airlines.
Till the 1990s, when market-linked fares came into being, fare regulation was the prevalent practice.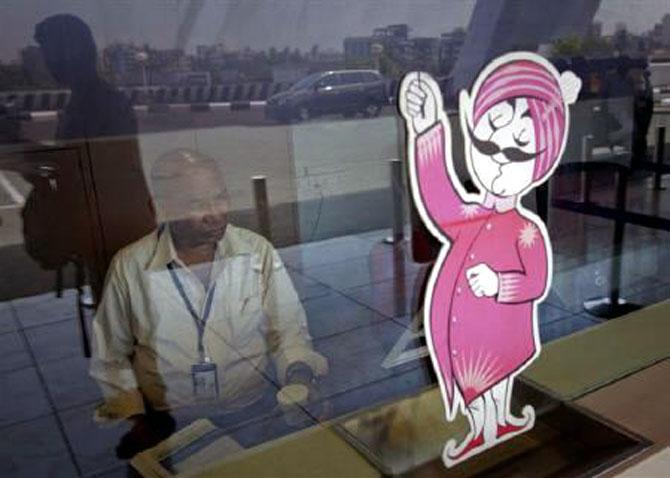 Image: The 1990s saw the end of monopoly of Indian Airlines. Photograph: Reuters
International airfares were regulated on the basis of International Air Transport Association's mileage principles and carriers charged the same fare on a given direct route.
"Agent commissions were fixed and competing foreign airlines offered higher incentives to undercut each other. In those days, IATA had an inspector who checked whether travel agencies were being paid such incentives," said Pradip Lulla, national general secretary of Travel Agents Federation of India.
The 1990s saw the end of monopoly of Indian Airlines as the government opened the doors to private companies.

Initially, the private operators could only run non-scheduled services but the rules were amended in 1994 enabling these to start full-fledged airlines.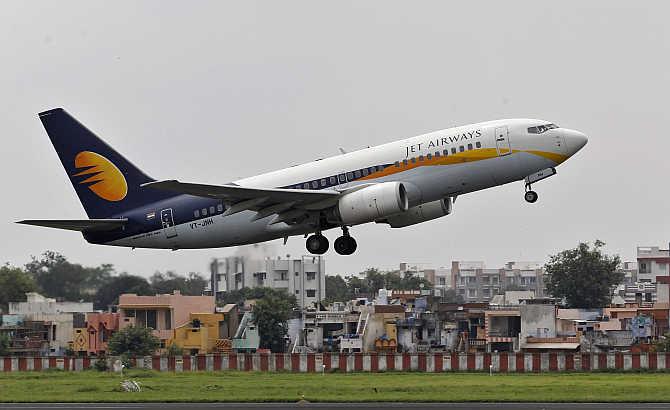 Image: Private airlines focused on customer service. Photograph: Amit Dave/Reuters
New airlines such as East West Airlines, Sahara Airlines, Jet Airways, Damania Airways, ModiLuft got wings but barring Jet Airways and Sahara Airlines (which merged in 2006), the others folded up.
The private airlines focused on customer service, on-time performance, quick baggage delivery and improved inflight service. With stylish uniforms and a fresh look in cabin interiors, these airlines brought in a new spirit.
Competition forced Indian Airlines to review its offerings. While it had introduced business class in the 1980s on Airbus A300 planes, Indian Airlines introduced a new menu, cutlery and warm and cold towels in the business class in 1994, Dorairaj said.
Passenger profiles changed as Indians began taking leisure and foreign trips. With many Indian students joining foreign universities, it is now common for airlines to give higher baggage allowances to flights bound for the US or the UK.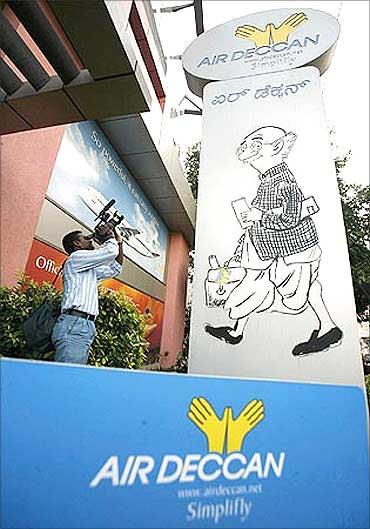 Image: Air Deccan changed the rules of the game in 2003. Photograph: Reuters
Then, G R Gopinath's Air Deccan changed the rules of the game in 2003. Apart from opening up air links to tier-II cities and towns with cheap fares, it also introduced the buy-on-board meal service.

Says Gopinath: "People remember us for the one-rupee fares but there were many other innovations. We were the first to introduce e-ticketing in India and thus put the ticket inventory directly in customers' hands. We allowed the sale of tickets at petrol pumps and post offices and we were also the first to sell tickets through a call centre." Air Deccan was also the first to bring dynamic pricing.
"We offered multiple fare levels and our highest fare was about 30 per cent cheaper than the competition," Gopinath added.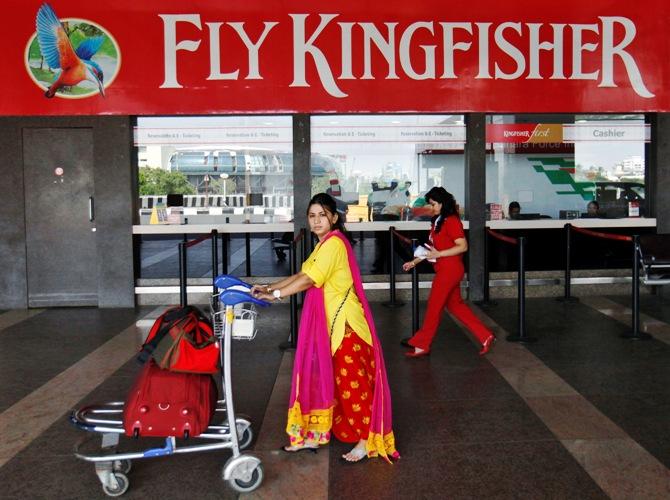 Image: Kingfisher shut down in October 2012. Photograph: Reuters
Air Deccan was taken over by liquor baron Vijay Mallya-owned Kingfisher Airlines, which put the focus on premium service. Kingfisher was the first domestic airline to offer back of the seat video entertainment systems.

Kingfisher shut down in October 2012.
The same decade saw the launch of SpiceJet (2005), GoAir (2005) and IndiGo (2006), the merger of Air India with Indian Airlines (2007) and the launch of the national carrier's first non-stop flight between Mumbai and New Delhi to New York in the same year.

At present, there are eight airlines -Air India, Jet Airways, IndiGo, GoAir, SpiceJet, AirAsia India, Vistara and Air Costa, a regional airline.
Image: India has eight airlines now including latest entrant Vistara. Photograph: Reuters
Over the last few years, some distinct trends emerged in Indian aviation - the growth of low-cost carrier capacity from three per cent in 2005 to over 60 per cent now, the blurring of distinction in products and pricing of full service and no-frills airlines, low fare-driven passenger growth and marginalisation of Air India, both in the domestic and international markets.
IndiGo continues to grow with a focus on punctuality and multiple frequencies, while full-service airlines are gearing up for competition.
Air India is banking on the Star Alliance membership to grow its passenger and revenue numbers, Jet Airways is back to its roots after shutting down its no-frills service and the
Tatas are back in business through a premium economy and a value-based loyalty programme (based on fares) for the first time in India.