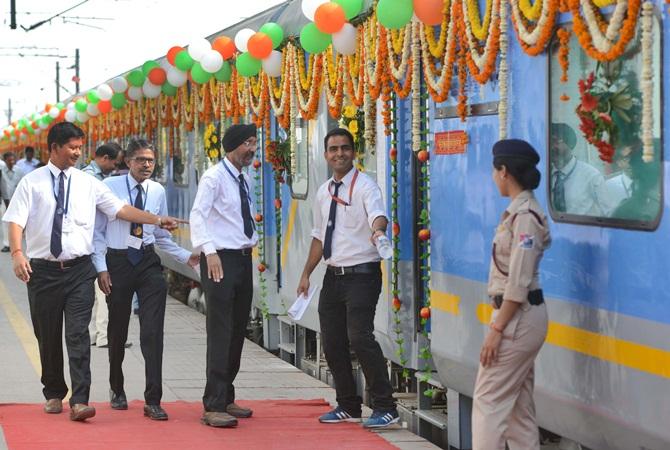 Image: India's fastest train Gatimaan Express flagged off in April, 2016. Photograph: Sandeep Pal/Rediff.com

The Indian Railways' focus is now on giving passenger more comfort and increasing train speeds, reports Shine Jacob

Speed and comfort seem to be the new buzzword for the Indian railways. Passengers are set to get the comfort of an aircraft on trains soon.
After the success of high-speed Gatimaan and Talgo, the Railways will launch Humsafar later this month.
This three-tier AC train is targeted at low-budget commuters who want to graduate to air-conditioned travel by paying a bit more.
But, that's not all.
For those looking for even more comfort, Tejas, a new service to bring aeroplane experience to train travellers, will be launched by December.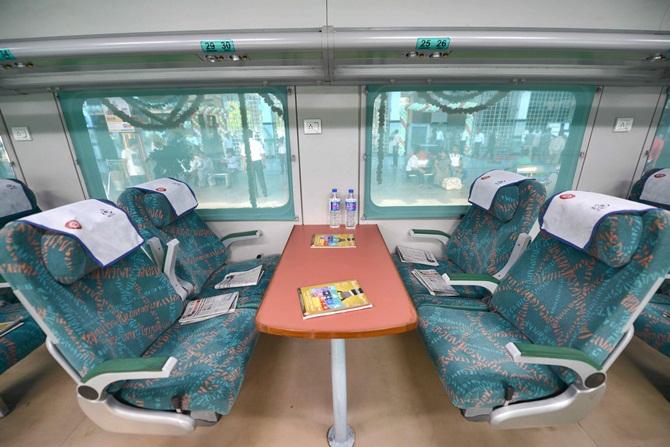 Image: Inside the Gatimaan Express. Photograph: Sandeep Pal/Rediff.com

The train will have service attendants such as air hostess, besides bringing the speed advantage.
New train services were introduced for political mileage till a few years ago, but the Indian Railways under Suresh Prabhu discontinued the practice of announcing new train in the Rail Budget speech.
The focus is now on having premium service to give passenger comfort and increasing train speeds.
This is a welcome change since the government will go in for comfort of passengers, rather than populism, said Anil Punjabi, regional chairman (east), Travel Agents Federation of India.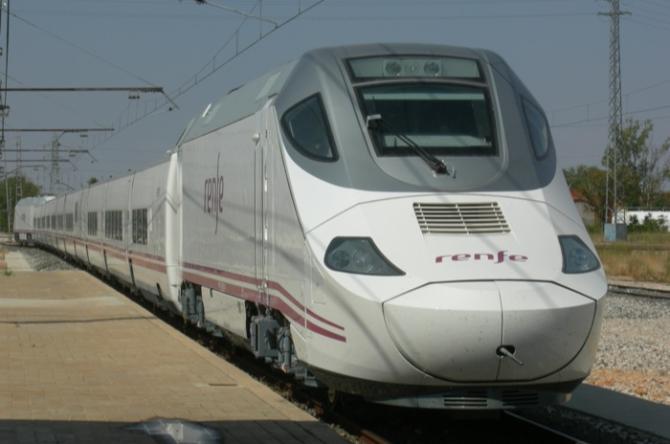 Image: Talgo. Photograph: Kind courtesy, Talgo

Tejas will be a completely new experience for passengers with the ambience of an aircraft.
Like airhostess, there will be cabin attendants providing services at the press of a button.
"Moreover, there will be a 10-inch liquid crystal display (LCD) screen for each passenger for entertainment purpose, along with GPS positioning of the train," Hemant Kumar, member -- mechanical, Railway Board told Business Standard.
Commuters would have to shell out 15-30 per cent over and above the regular tariff for Tejas.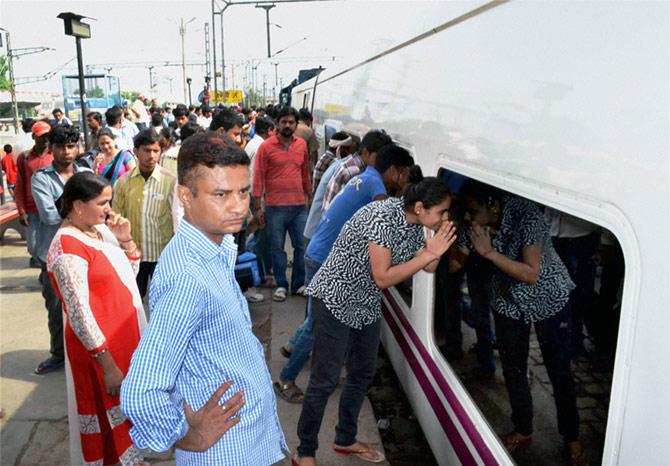 IMAGE: The much-hyped Spanish-made Talgo train had a trial run on the New Delhi to Mumbai Central route earlier this week. Photograph: PTI Photo
The idea would be similar to the comfort that passengers get in Eurail, which travels across 28 European countries, said Punjabi.
The routes that they are going to select are also important as such a train from Delhi might get more passengers than any other parts of the country.
This may attract local and international travellers as the rates will be cheaper compared to Eurail."
Other features of Tejas include sliding doors, automatic plug doors, WiFi facilities, vacuum bio-toilets, sensored taps, hand driers, hand phone sockets, LED boards for providing safety instructions with digital destination boards, integrated Braille display, magazines, snack tables and tea and coffee vending machines available for passengers.
In addition to this, local cuisine will be available on board.
In an effort to going paper less, the passenger reservation chart will be electronic.
Image: Passenger amenities have been bettered in new AC trains. Photograph: Sandeep Pal/Rediff.com

"Tejas will have 22 new features that no other trains in India have. We haven't finalised on the routes of these trains yet.
"But, Humsafar will be on track by the end of August and Tejas by December," Kumar added.
Both the trains will have closed-circuit televisions.
While Tejas will be having executive class and chair cars, Humsafar will have only three-tier AC coaches.
These trains will hit a maximum speed of 150 km per hour (kmph) against 130 kmph of Rajdhani and 160 of Gatimaan Express introduced earlier this year.
The much-hyped Spanish-made Talgo train had a trial run on the New Delhi to Mumbai Central route earlier this week.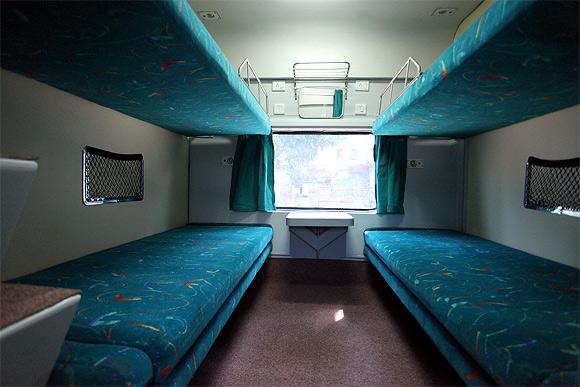 IMAGE: A view of refurbished Ist AC coupe of Rajdhani Express. Photograph: Kind courtesy, Western Railway.
In one of its trial runs between Mathura and Palwal, Talgo had crossed a speed of 180 kmph covering 84 km in 38 minutes, surpassing the record of Gatimaan Express.
Gatimaan is currently the fastest train in India clocking 160 kmph plying between Hazrat Nizamuddin and Agra.
The Railways will soon introduce an overnight double-decker service, called Utkrisht Double Decker Air-Conditioned Yatri Express, on busy routes.
The Railways is planning to install GPS-based Passenger Information System on important mail/express trains in about 300 rakes in a phased manner, Prabhu said in the Lok Sabha on Wednesday.
At present, GPS-based Passenger Information System is installed only in Gatiman Express.