"Nikesh has been a tremendous leader, adviser and mentor to many Googlers - including me. We have learned a lot together, and had a lot of fun along the way." – Google CEO Larry Page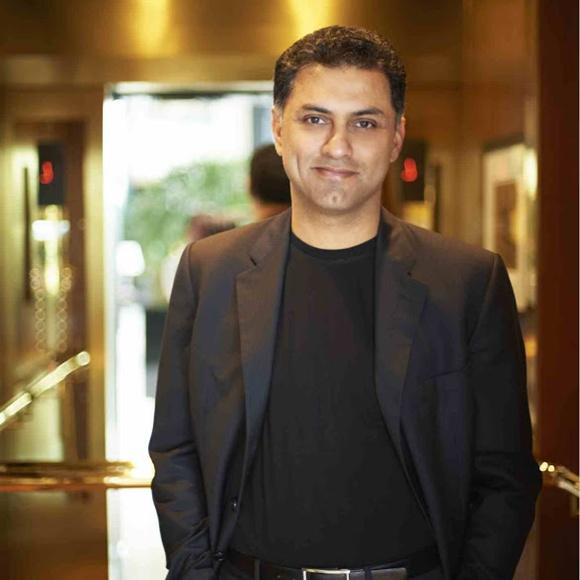 Image: Arora began his career at Fidelity Investment. Photograph, courtesy: Google
An electronic engineer from the Institute of Technology in Varanasi, Arora started off his career at Wipro - selling computers to government officials.
He moved to the United States at the age of 21 and did his MBA from Northeastern University.

But it was not a rosy start for Nikesh Arora, who now holds an enviable position.

In an interview with Business Standard, Arora talks about how he faced several job rejections and had to survive with just $3000 his father had given him.

Arora began his career at Fidelity Investments in 1992 where he held top finance and technology management portfolios. Later he became the vice president, finance, Fidelity Technologies.
Joining the telecom space, he served as chief marketing officer of the T-Mobile International Division in 2001.

He was chief executive officer and founder of T-Motion PLC, which merged with T-Mobile International in 2002.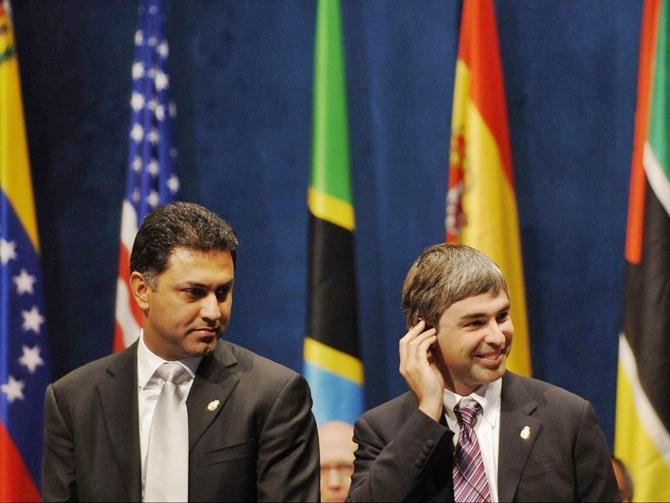 Image: Nikesh Arora with Larry Page. Photograph: Reuters
The turning point in his career was joining Google. Arora was in charge of Google's European operations from 2004 to 2007.

He then became the chief business officer in 2011. Arora soon became Google's highest paid executive.
He landed up being the fourth important person in Google, after its co-founders - Larry Page, Sergey Brin and chairman Eric Schmidt.

Arora had been Google's top sales executive, opening up new advertising markets and increasing the company's ad revenues.

He played a key role in garnering more revenues from display ads and getting more advertisers for Google's YouTube video site as well.

He bagged a $8 million retention bonus in 2012. The following year, he bagged a whopping compensation package of $57.1 million, according to Bloomberg.

However, after leading Google's advertisement business to new heights for 10 years, Arora quit in search of bigger responsibilities.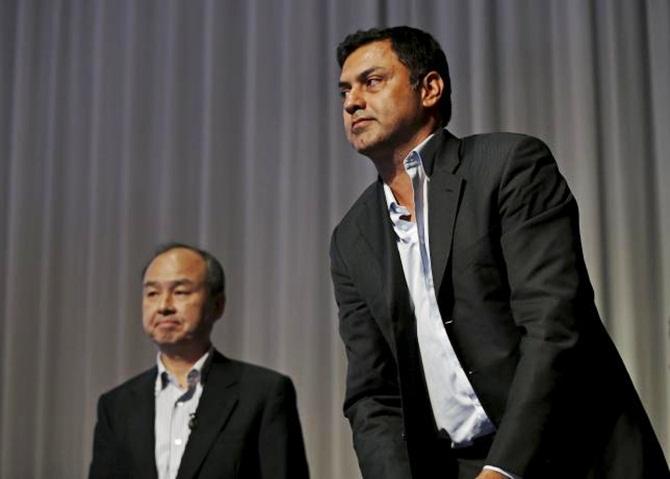 Image: CEO Masayoshi Son said Arora is a "strong candidate" to lead the company in future. Photograph: Reuters
He joined SoftBank to head its global Internet investments in 2014.
Ten months after 47-year-old Arora joined Softbank, he has been rewarded for helping SoftBank grow its international Internet investments in places like India and Indonesia.

Arora is the first person to hold the title of president at SoftBank and will take up his position on June 19. He will also join the SoftBank board.
Announcing Arora's appointment, CEO Masayoshi Son said Arora is a "strong candidate" to lead the company in future.
"Yes. He's 10 years younger than me, and he has more abilities than me," Son told said reporters, when asked if Arora was a potential candidate to succeed him.
Arora attributes his success to three important factors – luck, hard work and ability to adapt to any situation.
A globetrotter, Arora wishes to travel across the world. He has already travelled to over 60 countries…and of course has miles to go…