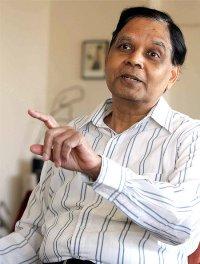 India's new policy commission has received a makeover and a dream team has been formed to head the Think Tank, NITI Aayog.

Arvind Panagariya, a free-market economist will be first Vice Chairman of the newly-created NITI Aayog along with six members and three special invitees.
Arvind Panagariya, Vice Chairman


An Indian-born economics professor at
Columbia University in New York, Panagariya,
as vice chairman of NITI, would have a pivotal
role in coordinating economic strategy and
will hold Cabinet rank.
Panagariya has previously advocated a
loosening of fiscal deficit targets that he
said were stifling growth to allow for
more capital spending.


Full time members

Bibek Debroy, Economist

Educated at the Presidency College (Calcutta),
the Delhi School of Economics and the Trinity College (Cambridge).
Debroy began his career as an academician.
Debroy has also authored several books, papers and popular
articles. Presently he is a member of the National
Manufacturing Competitive Council.


Dr V K Saraswat, Scientific Advisor to Defence Minister
and DG, DRDO

A distinguished scientist, Saraswat, has been actively associated
with the development of various missile programmes - Devil, Prithvi-I,
Prithvi-II, Dhanush, and Anti-Balllistic Missile Systems.
Saraswat graduated in Mechanical Engineering from Jiwaji University,
Gwalior, did his Masters in the same subject from Indian
Institute of Science, Bangalore and doctorate in Propulsion Engineering
from Osmania University, Hyderabad.
He started his career in DRDO with the development of India's
first Liquid Propulsion Engine, Devil.

Ex-officio members

Union Minister of Home Affairs, Rajnath Singh

Singh, under whose stewardship the Bharatiya Janata Party
stormed to power with its highest-ever tally in the 2014 Election,
handles India's internal security and the task of guarding its
international borders with Pakistan, China, Bangladesh, Nepal and Bhutan.
The teacher-turned politician has tackling Naxal violence, activities
of terrorist outfits in the country's hinterland, infiltration from Pakistan,
illegal immigration from Bangladesh and strengthening intelligence
gathering mechanism.

Union Finance Minister Arun Jaitley

The most powerful leader after the Prime Minister, Jaitley is Modi's
ace troubleshooter on almost all issues. A Bharatiya Janata Party (BJP)
worker describes him as Modi's Chanakya (like Chandragupta's advisor,
Jaitley is a Brahmin).
Environment and Information & Broadcasting Minister Prakash Javadekar
calls him a "super strategist". If somebody knows how to work the levers
of power in Raisina Hill it is Jaitley.
With big promises to revive the economy, Jaitley will have a tough task
ahead to live up to the expectations of the industry, investors and common
man, as he readies the Union Budget 2015-16.

Union Railway Minister Suresh Prabhu

The banker-politician inherited quite a mess as railway minister.
A Shiv Sena leader before he joined the Bharatiya Janata Party,
Prabhu has a long list of problems to tackle, including:

A worrisome operating ratio targeted at 92 per cent in the current financial year

Stagnant passenger volumes with Rs 25,000 crore losses on passenger services

Lower than expected freight earnings, growth coming from higher rates, not driven by volumes

Safety infrastructure, including rollout of anti-collision devices on entire network

Delayed progress on mega projects like DFCC, revamping PPP and starting FDI initiative

Union Agriculture Minister Radha Mohan Singh


Representing Purvi Champaran constituency in Bihar
Singh's to-do list include cow protection, schemes to
provide irrigation and insurance for farmers.

Special invitees

Nitin Gadkari, Minister of Road Transport and Highways


Nitin Gadkari has seven portfolios, but does not seem weighed
down at all by the many things on his plate.
One of the big issues Gadkari faces is whether to continue
ith the United Progressive Alliance government's Mahatma Gandhi
National Rural Employment Gurantee Act, MNREGA, scheme, which
has attracted both criticism and applause.
Gadkari believes MNREGA should be restricted to tribal
and backward districts.

Thawar Chand Gehlot, Union Minister of Social Justice and Empowerment

A Dalit face in the Modi government, Gehlot has been a
long-time trade unionist and a three-term MLA. He was first
elected to the Lok Sabha in 1996, then again in 1998, 1999 and 2004.
This is his first stint as a minister.

Smriti Zubin Irani, Minister of Human Resource Development

For Irani, it was a remarkable journey from her humble
origins to a successful TV actor before she joined politics
and rose to become a Cabinet minister at the young age of 38.
Her appointment was criticised by many people owing to her
improper education.