The prime minister dismissed reports of differences between finance ministry and Reserve Bank of India. The central bank has its functional autonomy which the government 'always respects and preserves', he said.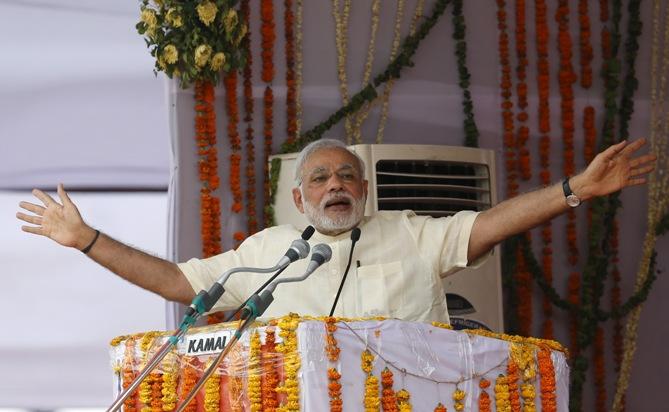 Image: Prime Minister Narendra Modi addresses his supporters during a rally in Mathura, May 25, 2015. Photograph: Adnan Abidi/Reuters
Hinting at opening up of more sectors, Prime Minister Narendra Modi on Wednesday said areas with high employment potential and strong local talent will be the focus to woo foreign investment.
The prime minister expressed confidence that reforms like Goods and Services Tax and land acquisition bills will be passed in 'a matter of time'.
On the land bill, which the government wants to push early but has now been referred to a parliamentary committee, he said the government will accept any suggestions that benefit Gaon, Garib, Kisan (village, poor and farmer).
In a wide-ranging interview to PTI, Modi asserted that measures already taken in past one year have increased the attractiveness of India as an investment destination and investor confidence has improved.
He also dismissed suggestions of differences between finance ministry and Reserve Bank of India saying the central bank has its functional autonomy which the government 'always respects and preserves'.
One year of Modi sarkar: Complete coverage
"Wherever there is high employment potential and wherever we have strong local talent, for example, in research and development: those will be the areas of focus for FDI.
"We have created the National Infrastructure Investment Fund.
Image: A labourer takes a nap in a basket at a wholesale vegetable market on a hot summer day in Kolkata, May 25, 2015. Photograph: Rupak De Chowdhuri/Reuters

"This is a major step which will increase the flow of foreign investments into all infrastructure sectors, without needing separate sector-by-sector approaches," he said.
Asked whether obstacles to reforms measures like GST Bill and amendment to Land Acquisition Bill were hurting the economy, the prime minister said both the GST and the proposed Land Acquisition Bill are beneficial for the country.
"The core essence of these Bills should be appreciated by all the parties keeping aside political motives.
"Long term interest of the nation should be foremost.
"The fact that the states have agreed to the GST design, shows the maturity of our federal system and the GST Bill has already been passed by the Lok Sabha. It is a matter of time before these laws are passed," he said.
To a question what kind of a message would it send to foreign investors if reform measures are not pushed fast, the prime minister said, "One of the peculiarities of Delhi is that the term 'reform' is associated only with passing of laws in Parliament.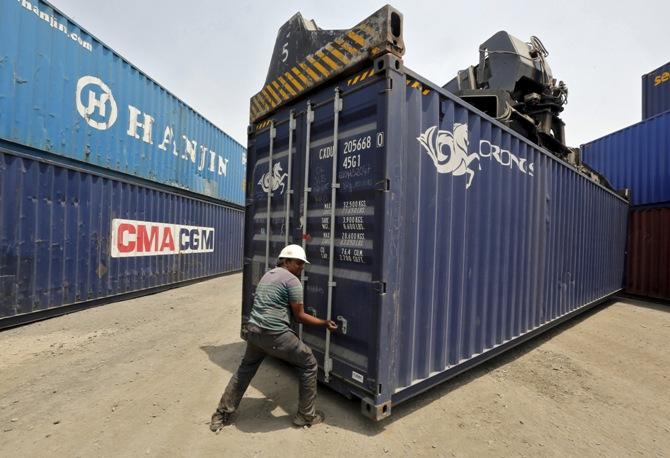 Image: A worker closes the door of a container as it is stacked at Thar Dry Port in Sanand, Gujarat, April 21, 2015. Photograph: Amit Dave/Reuters
"In fact, the most important reforms needed are those without new laws at various levels of government, in work practices and procedures."
Modi said the government has initiated a number of major reforms which include decontrol of diesel prices, direct transfer of cooking gas subsidy, enhancement of FDI limits, revamping of railways and many others.
"The truth is that reform has actually been pushed very fast and in fact as a result FDI has already witnessed an increase of 39 per cent in the period April, 2014 to February, 2015 compared to the previous year," he said.
One year of Modi sarkar: Complete coverage
He also maintained that the success of steps that the government has taken and the positive response of the people to them in the first year 'have encouraged us to do even more'.
"Our focus will be on P2G2, i.e. Pro-active, Pro-people Good Governance reforms.
"Another aspect we will emphasise and strengthen is that the state and the Centre are one team which has to work together for reforms to be effective," he said.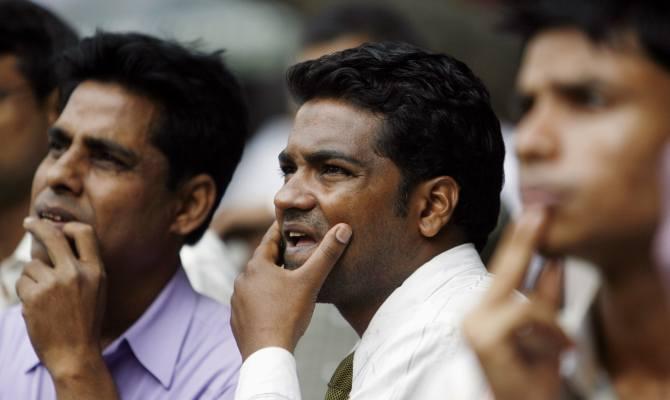 Image: People look at a large screen displaying India's benchmark share index, on the facade of the Bombay Stock Exchange building in Mumbai. Photograph: Arko Datta/Reuters
Asked about reports of Reserve Bank of India and finance ministry on the same page on issues, Modi said, "I am surprised that an important and credible media agency like PTI is drawing an incorrect inference based on remarks made in different contexts.
"RBI has its functional autonomy which the government and the Finance Ministry always respect and preserve".
On the economic growth prospects for the current year, Modi said based experience of the last year and the enthusiasm of the people give confidence that all economic indicators will exceed the targets.
"I do not want to undermine the potential and the efforts by giving any figure which may turn out to be too low," he said.
To a question about Opposition accusation that the government was pro-corporates while some in industry like Deepak Parekh say nothing is happening on ground, he said, "The answer is to be found in your question itself.
If opponents are accusing us of being pro-corporate but the Corporates are saying we are not helping them, then I take it that our decisions and initiatives are pro-people and in the long term interests of the nation".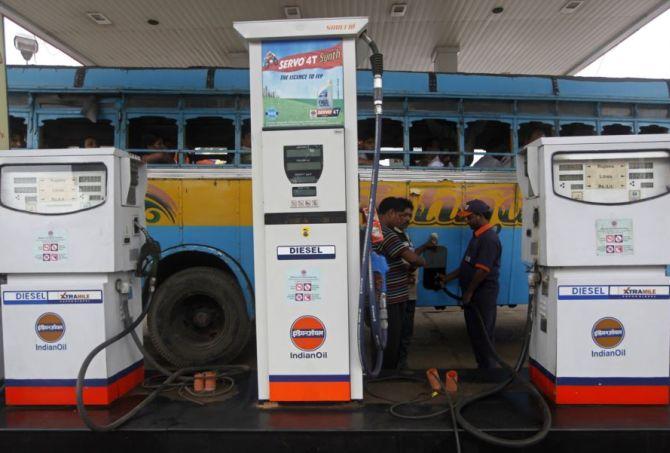 Image: A petrol pump employee caters to customers. Photograph: Reuters
On the issue of making progress on the Bharatiya Janata Party's election promise on stringent action against back black money, he said the very first decision of the government after taking office was to constitute the Special Investigation Team to pursue black money.
"This step had been pending for years with no action and we executed it in our very first Cabinet meeting. Subsequently, we have also brought a new Bill which will combat black money held abroad. It prescribes stiff penalties.
One year of Modi sarkar: Complete coverage
"Thanks to our efforts, an agreement was reached at the G-20 summit in November 2014 to curb tax evasion and in particular to exchange information between countries. This will help us to trace black money.
"These are very strong and concrete actions," he said.
To a question on the agrarian crisis in the country, the prime minister said suicide by farmers has been a serious concerns for several years.
"Political point-scoring through comparing how many suicides occurred under which government will not solve the problem.
For a government of any party, and for every one of us, even one suicide is worrisome," he said.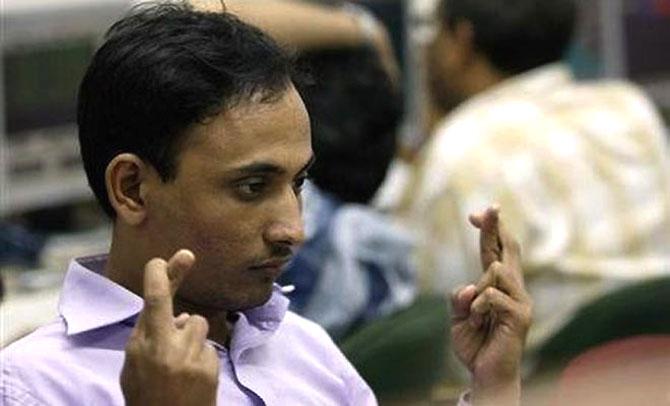 Image: A stock market trader reacts. Photograph: Reuters
Modi expressed 'great sadness' that mudslinging between the ruling and Opposition parties would be unproductive and, respecting the sanctity of Parliament, "we need to collectively find an answer to this issue.
"We need to find where we have gone wrong and why we are not able to solve this over so many years.
"I have asked all parties for their suggestions to bring contentment and security to our farmers. I want to assure our farmers that this Government will never be found wanting in doing whatever is needed for their welfare," he said.
Stating that there has been a good beginning on bridging the trust deficit between Centre and states, Modi said the experience of chief ministers with the Centre over many years has generated an atmosphere of distrust.
"Doodh ka jala chhaachh bhi phook phook kar peeta hai" (once bitten twice shy). Even now there is a lot of mutual suspicion between the Centre and the states as a legacy of the previous decades.
"However, I can say that there has been a good beginning in building trust. The NITI Aayog is acting as a catalyst to build a vibrant Centre-state partnership to take the nation forward.
"This spirit of partnership and team work is gradually increasing and the fruits will be seen in the coming years," he said.
To a question about criticism that powers are concentrated in the Prime Minister's Office, he said the government has made major increases in the delegated powers of individual ministries so that many decisions that earlier needed to come to the Prime Minister and the Cabinet can now be taken by Ministries themselves.
"The financial delegation for ministries has been trebled. Devolution to the states has been increased and states have become full partners in governance through the National Institution for Transforming India Aayog.
"All successful and transformational administrations need close coordination across different ministries and there is nothing unique in it.
"We have not made any changes in the business rules of government and decisions are taken by those authorised to take them," he added.