Firms are offering employees flexi hours; the demand for air purifiers, masks have skyrocketed.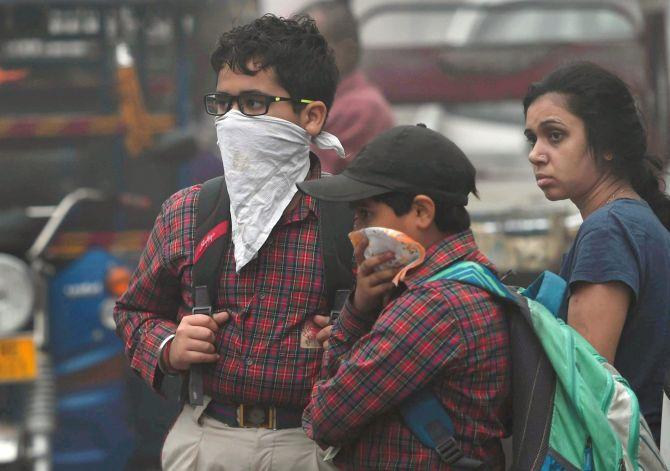 IMAGE: Delhi residents cover their face as smog covers Delhi's skyline. Photograph: Shahbaz Khan/PTI Photo
Paytm founder and Chief Executive Officer Vijay Shekhar Sharma is leaving for a coastal city in south India to escape the smog and pollution choking the National Capital Region.
The employees of his company in Noida might not be able to leave like him, but Paytm is distributing pollution masks among them and is also offering flexible working hours so that they can avoid the peak pollution in the morning and evening.
"We are taking necessary measures to improve the air quality in our offices by getting top-of-the-line air purifiers and more plants. If a colleague feels unwell, we offer health assistance," said Amit Sinha, chief operating officer, Paytm Mall.
Information technology company HCL, which has employee strength of 35,000 in the NCR, is also distributing masks.
"We have various wellness initiatives driven the organisation for the health of our employees. We have a health care centre on campus and employees with serious symptoms, if any, can be readily given assistance. We have also issued an advisory to all our employees, explaining the dos and don'ts," said an HCL spokesperson.
India's biggest online travel agency MakeMyTrip said it was working on ways to help employees procure the right air masks at discounted prices on the office premises.
"We have a clearly defined work-from-home policy for our employees that they can avail of at this time as any other. We are also encouraging employees to carpool through our internal social networking forum. We are working on ways to help employees procure the right air masks," said a company spokesperson.
Multinational companies such as PepsiCo and Coca-Cola and Indian fast-moving consumer goods major Dabur are not considering giving any leave to their employees yet.
Coke has air-purifying systems at its corporate office in Gurugram; others said the air quality on their premises was considerably better than outside.
Raj Rana, chief executive officer-South Asia at Carlson Rezidor (which owns hotel brands such as Radisson and Park Plaza), said the employees working inside the hotel are least affected, since various mechanisms including air filters are in place to ensure a healthy environment for them and for guests.
Work has continued at a normal pace at most corporate entities in Delhi and its satellite cities Gurugram and Noida.
Employee attendance was usual and companies have not yet felt a need to offer them an option to work from home or support them in any other manner.
Unlike the services sector, however, there is little relief for employees of the manufacturing sector.
"In the manufacturing space, such as automobiles, normal plant operations cannot continue without workers. We are left with little option as production and sales targets are to be met. The human resource department is closely monitoring the situation," said an executive with a leading automobile maker with a plant in the NCR.
Large automobile makers in the region such as Maruti Suzuki and Honda continued with their regular operations.
Gurugram-headquartered Bharti Airtel, the largest telecom service provider, did not say if it had done anything.
Sales of air purifiers, masks skyrocket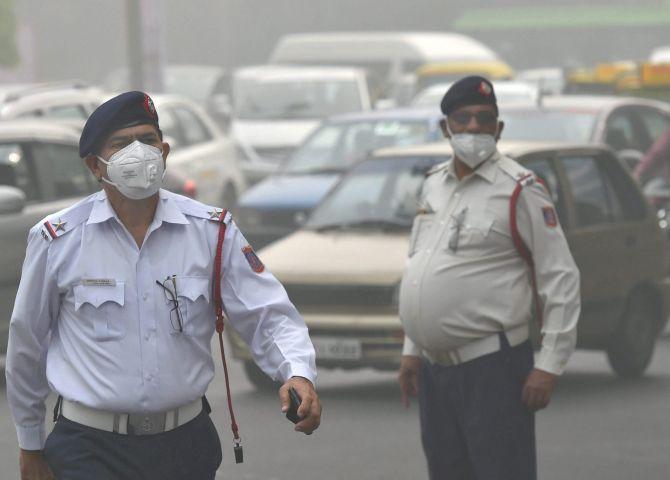 IMAGE: Traffic policemen wear masks to protect themselves from the smog and air pollution in New Delhi. Photograph: Kamal Kishore/PTI Photo
Air purifiers, masks and respirators have been flying off the shelves since the capital region has come under a thick layer of smog.
Since Monday, sale of air purifiers has doubled. When air quality worsened on Tuesday, marketers saw a 250 per cent jump in sales.
The market for air purifiers is confined to northern India, which contributes close to 80 per cent of the annual sales of Rs 500 crore (Rs 5 billion).
For the past few years, the market has been growing by more than 50 per cent.
However, growing awareness among consumers -- thanks to promotional activities by all major marketers -- got more consumers into retail outlets this time.
According to industry estimates, the 200,000 units a year market will hit 400,000 units this year.
"We have sold some 7,000 pieces in November, which is 250 per cent higher than the sales in the same period last year," said Kishalay Ray, president, consumer electronics division, Sharp Business Systems.
"During October, too, year-on-year sale was better as we saw 2,800 units fly off the shelves. But sales have skyrocketed since yesterday," he said.
To cash in the growing demand for air-purifying systems, the firm had recently ventured into specialised categories, apart from car and room air-purifiers.
Other consumer durable makers were not too far behind.
Korean major LG, Kent and Crompton Greaves have launched air-purifiers in the past few days.
Kim-Ki Wan, managing director, LG Electronics India, said: "Air quality has been of pressing concern for consumers. Based on this insight, we have developed the latest LG air-purifiers."
Syed Moonis Alvi, business head-purifiers, Panasonic India, said the firm has achieved sales of Rs 2 crore in October 2017, with a 20 to 25 per cent jump over last year.
"We are targeting sales of Rs 7 crore to Rs 8 crore till December 2017. We are at 8 per cent market share and hope to achieve 10 per cent market share by the end of 2017-18," he explained.
Sudhir Pillai, a general manager at Honeywell Homes and Building Technologies, said: "Over the last two days, we have seen a more than a five fold spike in sales and 8 to 10 fold increase in enquires at our customer care centres. We are already selling aggressively through both online platforms as well as large and small-format retail stores."
Many shops ran out of stock of face masks and respirators. Jai Dhar Gupta, founder of Nirvana India, a seller of designer masks, said supply constraints were a concern as demand was seasonal.