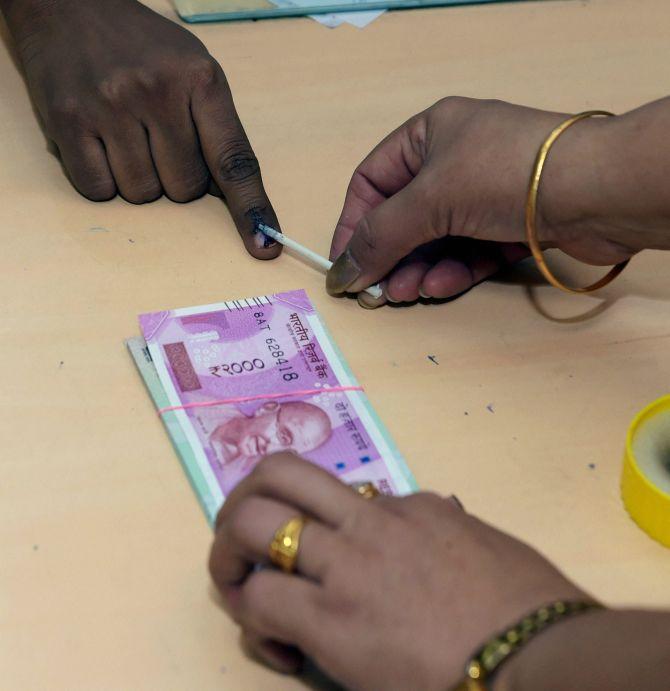 To stop repeat money exchangers thronging banks with invalid currency notes, banks have started applying indelible ink mark on the right hand index finger of customers in the select metro cities.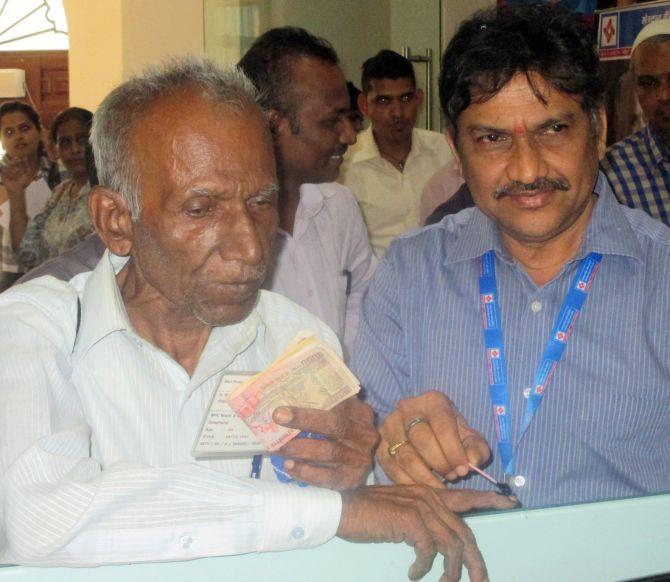 IMAGE: A man gets his finger inked as he exchanges his old notes in Mumbai. Photograph: Sahil Salvi
SBI and few other banks have started using indelible ink. As per the government statement, 11 branches of SBI are using the method to weed out customers queuing up again and again to exchange invalid currency notes.
As per the Standard Operating Procedure for exchanging notes, concerned bank branches and post offices would put indelible ink mark on the right index finger of the customer so as to identify that he/she has exchanged the old currency notes once.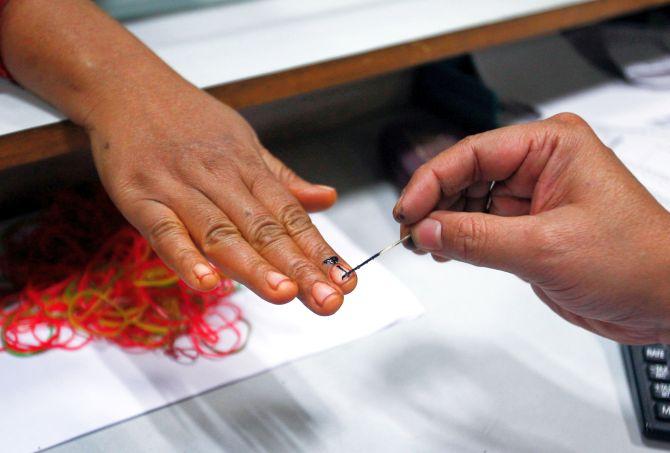 IMAGE: A bank employee puts indelible ink mark to a customer's finger inside a bank in Allahabad. Photograph: Jitendra Prakash/Reuter
The move comes amid reports of long queues and chaotic scenes at banks and ATMs across the country for past several days after Prime Minister Narendra Modi last week announced the withdrawal of old Rs 500/1000 notes in the biggest crackdown on black money, corruption and counterfeit currency.
The notes withdrawn accounted for 86 per cent of the cash circulating in the Asia's third-largest economy.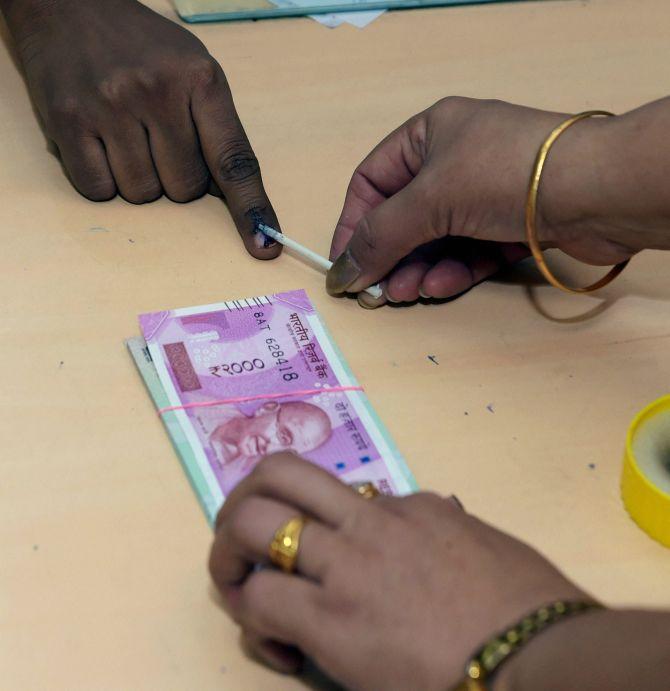 IMAGE: The ink is applied on the right index finger to ensure there's no confusion for elections. Photograph: Manvender Vashisht/PTI Photo
The indelible ink is supplied to the bank/post offices by Indian Banks' Association in coordination with the banks and consultation with the Reserve Bank of India.
This procedure is being introduced to begin with in the metro cities and expanded to other areas later, the RBI said in a statement.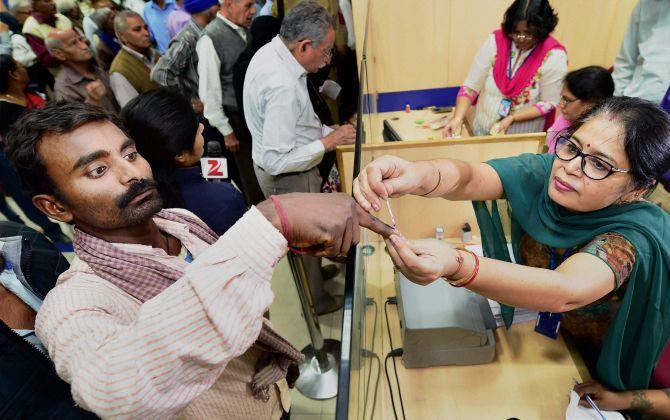 IMAGE: The ink mark is for people who are coming to banks to exchange their old notes. Photograph: Manvender Vashisht/PTI Photo
Identified bank branches are provided with black indelible ink bottles of 5 ml each and the cap of the bottle includes a small brush for applying the ink.
According to SOP released by the RBI, indelible ink can be applied by the cashier or any other official designated by the bank before the notes are given to the customer so that while the exchange of notes is taking place, a few seconds elapse which will allow the ink to dry up and prevent removal of ink.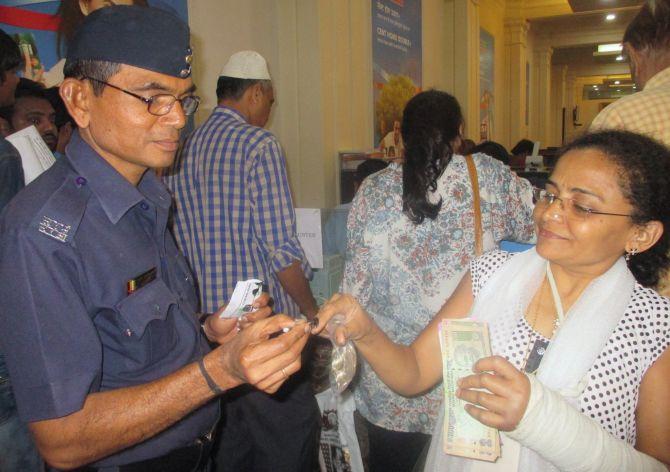 IMAGE: According to RBI SOPs, any bank employee can put the mark on the public. Photograph: Sahil Salvi
Indelible ink on the index finger of the left hand or any other finger of the left hand cannot be used.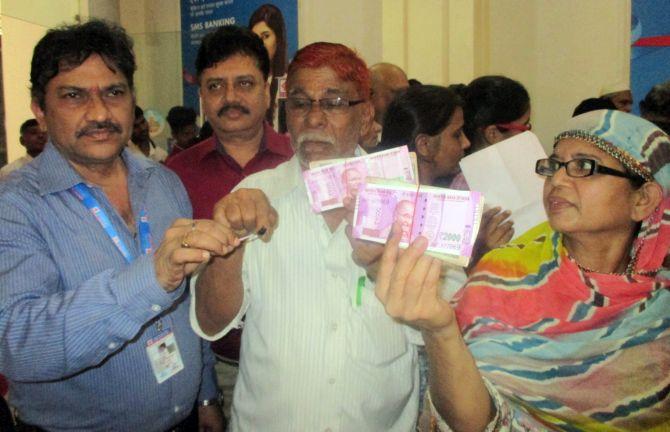 IMAGE:

The procedure is being introduced to begin with in the metro cities and expanded to other areas later, the RBI said in a statement. Photograph: Sahil Salvi