Tight control over the working of the railways has never been easy, explains Vivek Sahai.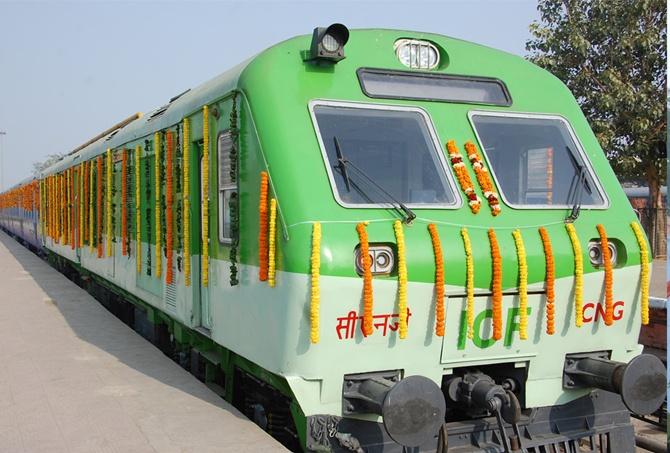 Image: India's first CNG train. Photograph, Courtesy: PIB
One could take pride in Indian Railways' being one of the largest commercial organisations under governmental control anywhere in the world, with its 1.3 million strong work-force carrying nearly 23 million passengers daily and lifting more than one billion tonnes of originating freight traffic in a year.
Yet the standards of cleanliness on its passenger-carrying trains and stations are appalling, to say the least; the availability of berths for travel at short notice is a rarity; and its freight business is fast losing clientele.
The fact is that, despite its wide reach and strong presence in the national psyche, there is an all-pervading feeling of resignation and despondency about its quality of service.
The complexities of managing this humongous department can be easily visualised from the fact that in the last three years it has accounted for the scalps of three Union ministers for one reason or the other!
Tight control over the working of the railways has never been easy. The catharsis experienced by the country in the railway strike of 1974 besmirched the administration as well as the unions.
Not for nothing, both have skilfully avoided a repeat of a similar direct confrontation for the last 40 years. But the experience has also made the organisation very conservative, side-stepping issues and detesting strong stands.
This has all coalesced into a fierce fondness for the status quo. The last 25 years of coalition politics have contributed handsomely to this state.
It is time to take stock of the four issues that should receive the railway minister's immediate attention.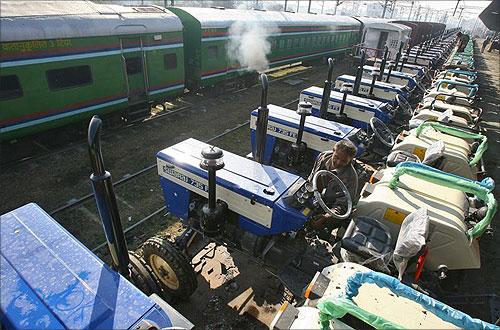 Image: Robust growth in freight needed. Photographs: Reuters
Freight movement must get a fillip to improve finances
The freight business is the bread and butter of the railway's finances. The surplus from the freight business is unflinchingly utilised to subsidise the passenger business.
In UPA-I, railway finances rode upon a healthy growth in freight tonnage of 8-10 per cent year after year, as can be seen from the Table.
The trend for the last three years, however, is 50 per cent below this. Unless IR goes back to its earlier robust growth in originating freight, railway finances are going to remain under tremendous pressure.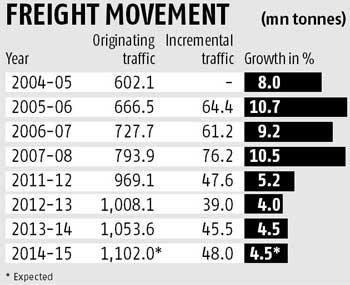 Two factors have been precluding a higher rate of growth: firstly, the Railways have abandoned the less-than-block-rake traffic altogether, and secondly, the world's steepest freight rates.
First things first. While passengers have multiple choices of class and carriage, in freight services customers have to willy-nilly opt for a full rake constituting 3,500 metric tonnes of material.
This take-it-or-leave-it situation has made IR suitable only for carrying bulk traffic like coal, ores and minerals, foodgrain and so on.
Consequently, IR has been steadily losing its share of freight movement - down to 36 per cent, from 89 per cent in 1951. Per a McKinsey study, the share may decline to 25 per cent in 2020, causing a loss of five per cent of GDP.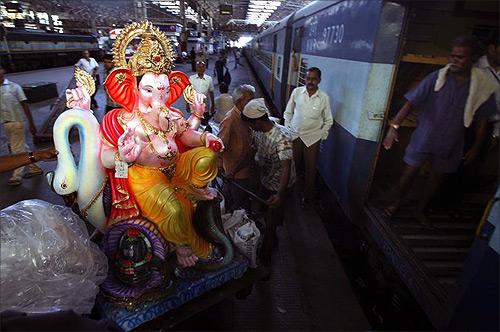 Image: Railways must pull back its share of freight traffic to around 50 per cent. Photographs: Reuters
The Railways must pull back its share of freight traffic to around 50 per cent by 2020 - a gigantic task, as that means annual growth of more than 10 per cent in originating freight traffic till 2020.
But the Railways now depend solely on coal and ores and minerals for growth, which themselves are growing at only around four per cent.
On the other hand, it is neither operationally feasible nor financially prudent to start running non-block-rake traffic or start conducting shunting at roadside stations. How to attract this traffic to rail?
There are three options: Utilise domestic containers to lift this traffic on a hub-and-spoke arrangement; utilise road railers to pick up piecemeal traffic; and use "RO-RO", or roll-on, roll-off mode, to carry road traffic such as trucks on rail.
The first of these options has already been tried on the CONCOR fleet. The induction of private container operators too was expected to aggregate this piecemeal traffic, but the hopes have been belied.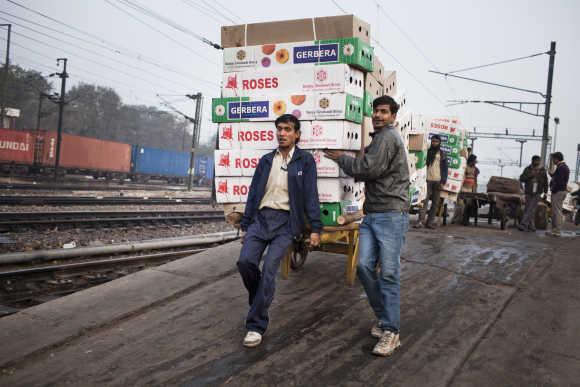 Image: Workers move the morning delivery of flowers from a train at the Nizamuddin Railway Station. Photographs: Daniel Berehulak/Getty Images
The loading/unloading of containers by gantry cranes or mobile cranes has proven to be quite expensive. The second option has been in the air for quite some time, but needs foreign collaboration, the details of which are proving to be intractable.
The option of RO-RO has considerable potential if new wagon designs are adopted to load multiple axle trucks on tailor-made wagons capable of running at 100 kmph in loaded condition - the same as the BLC wagons used for carrying containers. This would be an innovative idea of Indian origin designed to solve an Indian problem.
Whatever the ultimately accepted method may be, it should be one which can generate at least 100 million tonnes of additional freight traffic for the Railways in the next two years.
Secondly, Railways have fallen into a Catch-22 situation where freight rates are increased to compensate for less-than-expected growth in tonnage, which further drives the traffic away to road, as the Railways prices itself out.
The only way to extricate the Railways out of this vicious cycle is to impose a moratorium on any increase in freight rates at least for three years. In the interregnum clients should be wooed back to rail by policies of rebates to loyalists, and so on.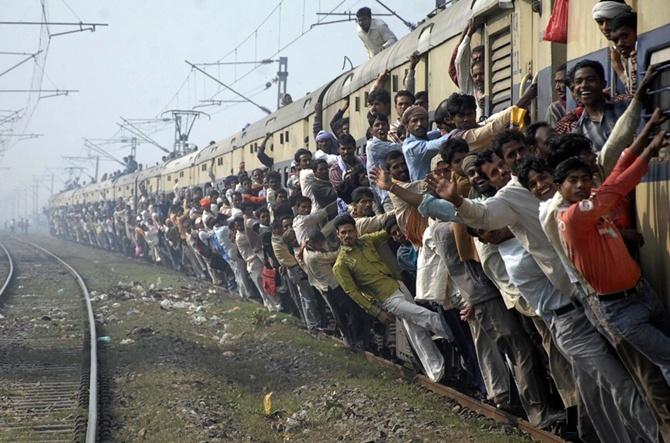 Image: Indian Railways was last restructured in 1951. Photographs: Reuters
Accounting reforms
Activity on accounting reforms was started 15 years ago, yet there is no sign of its culmination.
When FDI and private partnership is being talked about, it is all the more imperative for IR to have a clear idea of sector-wise cash inflows and outflows.
Lack of accounting reforms turns off investors and errors on revenue-sharing could later become an issue with the CAG.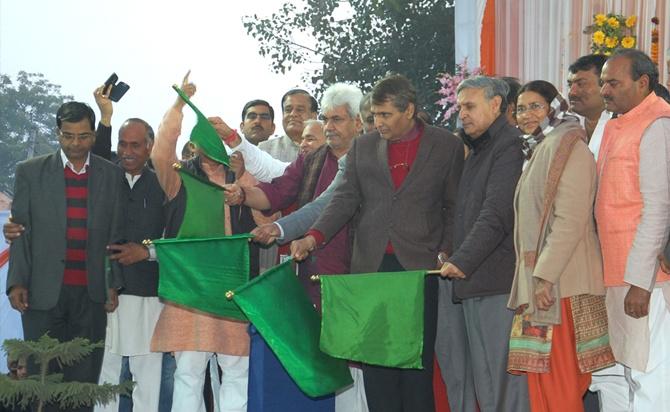 Image: Union Railway Minister Suresh Prabhu flagged off first CNG train. Photograph, Courtesy: PIB
Organisational restructuring
Indian Railways was last restructured in 1951, when all the princely states' railways and company railways were amalgamated. The administrative set-up has now become quite unwieldy, rigid and self-perpetuating, at the cost of national priorities.
The government has rightly formed a high-powered committee to submit its recommendations. It is hoped that the report of this committee will be made public very soon, since its implementation in the field may prove to be an even more onerous job, entailing two to three years to complete.
If not implemented during the tenure of this government, the recommendations will surely meet the same fate as that of three earlier committees - the Prakash Tandon Committee (1994), Rakesh Mohan Committee (2001) and Sam Pitroda Committee (2012).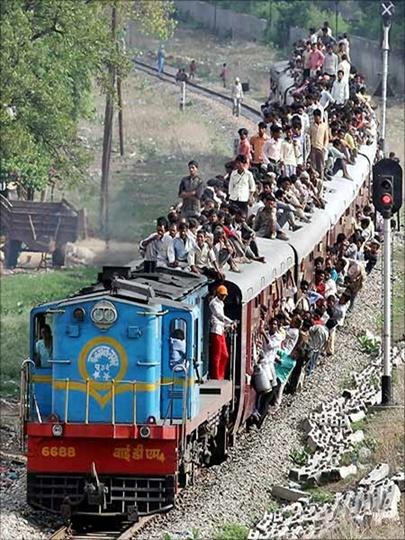 Image: Railways lags behind its global peers on new technologies. Photograph, Courtesy: PIB
Nurturing professionalism
Indian Railways has never been on the frontier of developing or innovating railway technology. It has always lagged behind its global peers on the adoption of new technologies.
One primary reason is that there are no professional courses on railway engineering, operations or marketing available anywhere in India.
On the other hand, the Chinese Academy of Railway Sciences (CARS) can boast of 2,300 scientific research achievements and 825 prizes for such research till 2012. Even a small country like South Korea is well served by the Korea Railroad Research Institute (KRRI). In India, a Railway university could support high-quality research.
The country will be looking for a new avatar of the Indian Railways in the coming Budget. The railway minister has an unenviable task on hand.

He has to serve "new wine in a new bottle". Any compromise with any one of these two components would not go down well with the Indian people without a tinge of rancour.
The writer was chairman of the Railway Board.