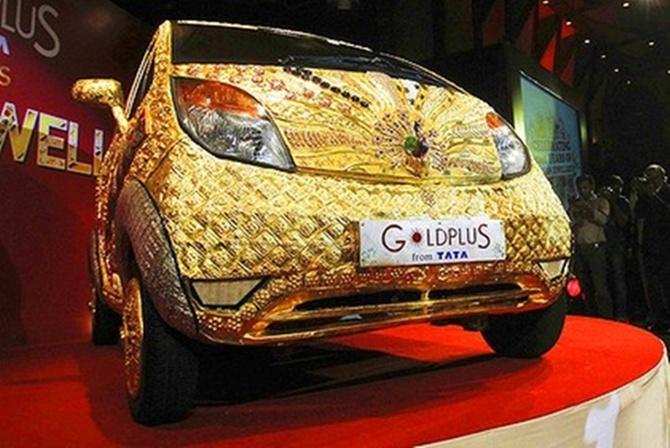 Image: Tata Nano Gold Plus. Photograph: Kind courtesy, Tata Motors

Two brand makeovers later, the small car is still struggling. Even though volumes are rising, numbers are still way below the past highs
GenX Nano, launched by Tata Motors in May last year to push up sagging sales of the country's cheapest car, has not been able to deliver yet.
The brand that was once pitched as everyman's first car has seen sales rise in 2015 as compared to the previous year, but the numbers are much lower than many of the early years.
The company has sold 15,772 units of GenX Nano in the domestic market till December against 10,306 units of the earlier model sold in May-December period of 2014-15.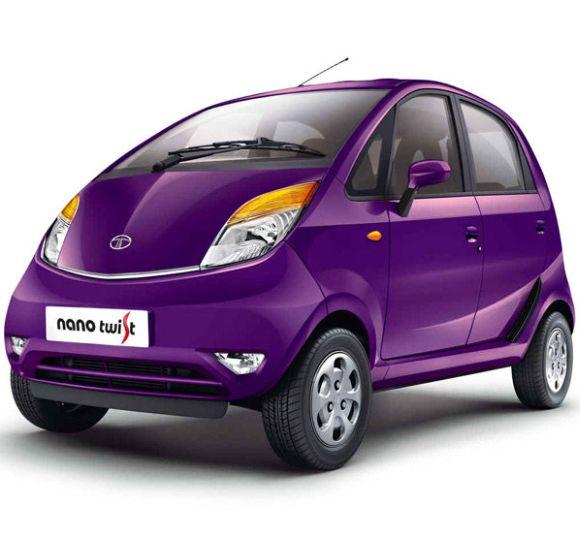 Image: Nano Twist. Photograph: Kind courtesy, Tata Motors

The 53 per cent increase year-on-year looks impressive, but look closer and the numbers paint a different picture.
The company is currently selling an average 2,000 units of Nano each month which is well below the high monthly average of 4,500 in 2012-13 and over 6,000 units in 2011-12.
For a car expected to revolutionise the automobile sector in the country by critics and fans alike, at the time of the launch, the new normal seems like a big come-down.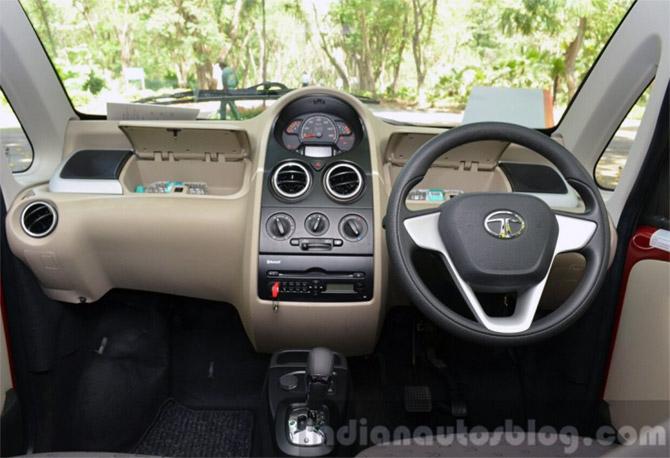 Image: Tata Nano interior. Photograph: Kind courtesy, Indianautosblog
Tata Motors is not disappointed with the GenX Nano performance, however.
"We are glad with the response the Nano brand has seen since the launch of GenX Nano and the overall re-positioning of the brand.
In addition, features like 'Easy Shift' Automated Manual Transmission with 'Sports' mode for enhanced acceleration, 'creep' feature for heavy traffic maneuverability and parking ease have driven the traction for Nano.
We continue to see a fresh set of customers, first-time car buyers, visiting our showrooms," said a company spokesperson.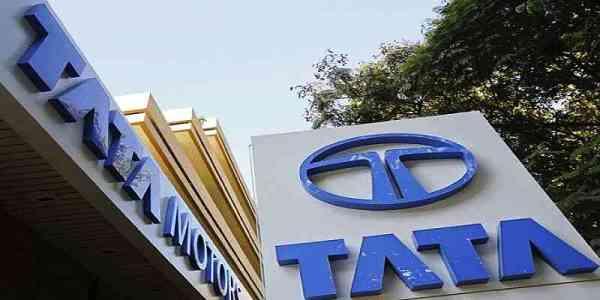 Image: Tata Motors logo. Photograph: Reuters
The company sold just 1,374 units in the month of December 2015, against 1,414 units in same month of 2014.
The first make of Nano had seen a peak monthly sale as high as 10,389 units in October 2011.
Why has the small car failed to make it big, even in its third avatar?
GenX was not the first major relaunch of the Nano. In January 2014, the company had another makeover when it launched Nano Twist. Sixteen months later, came GenX.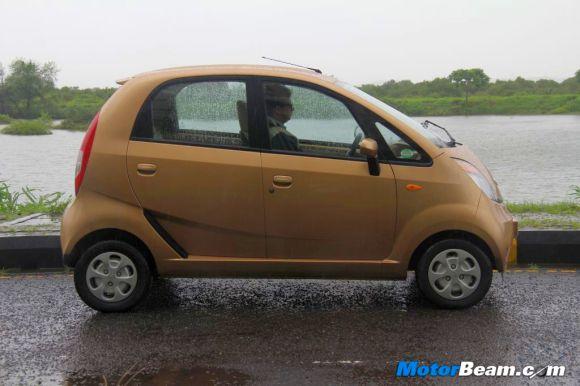 Image: Tata Nano. Photograph: Kind courtesy, MotorBeam
One reason for the start-sputter-start trajectory is competition.
The launch of GenX Nano in May was followed by the launch of Kwid in September, just before the festive season.
The French car maker has aggressively priced the hatchback at Rs 256,000, not much above GenX Nano's entry level price of Rs 199,000.
Kwid has managed to get bookings of over 85,000 units in less than four months, eating into the market of Maruti Suzuki Alto and even GenX Nano.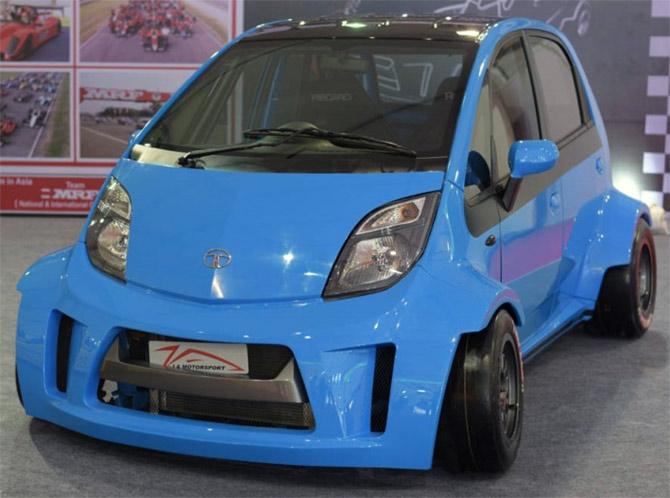 Image: Fastest Super Tata Nano. Photograph: Kind courtesy, indianautosblog.com

It does seem that the Indian car buyer has nothing against small cars, but is just not that into the Nano.
Or, perhaps the brand suffers from what is known as a price-performance mismatch.
Abdul Majeed, a partner at Price Waterhouse and a sector expert says the initial price gap between Nano and other competing products has shrunk.
"There are so many options at a small incremental cost and buyers are going for such options," he said.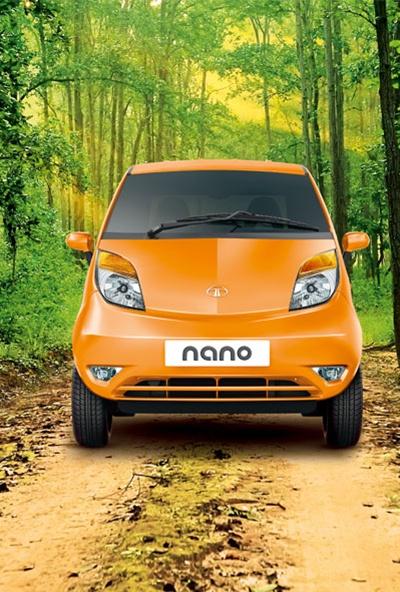 Image: Tata Nano. Photograph: Kind courtesy, Tata Motors

"The Indian buyer has always sought more for less and this is a challenge that most car makers face.
"An entry level car has to be low on price and high on features and fuel efficiency," said an automobile analyst.
The small car's poor fortunes have had an impact on the Tata Motors' Sanand plant in Gujarat, set up with an annual capacity of 2,50,000 units dedicated to Nano.
It has been running at a barely one-tenth capacity utilisation for some time now.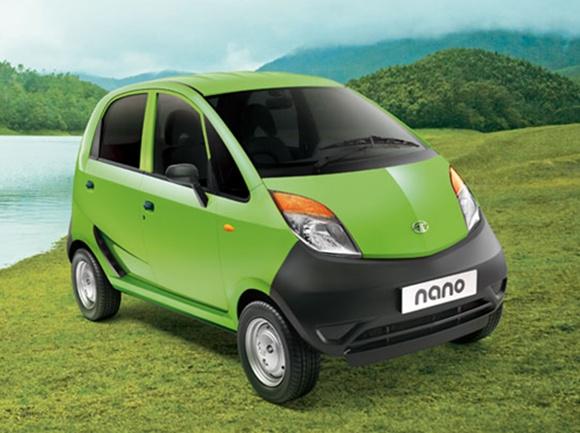 Image: Tata Nano. Photograph: Kind courtesy, Tata Motors

And to make up for the rising idle-time at the plant, the company has decided to manufacture its upcoming hatchback Zica from the Sanand unit.
The company says that this is to 'optimally utilise the plant'.
Tata Motors is the fifth largest player in the domestic passenger vehicle market with a share of 5.42 per cent (April-December FY16).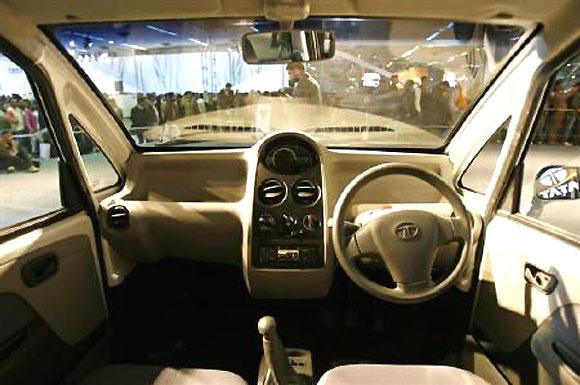 Image: Tata Nano interior. Photograph: Kind courtesy, Tata Motors

Nano was the dream project of Ratan Tata, the former Tata Sons chairman, who had made a promise to sell it for a lakh, positioning it as the cheapest car. Tata later said branding the car as 'cheapest' was a mistake.
Indeed, Nano has not remained cheap.
Changing features and costs have pushed the price way above that mark.
The company however says it is upbeat about future prospects.
"The Nano continues to innovate and evolve in line with the needs of its customers. Along with our aggressive marketing plans, we will continue to develop the brand further and also plan to expand our reach to 1,500 outlets in five years.
"With a wider network and eye-catching marketing initiatives, we will be able to cater to larger audience and market," the spokesperson said. Is that too tall an order for the small car?