In 1981, Maruti was the tiniest outpost of the Suzuki empire; 33 years later, it is big enough to steer its parent's investment in emerging markets.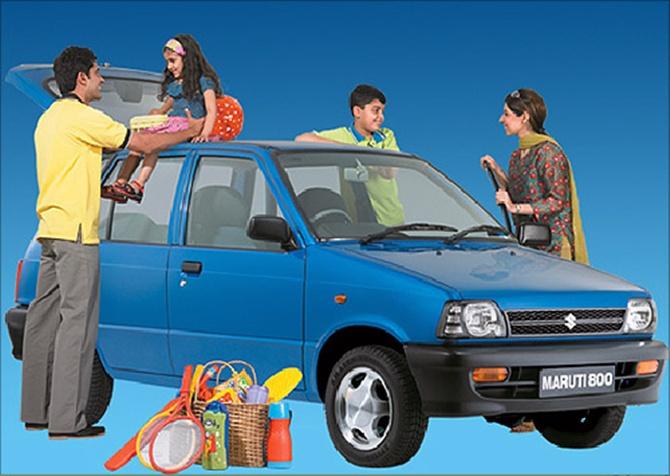 Image: in 1983, Maruti 800 was rolled out. Photograph: Courtesy, Maruti
When Indira Gandhi nationalised the assets of Maruti MotorsLimited in 1981 and formed a joint venture with Suzuki Motor Corporation to realise her son Sanjay's dream of making a small car in India, she could not have known that 30 years later, the Indian subsidiary would lead production, sales and product development for the Japanese company in emerging markets.

The project was deemed to be born in sin, amid charges of abuse of public policy, irregularities in land allocation and money laundering against the Gandhis.
Nor was Suzuki India's first choice as a collaborator for a people's car.
Renault, Volkswagen, MAN AG and Ford had expressed interest.
Talks proceeded with Renault but the price of the 1,647 cc engine Renault 18 at Rs 1,15,000, including import duty and sundry costs, put a spanner in the works.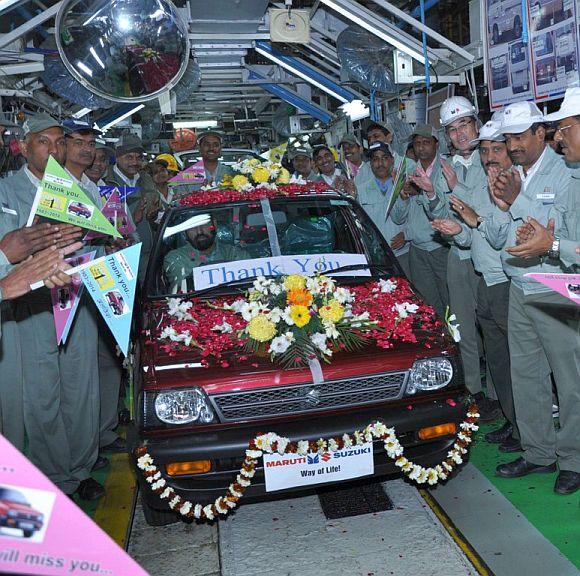 Image: Maruti 800 was considered to be a people's car at the time of its launch and thereafter. Photograph: Courtesy, Photographs: Courtesy, India Autos Blog
The final agreements for technology transfer, supply of completely knocked-down units, components for a period of 10 years, and a joint venture agreement between the government and Suzuki was signed on October 2, 1982.
The partners had only 14 months to roll-out a small car.
There was much to celebrate, writes Maruti Suzuki Chairman R C Bhargava in his book The Maruti Story but October 2 being a dry day (it is Mahatama Gandhi's birth anniversary), a suite had to be booked in the Ashoka hotel, champagne bottles somehow procured and uncorked.
Initially, given the political connotations associated with the project, Japanese partner Osamu Suzuki was cautious.
This was despite the overwhelming response the Maruti 800 received.
A huge improvement over the tank-like proportions of Hindustan Motors' Ambassador and the unprepossessing appearance of Premier Automobiles' Fiat, Maruti made believers out of cynics, and outperformed both entrenched competitors, selling 100,000 cars within five years of inception, and turned in profits, a rarity among public sector undertakings.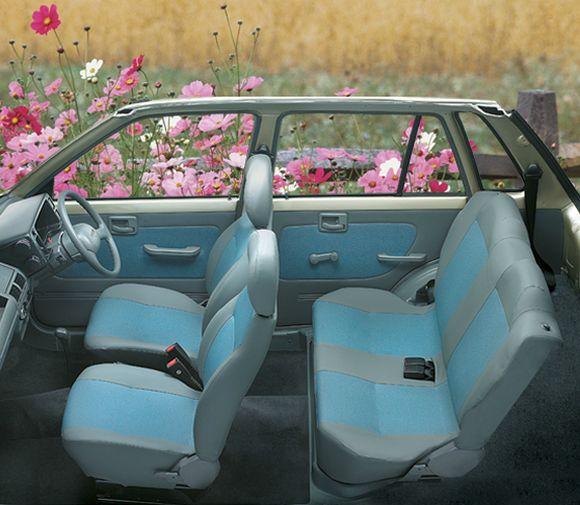 Image:

When launched in 1983, Maruti 800 was sold for Rs 50,000.

Photograph: Courtesy, Maruti
In 1981, Maruti was the tiniest outpost of the Suzuki empire; 33 years later, it is big enough to steer its parent's investment in emerging markets.
Suzuki had invested only about Rs 20 crore (Rs 200 million) for its 26 per cent stake in the small car project.
Maruti will now lead investments in future assembly plants in Africa, West Asia and some markets in South Asia for its parent. Suzuki will also dip into Maruti's Rs 9,000 crore (Rs 90 billion) cash pile for new investments.
There is little scope for growth in Japan and it is costly to export from there. Suzuki has to look at India for growth and also as a base for exports.
In hindsight, it is clear why Suzuki worked gradually to increase its stake in Maruti.
In the joint venture agreement, the Japanese company was given the option of raising its shareholding from 26 to 40 per cent at the end of five years.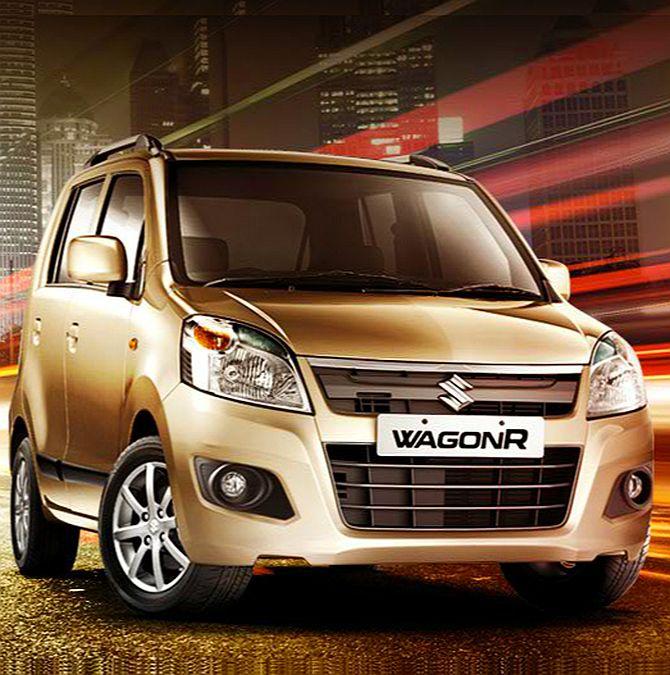 Image: Wagon R. Photograph: Courtesy, Maruti
What helped Suzuki exercise the option in 1987 was a combination of this agreement, the realisation that it had a foothold in the Indian market and the first wave of liberalisation by Rajiv Gandhi in 1985.
But, clearly, these were not enough. A bruising battle for control intervened in the 1990s.
Riding the popular mood after P V Narasimha Rao began economic liberalisation, Suzuki in 1992 pushed its stake in Maruti to 50 per cent from 40 per cent, which made it an equal partner in the venture, without making any new commitment.
This meant Maruti was no longer a public sector company, bound by government rules.
It was agreed the government and Suzuki would take turns appointing the chairman and managing director.
This ensured R C Bhargava, Osamu Suzuki's trusted man who was to retire in 1992, would continue for five more years, this time as a Suzuki nominee.
Bhargava brought in Jagdish Khattar, another former bureaucrat and a rank outsider, in 1993 as "officer on special duty", grooming him as his successor, so that when he retired and the government had to nominate the managing director, it did not name someone Suzuki was not comfortable with.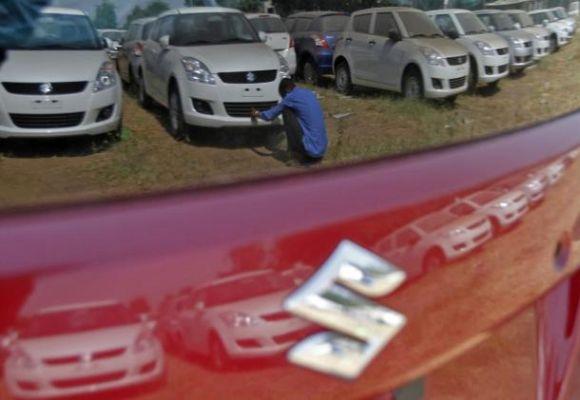 Image:

A worker cleans a Maruti Suzuki Swift Dzire at the company's stock yard at Sanand, Gujarat.

Photograph: Amit Dave/Reuters
Two years on, however, K Karunakaran became industry minister and T R Prasad, an aggressive bureaucrat, industry secretary.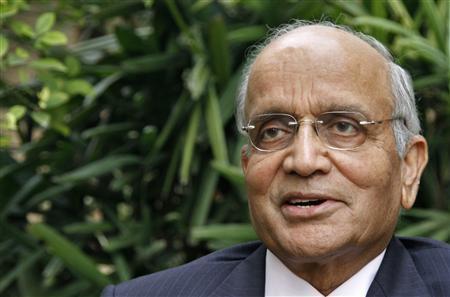 Prasad attacked Bhargava (see left) for getting Suzuki additional shares in 1992 at a throwaway price. Many in the government sided with Prasad.
They argued the deal was one-sided because Suzuki did not pay any premium to become an equal partner. Prasad foisted himself as chairman of Maruti - the post had been vacant, though it was up to the government to fill it.
It might also have remained vacant because Bhargava kept the government from appointing anyone by using his clout with the prime minister's office.
The situation worsened for Suzuki in 1997. The tough-as-nails Murasoli Maran had become industry minister in the United Front government.
And, Prasad was clearly out to assert the government's rights.
So, Khattar's candidature was rejected and R S S L N Bhaskarudu (who was director, production), was made managing director.
Suzuki found it difficult to work with Bhaskarudu. Privately, Suzuki's people said he was not competent to face the competition that was imminent in the car market.
Some insist Bhaskarudu's only crime was that he pushed Suzuki to give Maruti the crucial gearbox technology.
If the gearbox was indigenised, Bhaskarudu argued, cars would have more local and cheap content and that would take care of any competition.
He prodded the government to take up the issue with Suzuki and it became a bone of contention.
But those in the know say the issue was blown out of proportion because at least 60 per cent of the components required for the gearbox were already being produced in India.
So, the technology transfer would not have set off as dramatic a transformation as Bhaskarudu was making it out to be.
So far as the vision to face competition was concerned, Bhargava, the Bhaskarudu camp said, did not show any interest during his tenure in pushing Suzuki to come out with new models.
Also, Bhaskarudu was opposed to Suzuki's proposal to expand production capacity through fresh equity capital.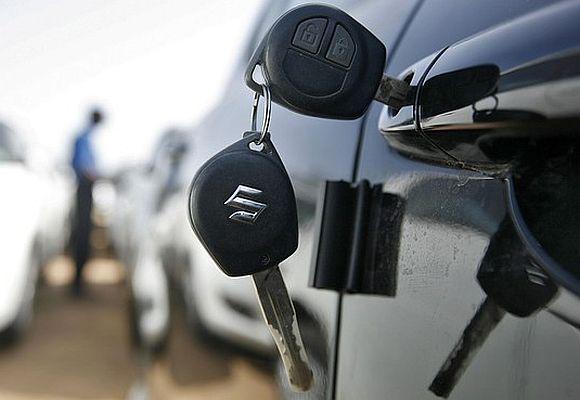 Image: Maruti is keen to expand business. Photograph: Amit Dave/Reuters
Since the government was in disinvestment mode at the time, there was no way it could have infused fresh capital.
This would have increased Suzuki's share further in Maruti. Instead, Bhaskarudu supported the government's stand that the project be financed through debt. Confrontation was bound to escalate.
Suzuki opposed Bhaskarudu's appointment in Maruti's annual general meeting, forcing chairman Prabir Sen Gupta - he was the secretary for heavy industries, the new nodal ministry - to cast his vote to break the tie. Bhakarudu survived. Suzuki moved the Delhi High Court.
However, the government had a strong case. Suzuki's appeal was turned down and it sought international arbitration.
Maran, never one to shy away from a fight, said Suzuki could opt out of Maruti, the government could always tie-up with American car makers, or even the Koreans.
To complicate matters, Osamu Suzuki said he would not give Maruti gearbox technology until the dispute was settled.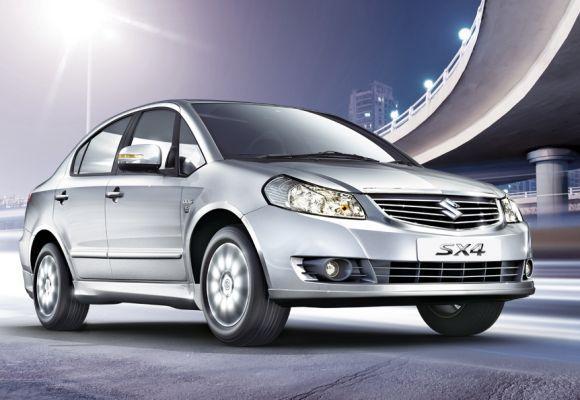 Image: Maruti SX4. Photograph: Courtesy, Maruti Suzuki
The government hinted it had nationalised companies in the past. It was assumed Japan would not jeopardise its relations with India over one company.
The Maruti story took another turn when Atal Bihari Vajpayee conducted a nuclear test in 1998. Several countries, including Japan, imposed sanctions.
But India was keen to rebuild bridges with its trading partners.
Thus, Sikander Bakht, Vajpayee's industry minister, endorsed talks and a motley group (Confederation of Indian Industry President Rajesh Shah and director-general Tarun Das from the government's side and low-profile Suzuki Motorcycle India chief Satya Sheel for Suzuki) byassed the bureaucracy and struck a compromise.
Suzuki withdrew arbitration and the government agreed Maruti's managing director would have to be endorsed by Suzuki.
The government also acknowledged that Suzuki would have a bigger say in deciding new models and technology.
Soon, Bhaskarudu was out and Khattar became managing director. Maruti was listed and Suzuki became the majority shareholder. Later, the government exited the company.
Image: Maruti plans to roll out new models to beat industry competition. Photograph: Mukesh Gupta/Reuters
Maruti has mostly sailed through since. Of course, its market share has fallen from a peak of 80 per cent in the 1980s, when competition was limited, to around 45 per cent currently, but it remains India's largest car maker, with annual capacity of 1.2 million units.
More than competition, it is labour that remains a tricky issue. It faced its first major test as early as 2000, when its powerful labour unions demanded a steep wage increase for the workforce, which the management turned down.
In fact, many say Bhaskarudu was able to wrest the managing director's post because he had strong union backing. But the relationship between the unions and management remained tense ever after.
Three labour unrests at Manesar in 2011 had resulted in revenue losses of around Rs 2,500 crore (Rs 25 billion) and shaved five percentage points from the company's market share.
The 2011 standoff was over allowing an independent union at Manesar.
All these tensions came to a head in 2012, when deteriorating industrial relations at its Manesar, facility left 93 employees wounded and claimed the life of a senior executive on July 18. With administrative offices and portions of the shop-floor damaged beyond repair, the company declared a month-long lockout.
Maruti was booking losses of Rs 70 crore (Rs 700 million) daily, as assembly lines at the twin plants were shut.
Things looked up after a peace plan was finally worked out with the unions.
Today, Suzuki depends on Maruti for its place in the world. "Unlike other Japanese car makers like Honda and Toyota, Suzuki is restricted primarily to India, Hungary and Thailand," says a Maruti veteran. After being present in the US for 30 years, Suzuki was forced to exit last year after sales plummeted.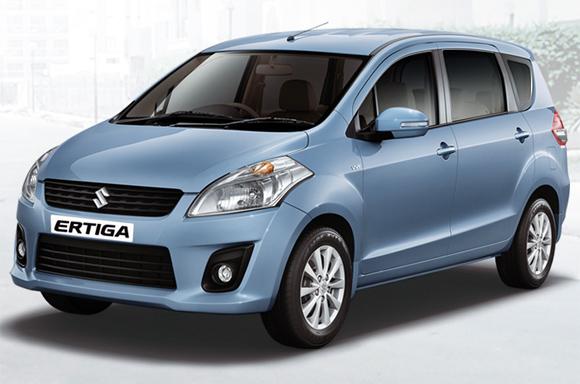 Image: Maruti Ertiga. Photograph: Courtesy, Maruti
It is a small player in Japan: fifth in the pecking order after Toyota, Nissan, Mazda and Honda, with a share of less than 10 per cent. While Maruti sold 1.15 million cars in 2013-14, Suzuki sold 849,000 in Japan.
Maruti's Rs 2,453 crore (Rs 24.53 billion) royalty in 2012-13 was higher than Suzuki's profit that year. Suzuki today makes serious money in selling parts to Maruti.
Ironically, it is a Congress-born project that has proven a sterling example of Bharatiya Janata Party Prime Minister Narendra Modi's 'Make in India' ambition.
India comes home in a Maruti
June 1971: Maruti Motors Limited incorporated with Sanjay Gandhi as first managing director
1981: The company is nationalised and a joint venture formed with Suzuki Motor Corporation of Japan to roll out an affordable small car
Dec 1983: Maruti rolls out the first M 800 car, bought by an Indian Airlines employee Harpal Singh
2003: Maruti is listed on BSE and NSE after an IPO that is subscribed 7.82 times. The government sells 25 per cent of its stake. The government's stake falls to 17 per cent.
In 2006, government sells more stake and exits the company in 2007
2011: Three labour strikes between June and October rock the new Manesar factory and cripples production