Stick to export-focussed plays, large-caps, say analysts
Domestic markets appear to be like a falling knife, with many experts expecting a further decline in key indices.
However, amid this despair, there is some hope for investors.
Experts, while cautioning that market valuations are still rich in the backdrop of rising bond yields (cost of money) and with earnings growth yet to pick up pace, said companies with quality management and strong earnings visibility were safer bets for investors.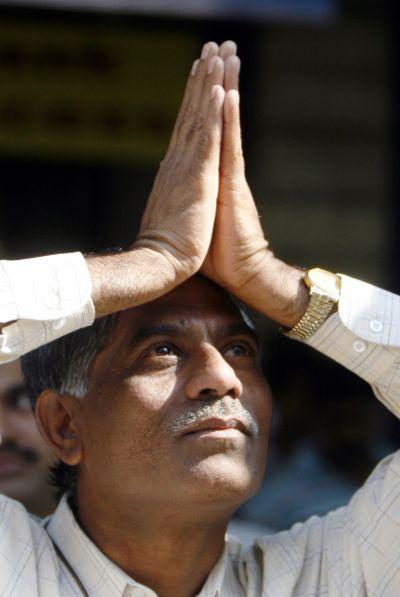 Moreover, with global growth picking up, domestic companies catering to international markets such as those in sectors like information technology (IT) and select pharmaceutical players, among others, could also end up delivering good returns, or at least cushion the fall.
In a report released on Monday, Neelkanth Mishra, research analyst at Credit Suisse, said, "With the government spending to GDP, or gross domestic product, budgeted at a multi-decade low in FY19, we stay concerned about domestic growth.
"We prefer energy, metals, IT services (global exposure) and PSU banks (cheap/turnaround)."
Among the top picks of Credit Suisse are Larsen & Toubro, Mahindra & Mahindra (M&M) and Tata Steel.
The foreign brokerage says it will also add State Bank of India (SBI), ITC, Cummins, and Motherson Sumi.
Investors, however, will have to be patient, given that the Reserve Bank of India is expected to remain hawkish in its policy response in light of rising inflation, slippage in the Centre's fiscal deficit target, and firm global crude oil prices.
A few market experts also see some depreciation for the Indian currency in the near- to medium-term. Already the rupee is down about 1 per cent to the dollar in the past week.
But, a weak rupee could also add to gains for export-focussed companies such as Bharat Forge and Motherson Sumi, among others.
Likewise, metals and energy companies such as Tata Steel, Hindalco, Vedanta and ONGC, too, will gain if commodity prices stay firm amid improving economic growth in developed countries.
Many market experts said large-caps were a better place to invest, and this was despite a significant fall of 10-20 per cent in smaller-cap stocks.
Gautam Duggad, head of research, Motilal Oswal Institutional Equities, said, "With earnings recovery, Q3 FY18 earnings are in-line so far.
"The correction is offering a good opportunity to buy from a two to three year perspective.
"Our preference continues for large-caps over mid-caps as the Nifty valuation at 17-17.5 times FY19 projected EPS, or earnings per share, while not inexpensive, is not out of whack either."
Among sectors, Duggad prefers banks (select private banks, both in retail and corporate lending) as well as some non-banking financial companies, and discretionary consumption stories. He said IT and pharma were contra plays for investors with patience.
In the domestic arena, private banks such as HDFC Bank, IndusInd Bank as well as corporate banks (given the likely bottoming out of asset quality issues) such as SBI and ICICI Bank are among the key stocks being recommended.
Similarly, rural and consumption plays such as Maruti, M&M, Dabur, and ITC, which are relatively attractive vis-à-vis Hindustan Lever, are seen doing well.
Photograph: Arko Datta/Reuters