MFs have been buying stocks such as those of Gati, Blue Dart and Gateway Distriparks, which have delivery tie-ups with leading e-commerce entities.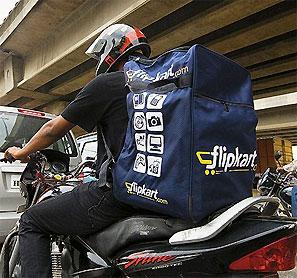 You love shopping online and are convinced it is the next big growth story.
You want to invest in shares of e-commerce companies.
After the big listing by Chinese e-commerce firm Alibaba, you don't want to be left out. Yet, is the Indian e-commerce sector a true growth story or a bubble?
Should you invest in it? The two e-commerce companies listed in India are Just Dial and Info Edge. In the latter, which runs websites such as Naukri, the share price is Rs 851.65 and the trailing price to earnings ratio (PE) is 94.91.
In the case of Just Dial, the price is Rs 1,632.45 and the PE is 73.64. These are benchmarked against the BSE 200, where the PE is 19.
Feroze Azeez, executive director and head, investment products, Anand Rathi Private Wealth Management, says these stocks, though not solely of e-commerce, are overvalued.
It is critical to know when to exit. Hence, it is not advisable for retail investors to enter these directly; investing through a mutual fund (MF) is better.
Purely e-commerce companies such as Flipkart and Snapdeal are not listed but have had huge funding. Even if their revenue models do not substantiate the valuations, the growth in e-commerce companies have been 40-50 per cent quarter-on-quarter, notes Feroze.
"Even if the growth slows, the valuations are still good. With internet accessibility going up manifold, brands are being created and built online. So, e-commerce is not a bubble," he says.
However, according to Aviral Gupta, founder and fund manager, Mynte Advisors, the e-commerce sector in India has not reached the scale of companies such as Alibaba.
The return on equity of the investments is still a question. "There are no comparable peers. It seems like a bubble, going by the valuations now. I will not advise investing in the sector," he says.
Then, how about investing in shares of companies that will benefit from the growth of the e-commerce sector, such as logistics and packaging companies?
MFs have been buying stocks such as those of Gati, Blue Dart and Gateway Distriparks, which have delivery tie-ups with leading e-commerce entities.
Packaging companies such as TCPL and Manjushree Technopak have come on their radar. Blue Dart Express is currently trading at Rs 5,263.05 and the PE is 124.58. Gati is at Rs 176.95 and the PE is 44.22.
Since there is no way for retail investors to tap into e-commerce ventures, investing in companies that will indirectly benefit from the sector is an option. Going through MFs is better than investing directly.
"Logistics is not a very deep or core sector."
These stocks are overvalued and, therefore, one should not adopt a buy and hold strategy.
Since the benefit for logistics and packaging companies is derived from e-commerce, it is more complex for retail investors to understand. It is a sectoral call. The gains are more from an alpha generation or weightage point of view. "
So, a fund can increase the exposure to these stocks within its overall portfolio and get the benefit," adds Azeez.
Note, however, that MFs are trading platforms -- they cash into whichever stock is in flavour, and buy and sell. So, retail investors must not get taken in by only what they buy, warns Gupta.