A total of 183 stocks rallied 10 per cent, of which 32 stocks saw price appreciation of 20 per cent each.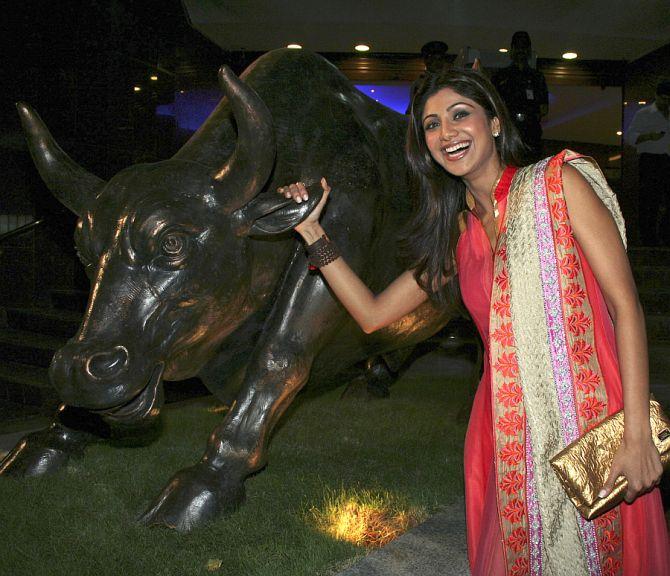 A rally in markets after the Budget has seen 90 per cent of stocks on the BSE 500 give positive returns in the past four sessions.
As many as 461 stocks from the BSE 500 index have rallied by up to 44 per cent since February 29, as the BSE Sensex gained 1,657 points or 7.2 per cent in the past four trading sessions.
Of these 461 stocks, nearly 255 stocks have rallied more than the 7.2 per cent upmove seen in the S&P BSE Sensex in the post-Budget rally.

A total of 183 stocks rallied 10 per cent, of which 32 stocks saw price appreciation of 20 per cent each.
The rally comes on the back of the Union Budget sticking to its earlier fiscal deficit target of 3.5 per cent of gross domestic product for the next year, which rekindled hopes that the Reserve Bank of India (RBI) would soon cut rates further - even ahead of the scheduled Monetary Policy review on April 5.

Rate-sensitive sectors such as real estate and banking rallied 12 per cent and nine per cent each, respectively, while metal index gained 12 per cent and capital goods index by 9 per cent during the period.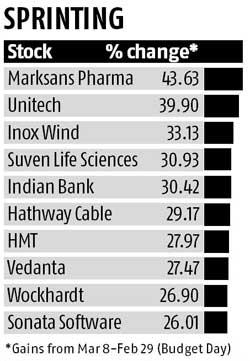 Given the heightened expectations of a rate cut and the sharp up move, analysts caution the rally could fizzle out over the next few sessions.

RBI, they say, is likely to wait for the European Central Bank's decision on rates and the outcome of the Federal Open Market Committee's meeting in mid-March on economic projections that will give an indication of the possibility of further hike in interest rates in CY16.
U R Bhat, managing director, Dalton Capital Advisors, explains: "Rally in the rate-sensitive stocks was led by rate cut hope and something dramatic coming from the government's Gyan Manthan programme. There has to be something more concrete than mere talks now. I don't think there will be a rate cut before April. In such a case, I don't think this market rally can sustain. For the markets to do well, there has to be an economic revival and these non-performing assets start to perform. Rate cut is sentimental and will not change anything for the banks on a fundamental basis."
Indian stocks closed little changed in volatile trading as some investors judged the benchmark index's best weekly advance in more than four years as excessive.
The S&P BSE Sensex rose less than 0.1 per cent on Tuesday at the close in Mumbai, swinging between a gain and a loss of 0.6 per cent during the session.
"I think the markets should start reversing gains over the next few days. The Nifty 50 index should find some support at 6,800 levels," he adds.
G Chokkalingam, founder and managing director, Equinomics Research & Advisory, expects the markets to consolidate in the near-term in the absence of any key triggers.
"The Nifty can correct 3-5 per cent from here on. One must keep a tab on foreign flows and the developments at the global level. In terms of sectors, investors should stay with defensives – fast-moving consumer goods, information technology and pharma. One can also look at stocks of building material companies and fertiliser," he says.
"We maintain our sector positioning stance. Key sectors from the Budget: underweight infra/capital goods; neutral consumer discretionary (including four-wheelers) and staples. We expect urban consumption to disappoint versus expectations, while the rural pick-up may yet be slow. While consumer stocks are still expensive, we believe investors may view them as a safe haven," said Gautam Chhaochharia, India head of research at UBS in a recent report.