While capital appreciation is better, paying regular dividend indicates that the company is making profits and is rewarding investors.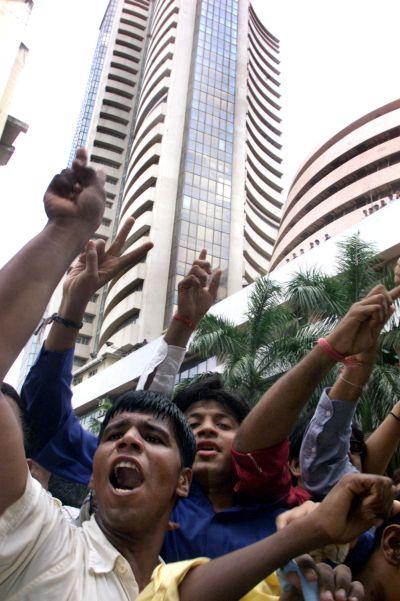 When the market turns volatile with a downward bias, there are many investors who suddenly stop investing and start seeking the safety of debt instruments or gold.

If you are following an asset allocation approach, it is a good time to add equities into your portfolio because the share of equities would have fallen due to drop in stock prices.
The question is, what should you buy? One option can be to look at good dividend paying companies. After all, only a profit-making company can reward its shareholders by giving dividend.

According to Gaurang Shah, vice-president of Geojit BNP Paribas, the dividend paying history of the company is one of the most important factors for investors to consider.

It is an indication that the company is investor-friendly and it believes in distributing excess surplus to investors. It is one of the parameters that analysts and experts take into consideration in their research reports.
Ideally, one should look at the company's dividend payouts over the past three to five years. If the company is making cash quarter-on-quarter, then investors are in safe hands and it is a right buy. It is an indication that there is momentum in the company, Shah adds.
Some experts disagree. Abhishake Mathur, head of investment advisory services at ICICI Securities, says, "It does not necessarily mean that a company that pays high dividend is seeing high growth. A company may be ploughing back the profits into its business instead of paying dividend. It (ploughing back profits) can also indicate confidence in the business."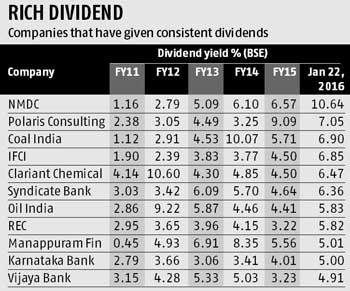 Investors should be clear about the difference between dividend payout and capital appreciation. For instance, if you invest in company A's stock at Rs 100 and it increases to Rs 120 but does not pay dividend.

Or you invest in company B's stock at Rs 100 and it remains at the same level, but pays Rs 20 as dividend.
"While a section of investors, such as retirees, might prefer dividend as a source of regular income, in case of equity investment, it is not always a good strategy. It is better to look at total returns and not just dividend returns," he explains.
Jyoteesh Kumar, senior vice-president at HDFC Securities, also feels that choosing a stock based on dividends might not be the right way in volatile markets. In such times, the normal concern for investors should be capital.
"In the last quarter, there was no spectacular growth. Most companies are finding it difficult to show growth. Dividends will come only if there is a good performance over a sustained period. Investors can look at dividend payouts once the market sees some stability in either one direction," he says.
In the current scenario, if one is looking at dividend-paying stocks, one of the most attractive in terms of investment are the oil marketing companies.
"Thanks to crude oil prices, we are at a comfortable zone in terms of profitability and cash surplus. So, the government would want to take advantage of that in terms of dividend. Investors who invest in these stocks also stand to gain. Besides, dividend is tax-free in the hands of investors," Shah says.