To stay in the race for the long term, the company has to innovate continuously - something that MNCs and some of the home-grown Indian firms have been doing successfully, says Sangeeta Tanwar.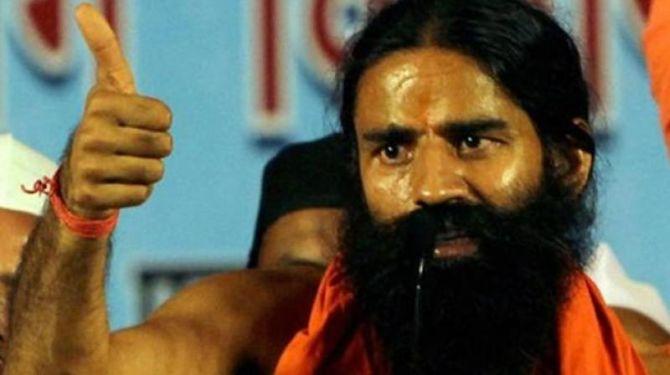 Hailed as a disruptor at the time of its entry into the fast moving consumer goods (FMCG) market in 2009, Patanjali Ayurved, today, appears to be a prisoner of its own ambition.
Earlier this month, the company's managing director, Acharya Balkrishna, said that lingering effects of demonetisation and the implementation of the Goods and Service Tax (GST) had stunted its growth; so much so that the firm will close financial year 2018 with revenues at the same level as the previous year - that is, at Rs 10,000 crore (Rs 100 billion).
Compare this with his confidence around this time last year: he had said the company would double revenue every year and cross Rs 20, 000 crore (Rs 200 billion) in the year ended March 2018.
So what happened in these 12 months? Does this mean the expectation that it would be the proverbial giant killer in the FMCG segment was misplaced?
Patanjali's spokesperson S K Tijarawala is quick to dismiss any such concerns.
He says, "We have in the past posted 100 to 250 per cent growth. We faced hiccups like demonetisation and GST implementation which stretched the company's operations, systems and processes for a month or two.
"And remember we are yet to announce our full results. We are confident of growing sales and revenue."
The problem is this: Patanjali's admission that it will not be able to continue its growth momentum comes at a time when competitors seem to have done much better.
Kolkata-based ITC Ltd, for instance, reported 11.3 per cent growth in its revenue from non-cigarette packaged goods for the year ended March 31, 2018, while Nestle has reported a 10.5 per cent growth in sales in 2017.
Tijarawala refuses to get into comparisons. He also plays down the recovery made by competitors like Hindustan Unilever (HUL) or Nestle.
These firms have posted improved numbers signalling that they are out of the shadow of demonetisation and GST rollout - the two disruptors that uniformly impacted the industry.
Patanjali's spokesperson says a closer look at the rivals' numbers will show that their recovery has not been spectacular.
It might not be a good idea to underestimate competition at this stage.
Anil V Pillai, director, Terragni Consulting, says when Patanjali launched with its products on a swadeshi pitch urging consumers to patronise a homegrown company, many MNCs were caught flat-footed.
Some did not take Patanjali seriously assuming that the herbal products market is a minuscule segment of an otherwise large pie.
Now the game has changed. Herbal is no longer a virgin or a niche market. The likes of HUL, Dabur are pushing back with their superior products, more responsive distribution system and tactical marketing capabilities.
So how can Patanjali get back on track? It has to work on all the four Ps of marketing, say experts.
According to Abneesh Roy, senior vice-president, institutional equities, Edelweiss, "The company has four or five strong marquee brands in segments like honey, tootpaste, ghee and hair oil.
"With increasing competition, it is critical for Patanjali to create more strong sub-brands across categories."
Indeed, to stay in the race for the long term, the company has to innovate continuously - something that multi-national companies (MNCs) and some of the home-grown Indian firms have been doing successfully.
Roy says, Patanjali's, 1,000-odd portfolio of products notwithstanding, there are categories where it needs to offer a wider choice to capture different consumer aspirations.
For example, HUL has a whole range of soap brands at various price points against a limited range offered by Patanjali.
That said, Patanjali must avoid spreading itself too thin. It has to identify, prioritise and focus on categories where it has a strong base already.
Price will be a key factor here. When it launched operations in 2009, Patanjali created a new market by establishing a "micro segment" in FMCG offering natural products at affordable prices.
"Initially Patanjali had a price advantage. It disrupted the market with natural products, which at that time were available at a premium. But price cannot be a real and sustainable advantage as it can be replicated easily by competitors.
"Also, with GST kicking in, the company is not able to provide products at the earlier stated price," says Ashita Aggarwal, professor and head of marketing at SPJIMR.
Initial euphoria notwithstanding, Patanjali has also suffered with questions raised about the quality of its products.
In personal care and foods, consumers are wary of using products that are deemed suspect.
They would rather pay a little more and buy a product from a trusted brand. Extending that logic, there perhaps aren't many repeat buyers.
Next distribution. There are two contrasting views on Patanjali's distribution capabilities.
One view holds that the ayurveda company took a larger hit from demonetisation and GST because of the lack of a direct retail network despite having a strong wholesale distribution set-up.
In comparison, MNCs were able to absorb the impact of these disruptive moves as they enjoy a wider direct retailer reach.
Samit Sinha, managing partner, Alchemist Brand Consulting contests this view.
"Patanjali has a formidable distribution network which many FMCG companies can only dream of.
"With the kind of reach that the firm commands with general merchants, grocers and pharmacists, it's well-positioned to push wide-ranging products in natural personal care segment."
But, Sinha adds, "As your base increases, it's difficult to double revenue year after year. It is easy to get to Rs 10,000 crore from Rs 1,000 crore but tough to jump from Rs 10,000 crore to Rs 20,000 crore.
"One can only expect incremental growth, which Patanjali will deliver."
Edelweiss' Roy also points a finger at Patanjali's mammoth spends on advertising.
With a slew of new launches planed, it should play its cards carefully and not binge indiscreetly, he advises.
Sinha says, in its early days, Patanjali grew piggybacking on founder Ramdev's brand recall.
Having covered large sections of the market, it will find it hard to penetrate deeper.
But this should not worry the company - this is a common problem for most FMCG companies at various stages of their growth cycle.
Analysts say the expansion strategy that got Patanjali so far is unlikely to take it to the next level, so the company should be careful about a few things.
"The company is at an inflection point. To grow, it will do well to stick with its DNA of going after underserved markets with new launches.
"Patanjali needs to keep up the agility it has exhibited so far and continue leveraging the influence of its brand ambassador Ramdev to stay on course," says Pillai.
To accelerate growth from here on, the company needs to borrow from the MNC playbook.
It has to make its supply chain stronger to be able to withstand disruptions, increase distribution bandwidth and overhaul its organisational structure by bringing in more professionals into the system.
For his part, Tijarawala sees no reason to panic. He insists the company is on course to expand into four new categories - packaged drinking water, milk and milk products, apparel (for men, women and kids) and sanitary napkins.