Companies in the FMCG space are increasing their focus on herbal and ayurvedic category in India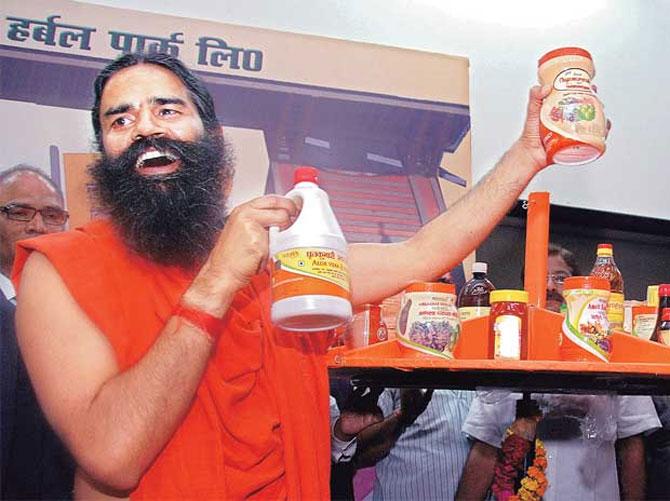 Baba Ramdev had often speculated about the threat Patanjali might become in the near future to multinational corporations (MNCs) in India. His dream has been to transform the company and serve all Indians ayurvedic products - manufactured by a home-grown firm.
While, the consumers are yet to replace MNCs with desi brands, companies in the FMCG (fast moving consumer goods) space are increasing their focus on herbal and ayurvedic category in India.
Himalaya – another herbal products company -- recently launched its range of wellness products which aim to provide therapeutic solutions instead of medication. Products ranging from anti-hairfall cream to pills for staying slim are part of its new initiative to meet growing demand from a section of consumers who prefer to stay healthy and avoid medication.
The Burman family-led Dabur also recently launched ayurvedic products in various categories like sugar-free Chyawanprash and hair oil. It has also forayed into the baby care segment.
And the country's biggest FMCG Company, Hindustan Unilever (HUL), acquired Indulekha and Vayodha ayurvedic hair oil brands last December; the two have combined revenue of Rs 100 crore (Rs 1 billion). It is believed the brands will help boost the company's portfolio of ayurvedic products.
Now, not all of these companies are trying to directly counter the growing sales of Patanjali's products. But experts say Patanjali's entry into mainstream trade channels, such as modern trade and its increasing footprint in semi-urban areas, has increased awareness among consumers to some extent.
The Baba Ramdev co-founded company is also in talks with e-commerce players. And a set of television and print advertisements is adding to its growing presence in the consumer mindspace, they say.
"Market for ayurvedic and herbal products is still at a very nascent stage in India. Being a market leader in this category, we feel new entrants like Patanjali is definitely helping the market grow in this country," said Philipe Haydon, CEO of The Himalaya Drug Company.
Patanjali is expected to touch Rs 5,000 crore (Rs 50 billion) in revenue at the end of FY-2016, up from Rs 1200 crore (Rs 12 billion) in FY-2014, a more than fourfold jump in two years. Its net profit margin of 15.6 per cent is currently also higher than the industry average of 12-14 per cent (except cigarettes).