Regulated electronic platforms such as e-spot markets or spot exchanges may be deemed as authorised markets.
Illustration: Dominic Xavier/Rediff.com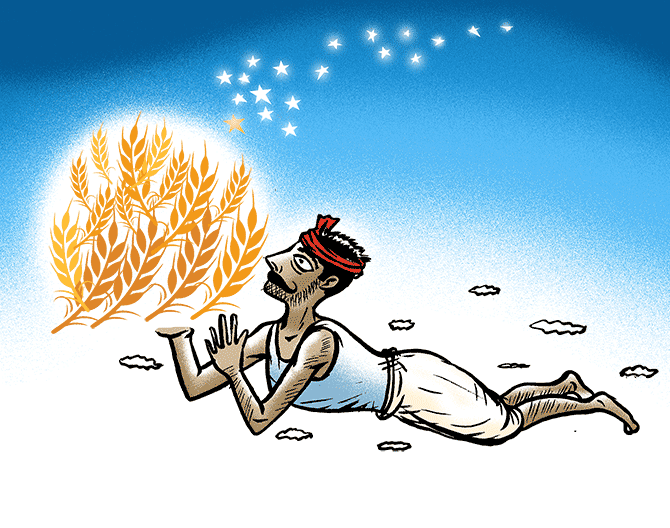 The legal compulsion on farmers to sell their produce only at wholesale yards run by Agriculture Produce Market Committees (APMCs) must end, to enable growers to get the best prevailing price.
Regulated electronic platforms such as e-spot markets or spot exchanges may be deemed as authorised markets.
And, whenever sale is not done in APMC premises, such as on such platforms, there must be no fee or levy on such sale.
These are recommendations of a panel on integration of commodity spot and derivatives markets, chaired by Niti Ayog member Ramesh Chand.
The panel was set up by the finance ministry a year before; its report was given in February.
The report has been considered by the Union finance ministry's department of economic affairs and is now in the public domain for comment.
For synchronising spot and derivatives, there is need to improve hedging of spot market risk on a derivatives platform.
So, the committee recommends that "the cost of trading in derivatives markets should also be rationalised".
It has not mentioned whether the exchange in question should reduce the transaction charge or if it is for the government to reduce various levies.
Commodity transaction tax, stamp duty, service tax, and charges levied by the Securities and Exchange Board of India are among those that add to cost of trading.
The committee also says there should be no sudden discontinuation of derivatives in agricultural produce.
The agricultural market has 16 per cent share in the country's Gross Domestic Product and employs half the total workforce.
The committee has stressed the need for all states to implement the Centre's model of Model Agricultural Produce and Livestock Marketing (Promotion and Facilitating) Act of last year.
Changes in existing APMC laws on these lines are vital to improve agri market efficiency and "to integrate farm-level production with end-uses".
All the measures are aimed at integrating spot and futures commodity markets; the report covers agri and non-agri commodities.
Another suggestion "to help small farmers with better bargaining power" is that there is "a need to promote farmer producers organisations and cooperatives".
These could do collective bargaining in spot markets and mobilise bigger lot sizes to hedge and deliver on a derivatives platform.
The report proposes that when governments impose stock limits, they exempt stocks held by such farmer collectives in storage under the Warehouse Development & Regulatory Authority (WDRA).
It wants private entrepreneurship to be incentivised to improve facilities for farmers.
Such as in scientific storage, quality consciousness about crops, expansion of low-cost and technology-based assaying facilities, and also to enable producers or farmers to seamlessly transact in both spot and derivatives markets.
And, all warehouses to be registered with a unified authority.
It does not specify if this should be the WDRA for non-agri comodities. It does say, for commodities of high value, "regulated storage infrastructure is needed and WDRA has the natural advantage of venturing into the same.
"Also, there is a need to set good delivery norms in various metals, for further standardisation of trading in the market for these commodities."
What the committee recommends
No levy on the sale of produce by farmers outside the Agriculture Produce Market Committee (APMC)
Rationalise cost of trading in derivatives markets
Implement Model APMC (Promotion and Facilitating) Act, 2017 in all states
Exempt farmer producer organisations and registered warehouses from stock limits
Register all warehouses with an unified authority