Management has guided for higher output; analysts' average target price is Rs 190, an upside of 20%.
Devangshu Dutta reports.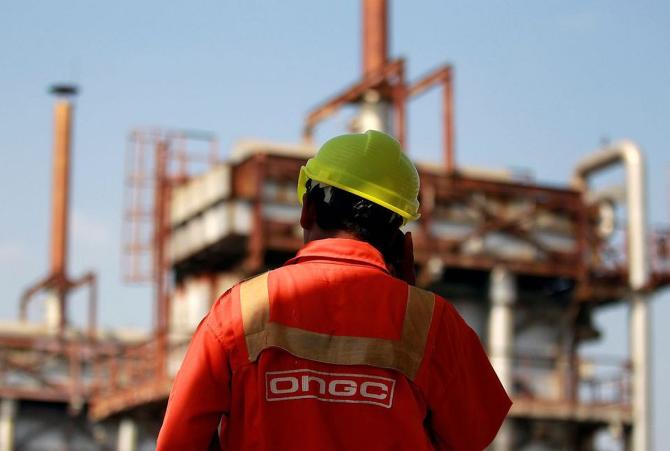 ONGC's January-March quarter results for the 2022-23 financial year (Q4FY23) indicated changes in the trends of the energy cycle as well as the impact of policy change in gas-pricing.
The public sector oil and gas major reported standalone Ebitda (earnings before interest, tax, depreciation and amortisation) at Rs 16,340 crore, down 12 per cent year-on-year (YoY), and down 20 per cent quarter-on-quarter (QoQ).
There was a net loss of Rs 250 crore due to exceptional items of Rs 9,240 crore for provisions related to the ongoing dispute regarding the applicability of service tax and goods and services tax on Royalty.
Adjusted for this, PAT (profit after tax) would be Rs 6,180 crore, down 30 per cent YoY. Crude realisations were down while APM (administered pricing mechanism) gas prices were higher and compensated to some extent.
Reported revenue was at Rs 36,290 crore, with crude oil sales at 4.7 mmt (million metric tonnes), while gas sales were at 4.1 bcm (billion cubic meters).
The oil realisation was calculated at $77.1 per barrel (/bbl) and it was at $71.6/bbl net of tax.
The crude production was down 2 per cent YoY and domestic gas production fell 3 per cent YoY.
Management estimates that oil & gas production in FY24 may rise 10 per cent due to the production from KG-DWN-98/2.

Management guidance is that oil production from KG-DWN-98/2 will commence between August 2023 and October 2023.
The peak oil production is likely to be about 40,000-45,000 barrels of oil per day (bopd).
The windfall tax has been adjusted to fall in line with crude oil fluctuations, with industry analysts assuming that post-windfall realisations would be allowed to be between $68-81/bbl and likely realisations of $70/bbl in FY24.
But it will still put a ceiling on profitability.
The fortnightly revision reduced it to nil in May 2023 due to correction in Brent prices to $75/bbl, implying that this is the equilibrium point and likely ceiling.
ONGC looks to add more than 100,000 sq. km of exploratory area each year in the future while spending Rs 10,000 crore annually on exploration.
The capex guidance is of Rs 30,100 crore for FY24 with three recently approved new projects for a capex of Rs 5,880 crore.
It is also looking at Rs 7,000- 8,000 crore of petchem expenditure at MRPL and might also consider construction of a new petchem facility.
The implementation of the APM gas-pricing recommendations from April this year has provided a respite to the company, allowing it to hike gas prices.
Given the recommendations, price assumptions could be around $6.5/MMBTU (metric million British thermal unit) for FY24 and FY25.
The ONGC management pointed out that 6-8 per cent of APM gas production comes from new fields that will be at 20 per cent premium (pricing) in the new policy.
Consolidated valuation estimates for the company could include a valuation of Rs 33-35 for ONGC's holdings in HPCL, MRPL and Petronet LNG.
Analysts' valuations range between Rs 153-215 with some analysts pointing to the high dividend yield (6-8 per cent).
The current price may only be discounting $55-60/bbl of net crude realisation whereas the recent reviews of windfall tax implies that higher realisations may be possible.
If the value of downstream subsidiaries is taken into account, there should be some upside.
According to Bloomberg, 13 of the 17 analysts polled after Q4 results last Friday have a 'buy/add', three have 'reduce' and one has 'hold' rating on the stock.
Their average one-year target price is Rs 190, an almost 20 per cent upside from Tuesday's closing price of Rs 158.80 apiece.
---
Disclaimer: This article is meant for information purposes only. This article and information do not constitute a distribution, an endorsement, an investment advice, an offer to buy or sell or the solicitation of an offer to buy or sell any securities/schemes or any other financial products/investment products mentioned in this article to influence the opinion or behaviour of the investors/recipients.
Any use of the information/any investment and investment related decisions of the investors/recipients are at their sole discretion and risk. Any advice herein is made on a general basis and does not take into account the specific investment objectives of the specific person or group of persons. Opinions expressed herein are subject to change without notice.