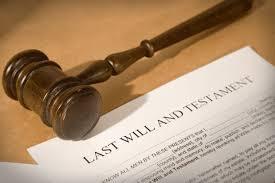 It's cheaper and meant for simple assets but if you have inherited properties or they are spread in different locations, you will need a lawyer

Without much hassles, now you can get a will registered online by filling up a form and making mandatory payments. The document will be delivered in your inbox in no time.
The only caveat is that your will should be a simple one.

SBICAP Trustee Company's MyWILL Services lets users make a will for just Rs 2,500, which is also the cheapest among other service providers.
HDFC Securities offers e-WILL at a fee of Rs 4,000.
NSDL has the product EzeeWill in partnership with Warmond Trustees and Executors that, too, costs Rs 4,000.

The user needs to register on the respective websites; in case of SBICAP Trustee Company and HDFC Securities pay the money upfront and then start making the will. NSDL-Warmond lets the individual pay after he or she has finished entering all the details of the assets and beneficiaries.
Once completed, the will is emailed and/or couriered to the respective customer. For the same process, lawyers charge anywhere between Rs 10,000 and Rs 40,000.

These firms also let the user to include digital assets such as copyright on a software, Bitcoin, and digital photos that can earn royalty.

One drawback with online will making is that once the will is finalised, the customer data is purged for confidentiality. Post this, if customers want to make any changes, they will need to repay and follow the entire procedure all over again.
However, returning customers get a discount.
HDFC Securities, for example, offers 30 per cent off on the charges. Once the documentation is done, there are certain things that individuals need to undertake.
Gokul Das, MD & CEO, Warmond Trustees and Executors, says after customers get the will, they need to take a print of the document and get two witnesses to sign it. To make it legally more robust, service providers say customers should register the will.
The cost of registration starts at Rs 7,000. It may be higher depending on the different states, asset mix and value of these assets.

"It also helps if the person gets a medical certificate from a doctor.
If the will is challenged by someone, this document will help to prove that the maker of the will was in sound mind when he made it," says Jyotheesh Kumar, EVP - marketing, distribution & product at HDFC Securities. Das says while attesting the will, you can also video record it.

V Muralidharan, CEO and Whole Time Director, SBICAP Trustee Company, explains that online will is for people who own simple and limited assets.
A will can get complicated with the community a user belongs to, the mix of assets he owns, and the location of these assets.
The rules that govern Muslims can be complicated, as Sharia law doesn't allow the entire assets to be transmitted through a will.
If someone owns land in Goa, there are chances that it can be governed by Portuguese laws, and the laws to distribute inherited properties are different than the one acquired.
These companies, therefore, also offer customised services. The customers can get in touch with the partnering law firms and resolve issues by paying extra.

But if you have assets outside India, Gokul Das of Warmond says, it is best to have separate wills – one each for India and outside India.
"The will made in India may not be legally binding in other countries," says Das. For example, if you have assets in West Asia, Sharia laws would apply.

Also, customers making a will should let trusted friends or family members aware of it so that it can be retrieved when the time comes.