Double whammy for consumer firms, where the top line will remain subdued due to demonetisation and margins will squeeze owing to a crude oil spike and rupee depreciation, reports Viveat Susan Pinto/Business Standard from Mumbai.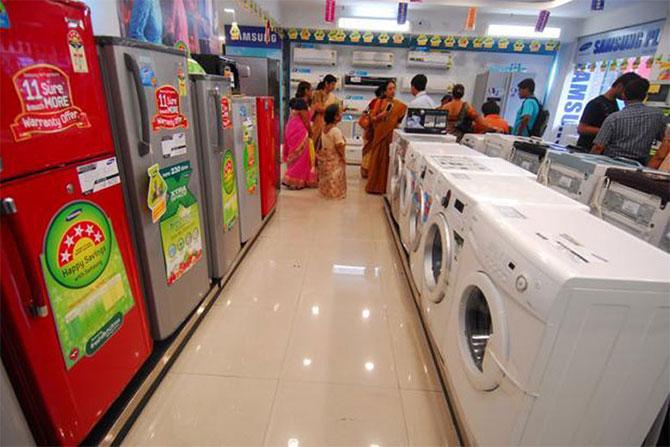 IMAGE: The pressure to raise prices is growing as input prices shoot up. Photograph: PTI Photo.

Demonetisation is not the only worry for consumer companies in the December quarter. Operating profit margins could come under pressure as a spike in crude oil prices and depreciation of the rupee push up cost of goods sold for companies.
In the past month, the price of crude oil has jumped nearly 13 per cent to $53 a barrel, while the rupee has depreciated to levels of about Rs 68.23 a dollar from Rs 66.72 in the same time. It hasn't helped that the price of agri-commodities such as palm oil and copra has also increased by 12 per cent and 6 per cent in the past month. Palm oil, for the record, is used in making soaps, while copra is a key input in hair oils.
As G Chokkalingam, founder, Equinomics Research & Advisory, says: "What companies are staring at is a double whammy, where the top line will remain subdued due to demonetisation and margins will squeeze owing to a crude oil spike and rupee depreciation. This hardly bodes well for them."
Companies are already beginning to articulate these concerns not only in fast-moving consumer goods (FMCG) but also consumer durables and retail.
In a presentation last week, the country's largest consumer goods company, Hindustan Unilever Ltd (HUL), said its near-term performance was under pressure and that market growth would be adversely impacted due to demonetisation. While HUL did not specify the pressure on margins, analysts expect at least a 80-100 basis-point impact on margins of FMCG firms in the third quarter.
Dabur's CEO Sunil Duggal has already said it is cutting ad spends in view of the market environment this quarter. Duggal also said that demonetisation had resulted in massive trade destocking, which had hit primary sales in the third quarter.
In consumer durables, Eric Braganza, president, Haier Appliances India, says the pressure of raising prices is growing as input prices shoot up because of rupee depreciation. "With the demand having slowed in the wake of demonetisation, raising prices could only hit sentiment further."
Both white and brown goods have a high degree of import component in them. Even a 100-basis-point depreciation in the rupee will mean that consumer durable and electronic makers will have to increase prices by at least 1-2 per cent, industry executives said.
"The rupee has slid 2.2 per cent against the dollar in the past one month, which is sharp. Prices will have to increase by 3-4%if firms have to ride out of this," said C M Singh, chief operating officer at Videocon Industries.
But, most firms seem reluctant to do this as consumer durables sales have been hit by 30-40%in cities and 60-70%in rural areas owing to demonetisation.
In a concall on Friday, jewellery and watch maker-cum-retailer Titan said that it expected the third quarter to be weak as consumers cut back on discretionary spends.
"Because of a cash crunch and the general mood itself, discretionary purchases are not on the minds of people. There will be an impact on Q3 as a result," said C K Venkataraman, chief executive officer of Titan's jewellery division.
Most consumer discretionary categories from fast-food to fashion and lifestyle are expected to be weak this quarter as liquidity continues to be a challenge.
But, Amar Ambani, head of research at IIFL, said the full impact of demonetisation as well as extraneous factors such as crude oil spike and rupee depreciation would be fully felt in the fourth quarter.
"While the pressures will be there in the third quarter, one advantage that firms from staples to discretionary have had is that the Diwali period was behind them, which was good. After Diwali, sales tend to dip. So, the full impact of demonetisation and other factors will be felt in the fourth quarter," he added.