Demonitisation will facilitate transparency in the real estate industry, which has had a notorious reputation as a safe locker for black money, says Saket Mohta.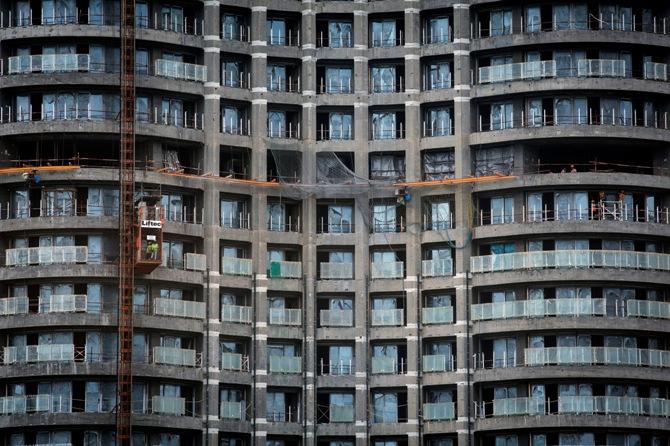 The surprise demonetisation of Rs 500 and Rs 1000 notes on November 8, 2016, sent heavy ripples across the country. Coupled with Republican candidate Donald Trump being elected as the new president of the United States, the market volatility expectations surged over 17 per cent.
The country has already begun to experience problems as people started queueing up (crowding, to be precise) at banks, ATMs, medicine shops and petrol pumps as well as figuring out ways to preserve the value of their unaccounted Rs 500 and Rs 1000 cash holdings.
As such, although the demonetisation policy by Narendra Modi was a critical step towards a cashless economy, it is causing, and is further expected to, an impact on almost every sector, including the realty industry.
Let's examine how it will affect this integral sector of the economy.
The realty industry, pre-demonetisation
With a market size that is expected to touch the US$ 180 billion mark by 2020, the real estate sector in India is the second largest employer after agriculture.
Comprising four sub sectors, namely hospitality, retail, housing and commercial, the industry is anticipated to grow at 30 per cent over the next decade.
Also among the 14 major sectors of the economy, the construction industry comes third on grounds of both direct and indirect effects on the economy. Mumbai, Bengaluru, Pune, Chennai and Ahmedabad as of now are the most advocated cities for property investment in India.
In the last decade, it has seen a steady demand for office and corporate space in addition to both urban and semi-urban accommodations.
The urban or the primary markets which are based on mortgages and loans and are largely driven by large developers, won't be as pinched as the rural sectors where the transactions are mostly cash based.
As such, the secondary markets in semi-urban regions are expected to be illiquid for a period of time.
Overlooking short-term implications, analysts expect the demonetisation to be beneficial in the medium to long run.
The Indian realty industry is largely unorganised and fragmented and as such is expected to be hugely impacted, especially the resale market where a lot of black money is involved.
Experts peg that the move will facilitate transparency in the real estate industry, which has had a notorious reputation as a safe locker for black money.
In addition, a deflationary trend owing to inflow of black money is expected which is likely to push real estate prices down and to more reasonable levels.
Analysts anticipate a substantial reduction in the number and volume of realty transactions in both land and estate markets.
Future expectations
The impact of the move was reflected early on Wednesday when real estate stocks like HDIL, Godrej Properties and Indiabulls Real Estate fell by 15 to 20 per cent.
The demonetisation decision is likely to affect companies which produce raw materials and other construction logistics, which require working capital exchanged in the form of cash.
Yet, a large amount of the inventory comprising apartments, villas, houses and plots of land which have been lying unsold for the last few years is expected to become affordable.
Housing finance companies are also expected to pick up in the long term. This 'bold move', according to Anshuman Magazine, CBRE chairman of India & South East Asia, will lead to pain in the short term but would be positive in the long run for the realty sector.
Image: Many prime properties across cities lie unsold. Photograph: Reuters.
Saket Mohta is director, Merlin Group