The study says the entire supply chain of goods and services will suffer a massive liquidity shock.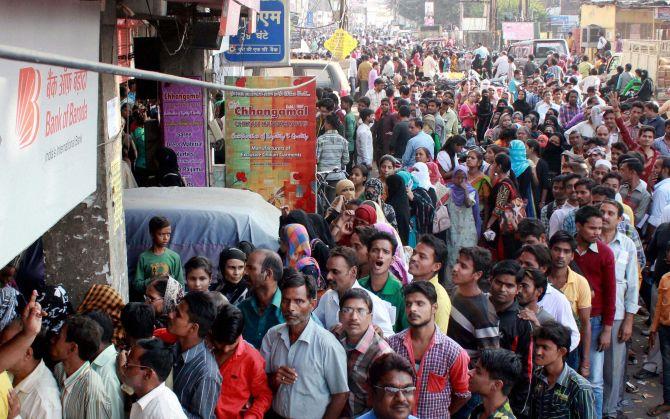 The Centre for Monitoring Indian Economy has estimated Rs 1.28 lakh crore as the cost to the economy during the 50-day period till December 30 by when people may deposit old Rs 500 and 1,000 currency notes with banks.
This does not include many indirect costs, such as those from disturbing the supply chain, says the study by its managing director, Mahesh Vyas.
These 50 days are a little more than half of the third quarter of the current financial year. Gross Domestic Product (GDP) was Rs 34.8 lakh crore in the same quarter of 2015-16. Nominal GDP grew by Rs 2.9 lakh crore during that period, year-on-year.
Demonetisation: Take the Pulse of the Nation poll!
The highest immediate cost, at Rs 61,500 crore, would be borne by the enterprise sector, says the paper. This covers all businesses that produce goods and services and are involved in the entire supply chain of these -- farmers, input suppliers, transporters, retailers, manufacturers, stockists, distributors, malls and other retail outlets.
In comparison, CMIE says the combined sales of 69 fast moving consumer goods companies was Rs 2.7 lakh crore in 2015-16.
The study says the entire supply chain of goods and services will suffer a massive liquidity shock. A large part of this chain is cash-based.
"This cash-based economy is unable to continue transactions because of the sudden fall in availability of cash. It is unable to meet business and financial obligations, and unable to liquidate stocks and receivables into cash. In fact, it is very busy dealing in converting the old currency it used to conduct business hitherto," says the study.
The impact of a broken supply chain would play out over several quarters. It would impact capacity utilisation of manufacturing companies and jobs. Over the medium to long term, investments as well, it says.
The immediate impact would be a fall in sales because of a fall in liquidity, with households cutting discretionary consumption spending during the 50-day period.
It estimates this fall by using the household consumption expenditure data already available with CMIE. The study also estimates the cost to people standing in a queue to change old currency notes with new ones or to deposit old currency notes into banks or to get new currency notes for use at Rs 15,000 crore.
"If people were not to stand in queues, they would be doing some productive work that would help them earn some wages. Since they are forced to stand in queues, they effectively lose wages for the period. This loss is the predominant cost of people standing in queues to exchange old currency notes into new ones," it says.
This includes the expenditure on photocopying of identity proofs required for the transactions, though not for incidental cost such as travel.
The financial cost cannot take into account the loss in production because these people were in the queues or the pain, irritation and anxieties the individuals suffer. Or the cost to the environment by making photocopies on an estimated 25 million sheets of paper.
It pegs the cost to banks at Rs 35,140 crore. "People queueing outside banks to convert their old 500 and 1,000 rupee currency notes into bank savings or into new currency notes are serviced by bank managers, officials and other staff. The pressure of this conversion is so high that the bank can do very little else. To calculate the cost of their work in converting old currency notes, we assume that they spend 95 per cent of their time on this work," it says.
Finally, it projects cost to the government and the Reserve Bank to be Rs 16,800 crore.
There are at least four kinds of costs in this regard. First, they have to print new currency notes. Second, the cost of transporting the new notes to all bank branches, post offices and ATMs. Third, pay the highway toll agencies, which have been asked to keep their stretches toll-free. Fourth, own costs in terms of human resources and corresponding overheads to manage this mammoth operation, it says.
Image: People queueing up outside a bank in Lucknow. Photograph: PTI Photo.