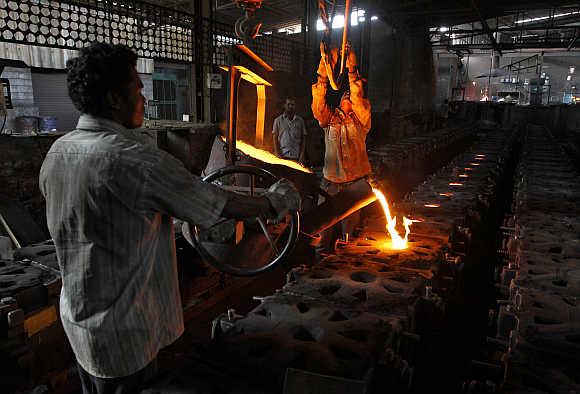 In the concluding article of a six-part series, Business Standard visits Ludhiana, one of the largest industrial towns in Punjab, to assess the effect of demonetisation.
M
oolchand Airi sold 15-20 cycles every day a month back; now, he barely sells three.
He is not alone suffering from the low demand, a result of the demonetisation of Rs 500 and Rs 1,000 currency notes by the central government. Nearly a month since Prime Minister Narendra Modi announced the reform on November 8, demand for consumer goods such as apparels and cycles is yet to recover in Ludhiana, one the largest industrial towns in Punjab.
"We sold 15-20 cycles a day before currency ban. Now the average is three cycles a day," said Airi. The 65-year-old is the owner of one of the oldest cycle retail shops at Gill Chowk, the busy market area in the town.
At present, he employs five people. He doesn't want to let them go despite the fall in sales, as they are well trained. "How will I replace them if the demand improves?" said Airi. "For now, it's a wait-and-watch situation," he added.
While the big retailers can afford to wait and watch, hoping for a recovery later, not everyone can follow suit.
Unskilled workers such as Pachatar Singh, a cart puller, are struggling to make their ends meet. "My daily income from has dropped to Rs 50," he said. Before demonetisation started, the father of two used to earn about Rs 500 a day, ferrying cycles and auto parts.
Ludhiana, about 100 km northwest of state capital Chandigarh, is home to 38,552 registered micro and small units and 153 registered medium and large units. Among the major manufacturing industries, the leading, in production value, are textiles (Rs 9,328 crore), apparels (Rs 5,256 crore), transport equipment (Rs 11,688 crore) and fabricated metal products (Rs 1,878 crore).
T
he industrial sector in the town collectively employs around 4.4 million people, according to a 2014-15 report by the Ministry of Micro, Small and Medium Enterprises.
Local industrialists said the number of workers employed in the registered industries is around 10 million, as about half the workers were on company pay rolls and others on contract. This helps the companies save money on account of provident fund and medical expenses.
Similarly, a large number of people were employed in the informal economy and unregistered units. "The industry is forced to do this as 56 per cent of profit goes in various taxes, including excise tax, sales tax and
service tax. The government must reduce the tax to make this demonetisation successful," said Vijay Goel, one of the biggest exporters of cycle parts in Ludhiana.
Goel said the export market might contract to Rs 4,500 crore from existing Rs 11,000 crore per annum.
Despite this, however, manufacturers and producers have continued production with only marginal cuts.
"Instead of six days, we are now producing for five days a week," said Upkar Singh Ahuja, a manufacturer of auto parts and chairman of Punjab Small Industrial Development Board.
S
mall units, however, were on the verge of closing down, he added. Demonetisation had left these reeling with inadequate liquidity and burden with high loans.
The industry had requested the government to make the limit of cash withdrawals according to the turnover of the company concerned. But, the manufacturers were more worried about the ripple effect.
Retailers, however, had little hope of recovery. Many of them, especially in the apparel sector, had a huge stock, which they feared would be cleared only next season. This was likely to disrupt the entire payment cycle.
Usually, retailers get the winter stock from manufacturers by end-October and clear payments in January. Manufacturers start the new cycle of production of summer clothes. This year, 80 per cent of the stock had already been dispatched to retailers in Bihar, Uttar Pradesh and Uttarakhand. Delhi and Punjab buyers were still getting supplies.
H
owever, the slowdown of sales would affect manufacturers and workers, too. "We will lose out on profit for one season, and are unsure if the current unsold stock will beat the fashion trend next year. Demonetisation is like a bomb blast in the market," said Darshan Dawar of Ludhiana Knitwear Club. But, there are many who disagree with Dawar. They say the sector was already reeling from other problems.
Sudarshan Jain of Knitwear and Apparel Association of Ludhiana said sales were down for the past two-three years, mainly because of warmer winters and rise in illegal import from Bangladesh and Vietnam.
"Though the situation is not dire, traders are currently uncertain and insecure about the future. They don't feel motivated to buy the fresh raw material. Everyone is waiting and watching how the situation unfolds in the next three months," he said.
Image used for representational purposes. Photograph: Babu/Reuters.