With 8.5 per cent market share in the quarter ended September 2017, Nokia makes it to the top four bestselling feature phones in India.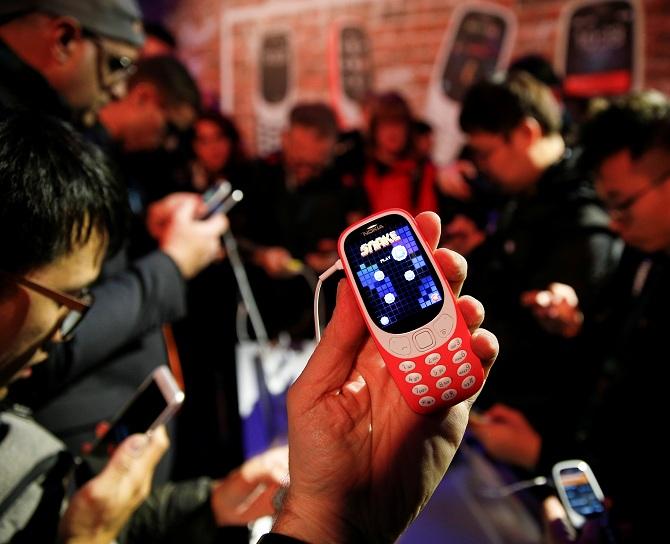 Nokia has staged a strong comeback in the Indian mobile phone market within a quarter of its commercial relaunch.
With 8.5 per cent market share in the quarter ended September 2017, it has made it to the top four bestselling feature phones in India, according to Counterpoint Research.
A leading player for years, Nokia was displaced from the top spot by Korean smartphone maker Samsung in 2011. Eventually, declining sales and low brand equity saw the company exit the market.
Currently, Nokia is marketed by Finnish start-up HMD Global, which was established in December 2016. The company has tied up with Foxconn for manufacturing Nokia phones in India.
In the feature phone segment, Nokia has managed to do well on the back of the popularity of its Nokia 105 model, priced at Rs 999. It has also launched affordable devices such as Nokia 130 and Nokia 150.
So, what explains Nokia's phoenix-like rise in a competitive mobile phone market such as India?
"We were and continue to be a people's brand. Our second innings in the market is driven by absolute focus on design and quality, delivering real-life that is multimedia experience to users, and our strong distribution network," says Ajey Mehta, vice-president (India), HMD Global.
The feature phone segment is currently led by Samsung with a market share of 23 per cent, followed by itel (13 per cent) and Micromax (11 per cent). Nokia occupies the fourth position.
Industry observers are not surprised with Nokia clawing back to the top echelon in the feature phone segment.
Tarun Pathak, associate director at Counterpoint Research, says that as against earlier market predictions of a rapid decline for feature phones, the segment has actually managed to grow. This has largely been aided by Reliance Jio launching affordable feature phones.
In an expanding market, Nokia has lured buyers with handsets priced under Rs 1,000. Competitive devices are available at a base price of Rs 1,100 (though on online festive sales some brands are hawking their devices at Rs 699).
At its peak, the phone manufacturer commanded strong loyalty and enjoyed brand salience. All of this appears to have come together to help it win back buyers' trust.
"The fact that the feature phone market is not as competitive as that of smartphones has helped Nokia make a strong comeback. Its strong distribution network that comprised 80,000 retailers has also helped it reach out to tier-I and tier-II markets and rural areas," adds Pathak.
Nokia's distribution footprint comprises 450 exclusive distributors and an 80,000-plus strong retailer network. Mehta claims the decision to strike exclusive dealer-partnerships was taken with the view to ensure the focus stays on Nokia.
Interestingly, as is the case with its competitors, Nokia has adopted a hybrid approach to product launch. For instance, Nokia 5's unique selling point is its touch and pocketability. It is important that buyers touch and feel the product as they make a purchase decision. Hence, Nokia launched the device offline.
On the other hand, the company launched Nokia 6, priced at Rs 14,999, exclusively online. This is because high-speed devices priced above Rs 12,000 tend to fare better online.
The company has also invested heavily in developing a robust after-sales network, Nokia Mobile Care. The network covers more than 300 cities with 35,000 stores. In addition, consumers can access device pick-up/drop services for Nokia's high-end models in about 100 cities.
After tasting early success in the feature phone category, Nokia is working to regain ground in the smartphone segment. Like its counterparts, Nokia sees immense opportunity in the smartphone segment priced between Rs 10,000 and Rs 12,000, which drives about 65 per cent of the volumes.
Without sharing numbers, Mehta says that in the smartphone segment, its devices -- Nokia 3 and 6 priced at Rs 9,499 and Rs 14,499, respectively -- have been received well in the market. The company is luring high-end consumers as well through its flagship product Nokia 8, which is priced at Rs 36,999.
Given the intense competition in smartphones, Nokia's comeback attempt in this segment will not be as easy as its early win in the feature phone category, says Pathak.
To be successful in the smartphone category, Nokia will have to launch products across price points. It will need to develop a wide portfolio in the segment to compete adequately with players like Samsung and Xiaomi, he adds.
Photograph: Paul Hanna/Reuters.