Gitanjali Gems and Firestar Diamonds together account for 5.8 per cent of the diamond and jewellery trade in India.
Vinay Umarji reports.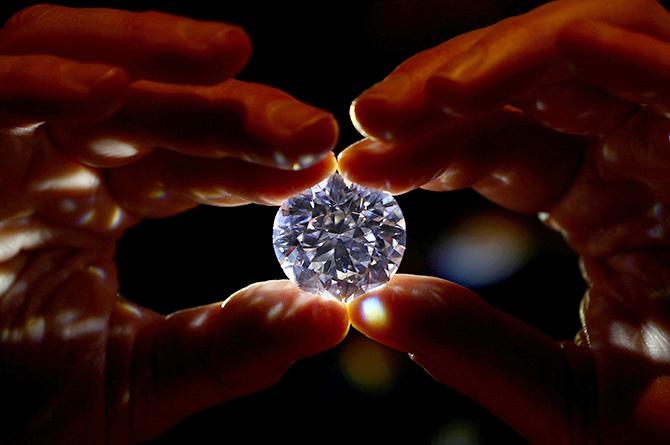 Photograph: Hannah McKay/Reuters
The Nirav Modi-Mehul Choksi scam has thrown a long shadow on the diamond polishing and trading industry, with its hub in Surat, Gujarat.
Deals are down 8 to 10 per cent since the incident came to the fore on February 14.
"Diamantaires do not want to take chances. Also, now, banks are tight-fisted about disbursing working capital, especially to diamantaires. This has slowed business by at least 10 per cent," says Kirti Shah, a Surat-based diamond polisher and trader.
To make matters worse, payment cycles, too, have become longer by a fortnight.
"Earlier, a trader used to deal with 20 to 25 industry players; now, they are more cautious and deal with only a handful they trust. This has also slowed down cash flow," Shah adds.
Diamond polishers and traders are seeking banks' cooperation for disbursement of working capital.
The Surat Diamond Association is concerned about how the scam will hit credit flows.
"Banks need to be more stringent, but also cooperative in disbursing working capital," says Dinesh Navadia, former president, SDA.
According to CARE Ratings, the total outstanding credit to the sector as of December 2017 was Rs 69,000 crore.
'The gems and jewellery sector reported 11.7 per cent stressed advances ratio, which was lower than the sample average,' a CARE Ratings report said.
The gross non-performing assets ratio of the sector was about 30 per cent.
CARE said the export industry might also be affected by the scam.
Gitanjali Gems imported and exported gold and studded jewellery.
It also had retail businesses in 200 cities in the country and abroad.
Firestar Diamonds derived most of its revenue from diamond cutting and polishing.
Its diamond-sorting business catered to some of the largest international players.
The CARE report estimated the shutdown of Nirav Modi's and Mehul Choksi's firms would have an impact of 5 to 6 per cent on the diamond and jewellery foreign trade in 2018-2019.
In 2015-2016, Gitanjali Gems and Firestar Diamonds together accounted for 5.8 per cent of the diamond and jewellery trade in India.
'Gitanjali Gems is among the largest jewellery retailers in the country. Gitanjali and Nirav Modi employed 648 and 2,200 people, respectively, according to their filings in March 2017,' said a CARE report.
It also said 3,000 people would lose jobs, and another 7,000 to 8,000 temporary workers at franchisees would also be rendered jobless.