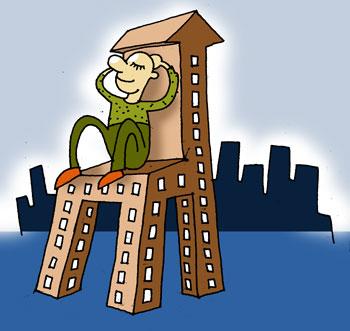 From April 1, subscribers will be able to change investment option & asset allocation twice a year, instead of once.
Use greater flexibility offered by pension schemes judiciously, experts tell Sanjay Kumar Singh.
Illustration: Dominic Xavier/Rediff.com
Until now, subscribers in the National Pension Scheme, NPS, could change their investment option (active or auto choice) and asset allocation (the percentage allocation of your investments to different asset classes such as equities, corporate bonds, government securities and alternative investments) once in a financial year.
According to a recent circular from the Pension Fund Regulatory and Development Authority, PFRDA, from April 1, investors will be allowed to change these options twice a year.
However, subscribers will still be able to change their pension fund manager only once.
Experts say that while this move will provide greater flexibility, subscribers need to use it judiciously.
NPS allows two approaches for investing the subscriber's money. One is the active choice option.
Here, the subscriber can decide which of the four asset classes s/he wants to invest in: Equities, corporate bonds, government securities and alternative investments.
S/he can also choose the allocation of her/his funds to each of these asset classes, provided s/he adheres to the cap of 50 per cent in equities and 5 per cent in alternative investments.
The other option is called auto choice-life-cycle fund. Here, the allocation to different types of funds changes automatically based on the subscriber's age.
Three life-cycle funds are available:
LC75 or aggressive life-cycle fund where the equity allocation is 75 per cent till age 35 and then reduces gradually;
LC50 or moderate life-cycle fund where the equity allocation is 50 per cent till 35 and then falls;
and LC 25 or conservative life-cycle fund, where the equity exposure is 25 per cent till 35 and then declines.
Being able to change one's asset allocation twice in a year could be especially useful in extreme market conditions.
"A savvy investor can use the opportunity to move from an overvalued asset class to one that is relatively cheaper," says Anil Rego, chief executive officer and founder, Right Horizons.
Experts, however, warn that investors should use the greater flexibility that has been provided in a judicious manner.
"Look closely at your portfolio to see whether you need to act. Just because you have the option to change things twice doesn't mean you have to exercise it," says Vishal Dhawan, chief financial planner, Plan Ahead Wealth Advisors.
Rego feels that too much fiddling of asset allocation by non-savvy investors could be counter-productive, and they should just let the short-term fluctuations in the market play out.
Some experts, while welcoming these changes, feel there is scope for PFRDA to go further.
"Subscribers should be allowed to change their allocation any number of times in a year. They are billed for these transactions, so why have any limits at all?" says Manoj Nagpal, chief executive officer, Outlook Asia Capital.
Also, at present investments in all types of asset classes have to go to a single fund manager.
Nagpal feels this is one constraint that should be done away with at the earliest. "The subscriber should be able to choose the equity fund of one pension fund manager, corporate bond fund of another, gilt fund of a third, and so on," he says.
Greater choice
You can now change your investment choice and asset allocation twice in a year.
Savvy investors can use this to reduce their allocation to an asset class that has become overvalued.
Look closely at your portfolio and make a change only if it's essential.