The 2022-23 (FY23) January-March quarter performance of the country's largest listed paint companies was better than Street expectations.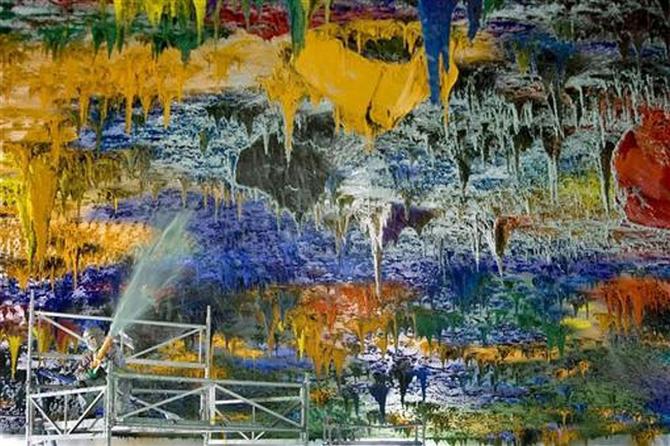 Asian Paints, Berger Paints, and Kansai Nerolac Paints (Kansai Nerolac) registered double-digit revenue growth, compared with the year-ago quarter, reinforced by strong volume/value growth.
Falling raw material prices also helped the paint majors hoist their gross margins.
On a consolidated basis, Kansai Nerolac was slightly ahead of its bigger peers, chronicling revenue growth of 12.8 per cent year-on-year (YoY), compared to the 11.3–11.7 per cent growth registered by its peers.
While growth was broad-based across segments, the company saw increased traction in the industrial segment due to higher production by automotive companies.
The company highlighted it had gained market share across industrial paint categories.
Price hikes, especially in the industrial segment, moderating input costs, and a rising proportion of premium products in the mix facilitated a 359-basis point (bp) expansion of Kansai Nerolac's gross margins.
While the industrial segment drove the performance in the quarter, the company wants to amplify its share in decorative paints by filling product gaps with a new premium product range.
The company has shed market share in the decorative paint segment over three years.
Its current share is placed at 9–10 per cent.
HDFC Securities has cut its earnings estimates for 2023-24 (FY24) and 2024-25 (FY25) by 3-4 per cent to justify the need for higher marketing spending to fob off competition and reclaim market share in the decorative paint segment.
Market leader, Asian Paints, too, chalked up healthy top line growth on the back of 16 per cent volume growth in the decorative paint segment.
Volume growth was bolstered by demand from the urban and rural segments, with traction across the economy, premium, and luxury segments.
The three-year volume/value growth, too, stood at an impressive 23–25 per cent.
Lower raw material costs, sourcing efficiencies, and an improved product mix led to a 380-bp in gross margins.
The demand in the current quarter is steady, and the company is eyeing double-digit volume growth in the quarter.
Nuvama Research has increased its earnings estimates for the company by 5-7 per cent in FY24 and FY25.
Analysts of the brokerage, led by Abneesh Roy, expect double-digit decorative paint volume growth to sustain, riding a potential demand shift from the unorganised segment, along with an improving margin profile.
Motilal Oswal Research, however, has not changed its earnings estimates and is a bit more cautious, arguing that the paint segment may not enjoy higher multiples as was the case earlier.
"With the entry of new deep-pocketed players and massive commitments to investment, the industry may see a shift in demand and margin structure due to heightened competition," says equity research associate Aditya Kasat of the brokerage.
The second-largest player in the decorative paint segment, Berger Paints, reported 11.7 per cent growth on the back of 11.1 per cent growth in the domestic segment.
The decorative paint segment clocked over 14 per cent volume/value growth.
Kotak Securities highlights that the 14 per cent YoY value growth in decorative paints is marginally ahead of Asian Paints (12.8 per cent) for the third consecutive quarter.
The company expects double-digit volume growth in the quarters ahead, led by expansion in distribution, which would add an incremental 5 per cent to overall growth.
Its market share gain in FY23 of 40 basis points (bps) to 19–20 per cent was led by the expansion of distribution with the addition of 8,000 dealers and 5,200 tinting machines.
Unlike its peers, Berger Paints' gross margin expansion was limited to 90 bps.
Its operating profit margin, however, contracted by 75 bps to 15.6 per cent due to a one-off ~22 crore.
The company has guided for a gross margin to be at the current level of 39 per cent, with an operating profit margin expected to improve to 16–17 per cent in the near term.
Elara Capital has cut the FY24 and FY25 earnings estimates by 6.5-7.7 per cent to factor in lower-than-expected sales.
Given a 13 per cent run-up in the stock price in the past three months, the brokerage has downgraded the stock to 'reduce' as weakening category dynamics remain an overhang.
While the near-term outlook for the paint sector is favourable, with volumes expected to improve, together with margin expansion, the entry of new players and rising competition could impact the listed players a year from now.
---
Disclaimer: This article is meant for information purposes only. This article and information do not constitute a distribution, an endorsement, an investment advice, an offer to buy or sell or the solicitation of an offer to buy or sell any securities/schemes or any other financial products/investment products mentioned in this article to influence the opinion or behaviour of the investors/recipients.
Any use of the information/any investment and investment related decisions of the investors/recipients are at their sole discretion and risk. Any advice herein is made on a general basis and does not take into account the specific investment objectives of the specific person or group of persons. Opinions expressed herein are subject to change without notice.