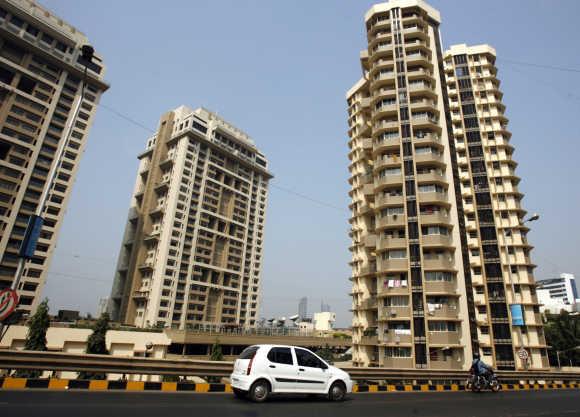 Call it an expectation of revival in the real estate market or improving liquidity, bulge bracket property deals have made a comeback in the country's commercial capital.
The year 2014 saw property deals worth over Rs 4,400 crore (Rs 44 billion) in Mumbai compared to Rs 910 crore (Rs 9.10 billion) in the previous year.
In 2012, a big year, Rs 8,194 crore (Rs 81.94 billion) worth of property deals were transacted, according to data culled by property consultant Cushman & Wakefield and Liases Foras, a real estate research firm.
While the 2012 tally was the highest in a row of three years, it was tilted in favour of a Mumbai mill land sale by DLF.
The Delhi-based developer sold its property in Lower Parel to the Lodha group for Rs 2,727 crore (Rs 27.27 billion).
But last year had three deals each worth over Rs 1,000 crore (Rs 10 billion) while 2012 had only two such deals.
Oberoi Realty bought 25 acres of Tata Steel's land in the Kandivali area of Mumbai for Rs 1,155 crore.
The Lodha group purchased 87 acres of land in Thane, on Mumbai's outskirts, for Rs 1,154 crore. And Sai Ryden Realtors, bought land in Vasai, near Mumbai for Rs 1,111 crore.
"Land deals were not happening in 2013 because people were not clear about development rules. Now, there is complete awareness on development control rules and future potential of a plot. Deals have started and I believe these will go up," said Gulam Zia, executive director at property consultancy Knight Frank.
According to Zia, since Mumbai sees office transactions of five million sq ft every year and that fuels a residential requirement of 40 million sq ft, the city needs to transact 25 million sq ft, or 573 acres of land, every year, assuming developers use an FSI of two in building apartments. FSI or floor space index defines construction allowed on a given plot of land.
"If half that 25 million sq ft is historical land, 12-15 million sq ft has to be purchased. Many more deals should happen," Zia said, adding that if the weighted average price in Mumbai was Rs 30-40 crore per acre, the city should see deals of Rs 6,000 crore (Rs 60 billion) this year.
According to Sanjay Dutt, managing director of Cushman & Wakefield, the year 2013 saw fewer deals because developers did not have money and investors had opportunities beyond buying real estate.
"With the new government and improving sentiment, we are seeing a lot of foreign capital flowing into the country. I believe 2015 and 2016 will see many deals," Dutt said.
However, Sharad Mittal, head, real estate, Motilal Oswal Private Equity Advisors, said land acquisition in the Mumbai Metropolitan Region was happening largely on two counts: By large developers with strong balance sheets and on account of consolidation in a tough market.
"But most developers are focusing on execution and sales of existing projects rather than on new acquisitions," Mittal said.
Mittal could be right. According to PropEquity, the number of launches in the Mumbai Metropolitan Region has come down by 51 per cent in January-September 2014 from the corresponding period of the previous year.
Of the committed supply of 1,23,859 units in January-June 2014, just 31,504 units were delivered.