Home Minister Rajnath Singh said that the decision could cost the government roughly Rs 15,000 crore.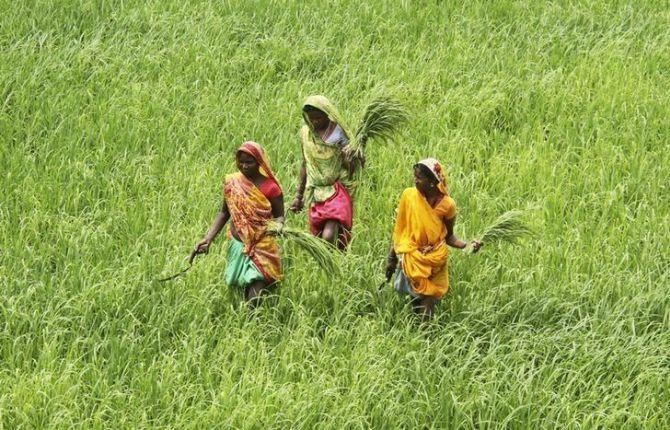 The National Democratic Alliance government's decision to hike minimum support prices (MSPs) is likely to increase headline retail inflation by 50-90 basis points (bps), say economists.
But in the absence of clarity over how much will be actually procured, the impact on the government's finances is difficult to ascertain.
The headline consumer price index (CPI) is expected to rise by around 70 bps, while wholesale inflation (WPI) is expected to rise by 38 bps, says Devendra Pant, chief economist at India Ratings and Research (Ind-Ra).
Suvodeep Rakshit at Kotak Institutional Equities pegs the impact at 50-60 bps, assuming there is full pass-through, while A Prasanna at ICICI Securities expects CPI to rise between 50-90 bps in 2018-19.
With CPI having risen to 4.87 per cent in May 2018, up from 4.58 per cent in April, these estimates suggest it may well overshoot the Reserve Bank of India's (RBI's) inflation projections.
In its last monetary policy review, the RBI had projected CPI to range between 4.8 and 4.9 per cent in the first half of 2018-19, slowing down to 4.7 per cent in the second half.
But, it had noted that "the impact of the revision in the MSP formula for kharif crops is not possible to assess at this stage in the absence of adequate details."
"The announcement of higher MSPs itself would have an upward push to inflation since the monetary expectations of farmers for their harvest are now raised. We might see this upward climb of CPI inflation even before the harvest season kicks in," says Himanshu, associate professor of economics at Jawaharlal Nehru University.
Some economists believe that the rise in CPI could force the monetary policy committee to raise rates in its next meeting.
"The inflation trajectory in the near term would remain upwardly biased and hence at least one more rate hike by the regulator is likely, more so in October 2018, though a rate hike in August 2018 cannot be entirely ruled out," noted Ind-Ra.
On the other hand, it is difficult to gauge the impact of the hike in MSP on government finances because of lack of clarity over what may end up being procured.
Home Minister Rajnath Singh said that the decision could cost the government roughly Rs 15,000 crore.
But according to government sources this estimate is based only on procurement of paddy and does not factor in procurement costs for other crops, which are likely to be around Rs 22,000-25,000 crore.
But in the absence of data on what the government plans to procure, it is difficult to know for sure.
"The actual costs will depend on the level of procurement. Barring rice and wheat, procurement of other crops is carried out only in a very few select areas, where the state government takes the initiative," says Abhijeet Sen, former member of the Planning Commission.
A senior official of the Food Corporation of India told Business Standard that "the state governments can get central government assistance if the coarse grains they procure are distributed under the National Food Security Act."
"Assuming the procurement of kharif crops would be as much as last year's, the higher MSPs would cost the government about Rs 11,500 crore," says D K Joshi, chief economist at CRISIL.
"But the actual cost incurred could be substantially higher as procurement is set to increase. Where a crop is not procured, the government may have to make deficiency payments to farmers, which is the difference between the MSP and market/mandi price. Currently, market/mandi prices for most crops are below their announced MSPs," he adds.
According to Shubhada Rao, group president and chief economist, YES Bank, "The fiscal impact of MSP recalibration is estimated at around Rs 15,000 crore to Rs 20,000 crore (0.1 per cent of gross domestic product), premised on government procurement growing by 1 per cent in 2018-19, on the back of expectations of normal monsoon."
Rao does not see a risk to 2018-19 fiscal deficit target, as "it appears that the government has made adequate provisions in the Union Budget."
However, others are not so sure.
"Without additional details on whether the procurement of crops would be widened from the current set, or if some other mechanism would be adopted to ensure that farmers receive prices on a with MSPs for their produce, it remains difficult to ascertain the impact of higher MSPs on inflation and the fiscal deficit," says Aditi Nayar, principal economist at Icra.
Photograph: Ajay Verma/Reuters