Royal Enfield sees its scale and dominant market share as adequate buffers against Bajaj's recent challenges, says Ajay Modi.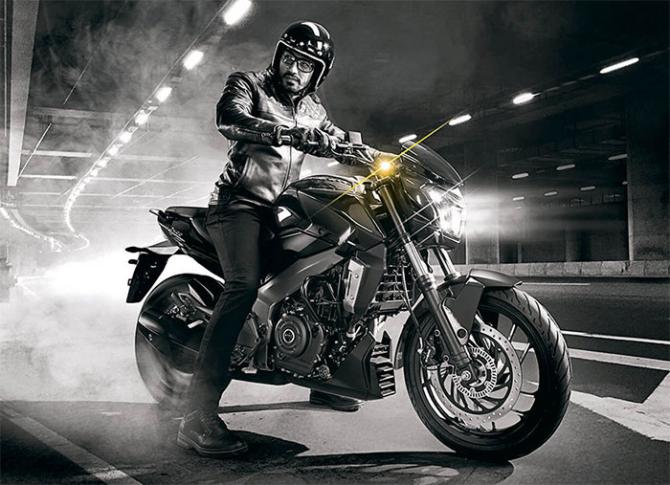 IMAGE: The Dominar. Photograph: Kind courtesy Bajaj Auto
In less than a year, Pune-headquartered motorcycle maker Bajaj Auto has announced its third attempt to find a foothold in the domestic mid-size motorcycle market, the fast-growing segment dominated by Royal Enfield.
After a lower-than-projected response to its first in-house mid-size motorcycle, Dominar, the company is readying more ammunition.
In July, it revealed plans to bring to India the Husqvarna motorcycles (the world's second oldest motorcycle brand owned by Bajaj's Austrian partner KTM) in the latter part of 2018.
It will be produced locally for domestic and export markets.
The announcement marks an increasing focus within Bajaj to establish itself as competition to Royal Enfield, a highly profitable product that contributes an earnings before interest depreciation, tax and amortisation of 31 per cent to Eicher Motors.
Bajaj did not stop at Husqvarna.
Last month, the company forged a no-equity partnership with iconic British motorcycle brand, Triumph, to manufacture mid-size motorcycles (250-750cc) locally for the domestic end.
Having lost domestic market share in the mass motorcycle segment in recent years, Bajaj's bets on the premium segment is understandable.
But breaking into the fortress of Royal Enfield won't be a joyride.
Bajaj's partner, Triumph, is not a new name in India.
It started retailing imported motorcycles in India from 2014 and locally assembles some products now. But it sells just about 120 units a month and plays in a price range of Rs 5.7 lakh and Rs 20 lakh.
Triumph's locally made motorcycles would come at a significantly lower price point and help it grow volumes.
"It is very clear. There will be people entering. There is no doubt about it. Just that it is still a very small segment. If more players enter, it may help grow the segment.
"We want to do very few things. Our product range is limited and it is going to be like that.
"We will continue to make nice motorcycles, make fewer but make them exceptionally well.
"Other products and brands start looking generic. That is not our cup of tea. We want to be ourselves and extremely different from the pack," Siddhartha Lal, managing director and chief executive officer of Eicher (which owns Enfield), said in March.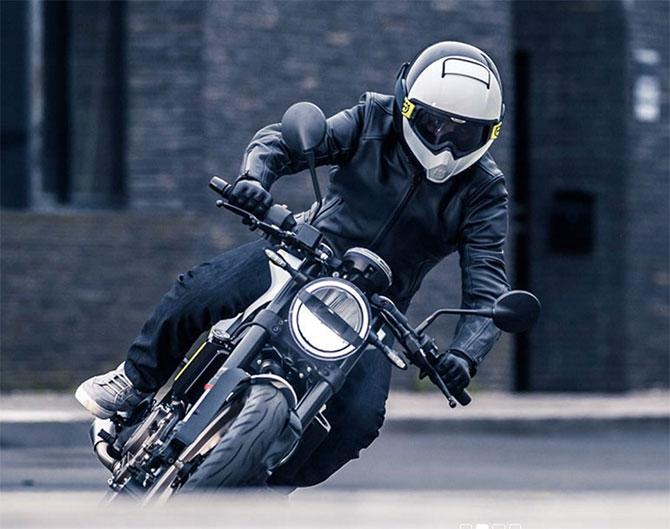 IMAGE: The Husqvarna. Photograph: Kind courtesy, Husqvarna Motorcycles
Royal Enfield has said it is not going to be easy for any new entrant to unseat the company.
"If you look at the 250cc-plus motorcycle market in India, every 19 of 20 products are sold by us… that is a reality. It is not that easy to unseat someone who is doing this," Lal said, when Bajaj Auto claimed that Dominar had overtaken Royal Enfield in the 350-500cc segment.
The claims were based on one month's (February 2017) dispatches to dealers, when Dominar clocked a volume of 3,000 units and Royal Enfield sold 2,602 units in the segment.
But things changed after that.
During the April-July period of FY18, Dominar reported sales of 4,780 units to Royal Enfield's 12,855 units in the 350-500cc segment.
Bajaj's KTM did sales of another 5,521 units.
The combined volume of 10,301 units between the two brands is also lower than Royal Enfield.
At the launch, Rajiv Bajaj, managing director at Bajaj Auto, had projected initial monthly domestic sales of 5,000 units and was aiming to sell 10,000 units of the Dominar a month eventually.
The current average monthly volume, after over eight months of the launch, is just about 1,200 units.
But the 350-500cc is not the primary segment for Royal Enfield. It gets the bulk of sales from the 250-350cc segment where it has about a 99 per cent market share.
This is also a much bigger segment, with monthly volumes of 56,500 units against less than 6,000 units for the 350-500cc segment.
The day Bajaj announced its partnership with Triumph, Lal said Royal Enfield does not need a partnership either for technology or for manufacturing or distribution of motorcycles (reports that it was bidding for Ducati are just rumours, company officials claim).
"It is not a desperate need. I mean, it is not even a real need, let us put it that way," Lal said.
He added the company has invested in technology and manpower, and the results of these would be visible in future product launches.
What gives Lal the confidence to hold on to this turf?
Royal Enfield has built a scale, a distribution and service network that is not going to be easy for a second player to replicate in the segment.
It is ready to make 900,000 units a year and the volume gives it an advantage of scale.
Some of its products command a waiting period as well.
Royal Enfield happens to be a highly popular brand with a strong following in both rural and urban markets.
"The residual value of our motorcycles is very good, may be double in per cent terms to any other product in the market. For a customer who buys Royal Enfield, it is a great asset as well," said Lal.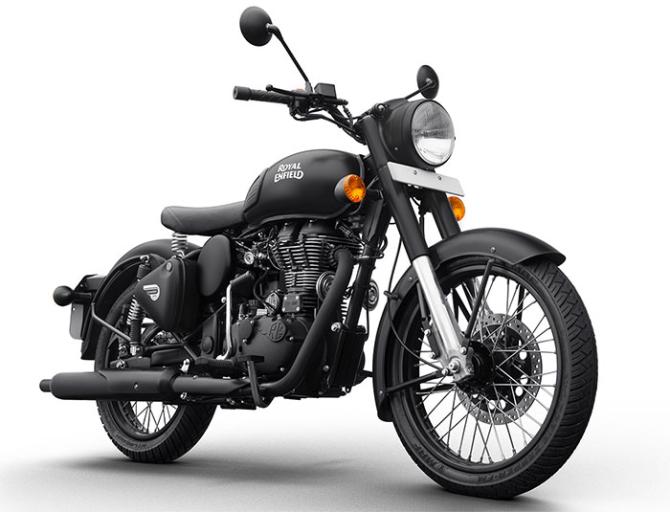 IMAGE: The Royal Enfield Classic. Photograph: Kind courtesy Eicher Motors
Motorcycle industry veteran R L Ravichandran, who has worked with country's leading two wheeler companies -- TVS, Bajaj and Royal Enfield -- says Royal Enfield is an extremely well established motorcycle brand with strengths of volume and plans to expand offerings.
"Bajaj-Triumph is a good combination of cost-effective manufacturing and a powerful and successful British brand. But, at this stage, I do not see any major threat for Royal Enfield.
"One has to watch their combination, culminating in what strategy emerges in the years to come," said Ravichandran, who had served as CEO of Royal Enfield and is still associated with the company.