As households age, they pile up debt, a peculiarity unique to Indians, a Financial Stability and Development Council report has found. Anup Roy highlights the key takeaways.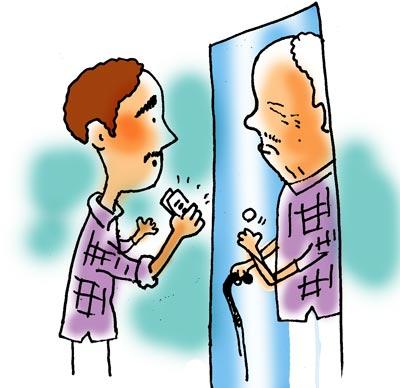 The average Indian household holds 84 per cent of its wealth in real estate and other physical goods, 11 per cent in gold and the residual 5 per cent in financial assets, and as households age, they pile up debt, a peculiarity unique to Indians, a report of the household finance committee has found.
More than half the debt Indian households accumulate, even at the top of the wealth distribution, are unsecured, reflecting an "unusually high reliance on non-institutional sources such money lenders".
In comparison, "households in advanced economies hold substantially more financial assets than their Indian counterparts, are much more likely to finance home purchasing with a mortgage, and allocate a sizeable fraction of their wealth to retirement savings over the course of their lifetime," the report, made by a committee under the Financial Stability and Development Council (FSDC) said.
The committee was headed by Tarun Ramadorai, professor of financial economics at the Imperial College, London, and had representation from all financial sector regulators.
Indians also tend to see marriages, rather than financing education, as "life events", and this tilts their budget towards debt.
"Despite the high holdings of real estate, mortgage penetration is low early in life, and subsequently rises as households age. This is also at variance with Indian households' counterparts in other countries, where debt has a characteristically hump-shaped pattern over the lifecycle," the committee found, which indicates that "Indian households tend to borrow later in life and are more likely to reach retirement age with positive debt balances, which is a source of risk given that they are no longer earning income during these years."
One reason for accumulating debt at a later stage in life could be the social arrangement, in which households bequeath the properties to future generations in lieu of old age care.
However, the panel noted these traditional structures were increasingly under pressure from shifting demographic patterns, social norms, and changing economic conditions, "introducing risks to economic well-being especially as households age".
While accessing basic financial services, Indian do share a lot of personal data and this raises the concerns of privacy.
The report recommended the government form a "sensible framework for data privacy in Indian household finance, and suggest the adoption of a rights-based privacy framework in contrast with the more common consent-based privacy framework".
The report found that the contribution of pension wealth and insurance cover was prevalent in only a few states and not across India.
Insurance penetration was low, despite natural disaster risks remaining on the higher side.
Over the coming decade and a half, the elderly population is expected to grow by 75 per cent, but only a small fraction of this had saved in private pension plans. Coupled with low insurance cover, Indian households "appear particularly vulnerable to adverse shocks later in life".
According to the report, Indian households must re-allocate assets towards financial products and away from gold.
However, the report also said a part of the reason why households don't save in formal financial channels, was that they found high transaction cost and bureaucratic institutions such as banks as a "nuisance factor".
In comparison, non-institutional lenders, such as moneylenders were quick in passing on the loan in terms of financial urgency. `
There should be a minimum set of financial products for Indian households, the panel said.
Many of these products already exist, and indeed, were being delivered to households via government programmes such as the Jan Dhan Yojana. But, if a product was not available with the household, it should be introduced by default at the time of opening accounts under such programmes.
Recommended for you: 9 personal finance mistakes to avoid