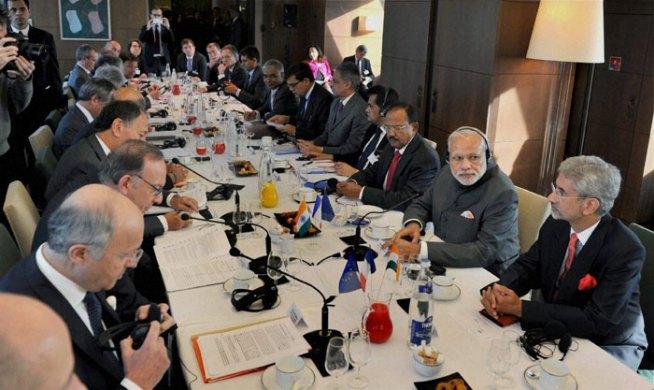 Prime Minister Narendra Modi on Friday met top French business leaders with an aim of bringing French investment and technologies to India particularly in infrastructure and defence sectors. Photograph: PTI
France on Friday called India a 'bright spot' in global economy, as Prime Minister Narendra Modi used his 'Make in India' initiative to invite top French businesses to invest in the country, particularly in the areas of defence and infrastructure.
"The Prime Minister said he accords highest interest to the 'Make in India' in defence... What the French companies can do is to add value," External Affairs Ministry spokesman Syed Akbaruddin said while briefing on two back-to- back meetings Modi had with French CEOs.
Modi, on a four-day visit to France on the first leg of his three-nation tour, took the opportunity to woo French investors to undertake projects in India as he held meetings with them accompanied by French Foreign Minister Laurent Fabius.
"India is identified as a bright spot in global economy," Akbaruddin quoted Fabius as saying.
The subjects discussed at the meeting with the CEOs of companies dealing with infrastructure were how they could partner with India in developing smart cities, upgrade transportation, particularly railways and waste management.
Modi gave the business leaders of the largest French chamber, Movement of the Enterprises of France (MEDEF) – that has 750,000 members, an outline of the policy initiatives of his government over the last 10 months.
The 'Make in India' initiative could be helpful in ending the deadlock over Jaitapur nuclear plant in Maharashtra.
Earlier in the day, India said it expects "movement" on a proposal for setting up French nuclear reactors in Jaitapur as well as on the Rafale fighter deal, both of which are pending for long.
Talking about this issue, Akbaruddin said there are suggestions that some of the elements of the nuclear plant could be made in India to "bridge the cost" and resolve the matter over price of power generated.
The Jaitapur project, where French company Areva is to set up six nuclear reactors with total power generation capacity of about 10,000 MW, is stuck because of differences over the cost of electricity to be generated.
Similarly, the deal to supply 126 Rafale fighter planes is also deadlocked because of differences over price.
After wrapping up the first leg of his tour, Modi will head to Germany, where business and technology will be the focus of his engagements aimed at attracting participation in the 'Make in India' campaign.
In the third and last leg of his tour, Modi will travel to Canada, marking the first standalone visit by an Indian Prime Minister in over 42 years.