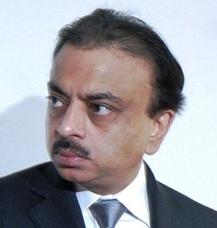 Ispat chairman Pramod Mittal was nowhere to be seen on a day his company signed a landmark deal with JSW Steel.
Company officials explained to shareholders, at the annual general meeting in Kolkata, that he was held up at Heathrow because of bad weather.
Not just on the deal day, sources said the chairman was missing from the meetings with JSW Steel over the last eight days.
"Pramod Mittal was not there in the deal meetings. Vinod Mittal, his finance team and son, Atulya, conducted everything," said a senior executive who was involved in the negotiations.
The question, which many people have already started asking, is whether the Mittals are splitting their business empire once again. There is precedence: In 1994, the Mittal family decided to split and the Ispat group managed by M L Mittal, and brothers Vinod and Pramod Mittal separated from Lakshmi Mittal's Ispat International.
What has added to the buzz is the post-deal board composition of JSW-Ispat.
According to the arrangement, Vinod Mittal, who was Ispat's vice-chairman and MD, will become the executive vice-chairman of the company during the transition period of 18 months and subsequently function as non-executive vice-chairman. Sajjan Jindal will be the new non-executive chairman.
"Pramod Mittal may or may not continue on the board of Ispat,"said Anil Sureka, Ispat Industries' director (finance), on the sidelines of the company's annual general meeting in Kolkata.
People close to the Mittal family say, like most industrial houses, the Mittals, too, have been working on a family settlement, which took shape earlier this year, that divides operations and responsibilities for Vinod and his elder brother Pramod.
It is, however, unclear if the settlement includes a cash component.
"The Goenkas have done it, what's surprising if the Mittals follow a similar route?
They, too, have GenX coming up who would want to take a much bigger role in the business. So it's best to think and plan ahead and avoid acrimony," said a person close to the Mittal family.
Clarified Sureka: "Pramod Mittal has been devoting more time in international operations," leaving the Indian business operations to Vinod.
Unsurprisingly, therefore, Pramod Mittal was not part of the discussions with JSW Steel said Ispat officials. Which is also why Atulya Mittal played a more proactive role in the deal structuring.
The offshore investment arm of Pramod and Vinod Mittal, Global Steel Holdings, could be keeping him busy. Global Steel has steel-making capacities in five countries across Europe, Africa and Asia Pacific.
Many wonder whether this means there is now a clear demarcation of responsibilities between Pramod and Vinod Mittal and whether this is the beginning of a formal split, with the cross-holdings within the promoter entities and companies getting untangled over time.
The family members are not willing to give out anything. "We haven't thought that far ahead," said Vinod Mittal, adding, "No, we work closely together. We haven't yet thought about board composition and whether Pramod Mittal will continue on the board of Ispat."
Global Steel Holdings apart, Pramod Mittal is also the chairman of group companies, Gontermann Peipers (India) and Balasore Alloys.
While there are hardly any cross-holdings between the companies, the promoters' holding in the companies is with a web of investment companies -- Ispat Steel Holdings, Goldline Tracom Pvt Ltd, Kartik Credit Pvt Ltd, Mita Holding Pvt Ltd.

"We haven't taken a call yet on all that," said Vinod Mittal.

But sources close to the family say it's a matter of time that the brothers chart out their independent growth trajectory and the process has begun.

According to them, Vinod Mittal, for example, will focus on power ventures.
"The promoters have around two to three ventures in Maharashtra, Chhattisgarh, also Central India Power Company.

"All these are under different stages of clearances and implementation. He would focus on that once his 26 per stake gets him more value, post the deal," said a close associate of the Mittals.

Being an industrialist himself, most think it's a matter of time that Vinod Mittal will exit Ispat completely and focus on doing something of his own.

Ispat's management and the promoters, however, said they had no plans to exit Ispat in the immediate future.

Image: Pramod Mittal