The man who owns close to 94 per cent of the shares of Patanjali Ayurved, an unlisted company, does not, however, take a salary or receive dividends., says Arnab Dutta.
Illustration: Dominic Xavier/Rediff.com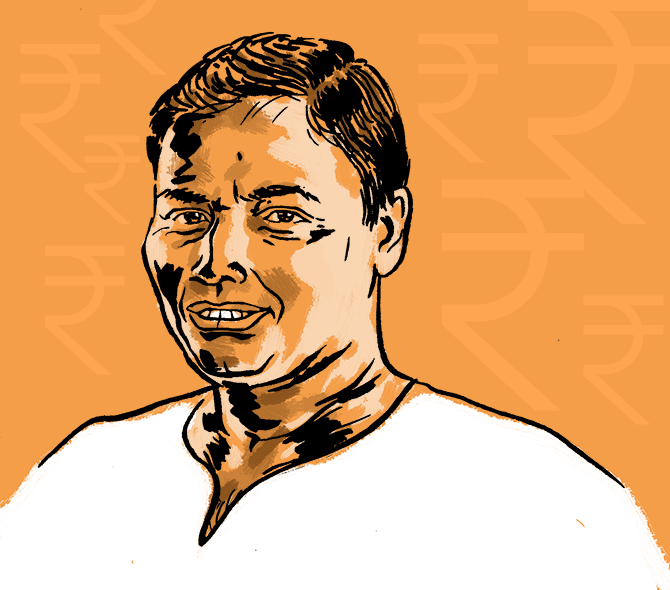 Acharya Balkrishna, the de-facto chief of one of the country's fastest growing consumer goods companies -- Patanjali Ayurved -- became the talk of the town since his entry into the top league of fat cats around a year ago.
However, it is the recently released Hurun India Rich List that revealed that the 45-year-old, at number eight, has closed in on tycoons like Gautam Adani, one rank above, and leap-frogged over well-known personalities like telecom baron Sunil Mittal, who is two ranks below.
The growth in Balkrishna's wealth is certainly eye-catching. Pegged at Rs 70,000 crore (Rs 700 billion), it has more than doubled over the past year.
Not that the soft-spoken managing director of Patanjali would be mistaken for the common or garden variety of corporate tycoons.
In fact, he is a man of contrasts. Though his day starts early with traditional yoga asanas at the firm's headquarters in Haridwar, the white dhoti-kurta clad acharya travels in a specially designed milk-white Range Rover SUV with armed security guards.
A fleet of vehicles, both security and civil, precede and follow him.
The man who owns close to 94 per cent of the shares of Patanjali Ayurved, an unlisted company, does not, however, take a salary or receive dividends.
He sits on the board of over two dozen companies, most of them Patanjali enterprises. But his work station doesn't have a computer. His only prized possession to date remains an Apple iPhone.
Born to Sumitra Devi and Jay Vallabh in 1972, a Nepalese couple, Balkrishna's rise can be traced to the late 1980s when he first met the charismatic, if controversial, yoga guru and emerging "godman" Baba Ramdev at Kalwa Gurukul in Haryana.
Unlike most high-profile management professionals in the 21st century, Balkrishna's CV lacks management or engineering degrees.
His formal education is confined to Sanskrit literature and courses on Ayurveda. But that does not seem to have hindered his ascent to the summit of corporate India.
In fact, he was an unknown entity until the launch of Patanjali products and their stunning success in the market.
It was his guide-cum-philosopher, Baba Ramdev, who grabbed the headlines, for reasons that had little to do with business.
Balkrishna, however, rose on the crest of Ramdev's association with the anti-corruption movement against the incumbent central government headed by the Congress Party in 2011 and high-voltage campaigns against foreign multinationals operating in India.
The anti-corruption movement considerably dented the popular credibility of the United Progressive Alliance during its second term and paved the way for change in the May 2014 elections.
After the Bharatiya Janata Party won a brute majority in the Lok Sabha, Patanjali's performance improved by leaps and bounds.
In the two years between 2011-12 and 2013-14, the company's sales grew at a compounded annual growth rate (CAGR) of 62.4 per cent.
But that was nothing compared to its performance since.
Between 2014-15 and 2016-17, Patanjali's sales have grown by an astounding 98.7 percent CAGR, compared to 10 per cent for the sector as a whole.
And the firm's annual revenue crossed Rs 9,300 crore (Rs 93 billion) in March 2017 -- growing close to 20 times from what it was five years ago.
The unlisted company did not file its recent accounts with the Registrar of Companies and its products are not subject to the usual standards certifications.
Yet it has been able to raise loans of Rs 320 crore (Rs 3.2 billion) from banks, and plans to borrow another Rs 5,000 crore (Rs 50 bilion) to set up food parks, all this at a time when bad debt laden banks are reluctant to lend.
Balkrishna, on whom the group conferred the title of Acharya, refuses to take credit for Patanjali's success.
As he explains it, he never sought wealth or fame but was always deeply concerned about the country and wanted to serve it to the best of his ability.
Patanjali's growth was the outcome of this dedication, he avers.
Even as most executives in the corporate world and consumer market analysts scratch their heads over Patanjali's unprecedented success, Balkrishna sticks to this script with minor variations.
Asked yet again by a journalist about the secret of Patanjali's success, he said in his trademark chaste Hindi, "We thought we would serve the people as much as possible. We have to serve people with a combination of causes like yoga and ayurved. The thought process has been the same till today, it will not change. But we never thought Patanjali would grow this big. Even today we do not think about how big it can grow from here."
The long, tumultuous journey, however, has not been without its share of controversies.
In June 2012, he was held for forgery and fraud by the Central Bureau of Investigation but the case does not seem to have progressed since.
He is prominent among the emerging cohort of cultural ideologues who espouses a swadeshi ideology, calls for a corruption-free society and the Indianisation of education and culture.
Balkrishna, who has voluntarily renounced any remuneration from the Patanjali group through a will, plans to continue serving the enterprise and aims to take it to the top league of conglomerates beating global giants like Unilever.
The latter has certainly been forced to sit up and take notice. If nothing else, Patanjali has proved that "swadeshi" can be a market disruptor.