Vikram Bakshi says the 169 stores will remain open, McDonald's says it will take steps to enforce termination.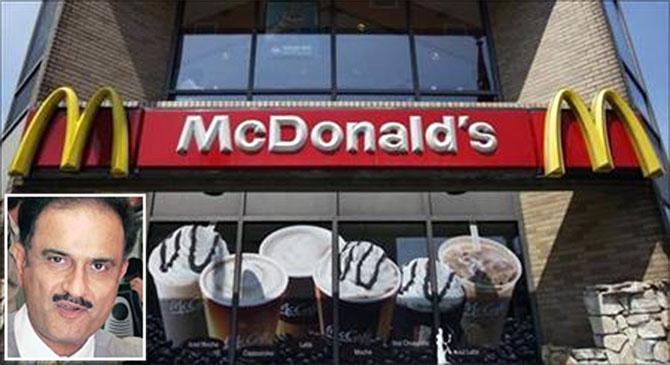 A furious war of words has begun again between estranged joint venture partners Vikram Bakshi and McDonald's India (MIPL) over the closure of 169 stores in the north and east of India.
This follows MIPL terminating the licence agreement with Connaught Plaza Restaurants Ltd (CPRL) last month, pushing Bakshi to challenge the termination first in the National Company Law Tribunal (NCLT) and then the National Company Law Appellate Tribunal (NCLAT).
While Bakshi's plea challenging the termination will be heard on September 21 in the NCLAT alongwith MIPL's application challenging Bakshi's reinstatement as MD of CPRL, the latter has said the 169 stores will not shut and that it is business as usual for them.
CPRL's licence, for the record, to operate the 169 outlets lapsed on Tuesday (September 5) as per MIPL's termination notice.
"The administrator appointed to the board of CPRL shall be requested to call for a board meeting at the earliest to discuss the termination of the franchise agreement. Till a decision is taken by the board of CPRL, it is business as usual," Bakshi said on Thursday.
On Wednesday, Justice G S Singhvi, the court-appointed administrator on the board of CPRL, asked both sides to await the NCLAT's Thursday verdict before deciding the fate of the 169 stores. MIPL, however, on Thursday said it would take steps to enforce the termination.
"Following the NCLAT hearing today (Thursday), the termination notice remains effective as of September 6, which requires CPRL to cease the use of McDonald's system and its intellectual property. We will continue to take steps to exercise our legal and contractual rights and enforce the termination," MIPL said.
Legal experts told Business Standard that McDonald's had the option of moving to the Delhi high court in its bid to enforce the termination.
While most McDonald's stores in the Delhi-NCR region have downed shutters, some in the Connaught Place area were running on Wednesday despite the 15-day notice period for termination lapsing on Tuesday. They continued to be operational on Thursday too, persons in the know said.
Around 6,500 people are directly employed by CPRL to run the 169 stores. While Bakshi (with Bakshi Holdings) and McDonald's India hold an equal number of equity shares in CPRL, over the years McDonald's pumped Rs 193 crore against non-convertible preference shares.
According to sources, to initiate its business with a fresh approach and a new partner, McDonald's is considering writing off its investments in CPRL.
Image: A McDonald's outlet. (inset) Vikram Bakshi. Photograph: Reuters.