Look-out notices are issued to alert immigration authorities to prevent any move of a person facing probe leaving the country.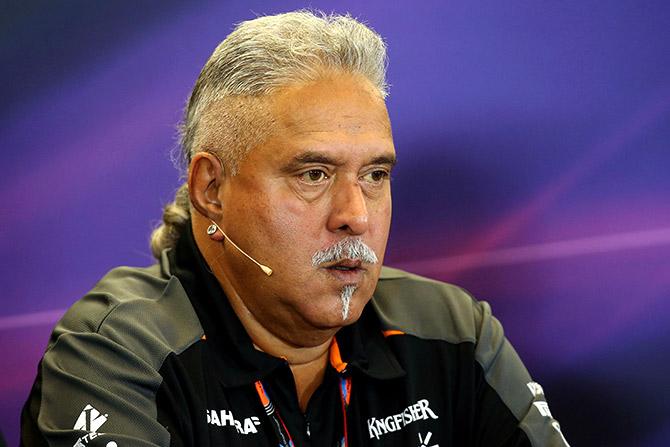 Image: CBI had registered a case against Mallya. Photograph: Reuters
Liquor baron Vijay Mallya, facing probe in a loan default case of IDBI bank, apparently managed to leave the country in spite of a look-out notice against him by CBI.
The agency has also asked the rest of the 17 banks which had given loans to now defunct Kingfisher Airlines to declare these loans as fraud, on the lines of IDBI bank, after which it can take over probe in their cases as well.
CBI sources claimed the agency had taken all legally-permissible precautions including issuance of look-out notices to all exit points from the country to prevent any such move on part of the Rajya Sabha MP but he still managed to escape.
The sources said look-out notices are issued to alert immigration authorities to prevent any move of a person facing probe from leaving the country.
SBI, which leads the consortium of 17 banks that lent money to the grounded Kingfisher Airlines, had moved DRT in Bengaluru against the airline's chairman Mallya in its bid to recover over Rs 7,000 crore (Rs 70 billion) of dues from him.
"We cannot arm twist a bank in terming a loan default as fraud. We can only advice them which we have done. It is up to banks now to give us complaints based on which we can act," a senior official said.
CBI had registered a case against Mallya, Kingfisher Airlines, Chief Financial Officer of the airlines A Raghunathan, and unknown officials of IDBI Bank in its FIR alleging that Rs 900 crore (Rs 9 billion) IDBI loan was sanctioned in violation of norms regarding credit limits on the basis of complaint received from the bank.
Clarifying his position in the loan owed by KFA, Mallya in a recent statement had said after the closure of the airline, since April, 2013, the banks and their assignees have recovered, in cash, an aggregate of Rs 1,244 crore (Rs 12.44 billion) from sale of pledged shares.
"In addition an aggregate of Rs 600 crore (Rs 6 billion) is lying deposited in the Karnataka High Court (since July, 2013) and a further sum of Rs 650 crore belonging to United Breweries Holdings has been deposited in the Karnataka High Court since early 2014, being sums realised from the sale proceeds received by United Breweries Holdings from the sale of shares in United Spirits to Diageo Plc in July, 2013," he had said.
"Thus, the aggregate cash recovery/security available is Rs 2,494 crore (Rs 24.94 billion)," Mallya said.
The Attorney General on Wednesday informed the Supreme Court that Mallya has left the country a week ago. "I spoke to the CBI little while ago and it told me that on March 2 he (Mallya) left the country," Mukul Rohatgi told the bench comprising justices Kurian Joseph and R F Nariman.
The bench issued notice to Mallya and sought his response within two weeks on pleas filed by a consortium of banks seeking direction for freezing his passport and his presence before the apex court.