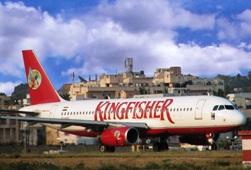 Kingfisher Airlines chairman Vijay Mallya gave guarantees worth Rs 5,904 crore (Rs 59.04 billion) for the carrier's loans and other liabilities in 2011-12, but did not get any commission for the same because of lenders' opposition.

While guarantees given by Mallya fell from Rs 6,156 crore (Rs 61.56 billion) in the previous year 2010-11, the guarantees provided by Kingfisher's holding and associate companies rose from Rs 8,863 crore (Rs 88.63 billion) to Rs 8,926 crore (Rs 89.26 billion) in this period.

Mallya had got a commission of Rs 51 crore (Rs 510 million) for these guarantees in 2010-11, but the airline has said that payment of such commissions has been withdrawn after directions from the consortium of its lenders.

As per the company's latest annual report 2011-12, sent to shareholders last evening ahead of their annual general meeting on September 26, the airline did not make any payments to Mallya during the fiscal.

On the other hand, remuneration paid to its CEO Sanjay Agarwal nearly doubled from Rs 2.12 crore (Rs 21.2 million) to Rs 4.01 crore (Rs 40.1 million) although the total employee remuneration fell marginally by one per cent to Rs 669.5 crore (Rs 6.69 billion) on account of lower headcount.

Kingfisher said its headcount fell by 1,651 people or 22 per cent to 5,696 in the last fiscal and the carrier is planning further measures for optimising its 'human resources utilisation'.

Writing on behalf of the company's board, chairman Mallya said in the 'Report of Directors for the year 2011-12' that Kingfisher is working on a 'holding pattern' basis with limited operation, pending policy changes.

"Due to the current situation, your company is operating as a 'holding pattern' with limited operation, pending policy changes which are in the offing," Mallya said.

In aviation parlance, an aircraft is said to follow 'holding pattern' when it makes several mid-air turns waiting for a clearance to land, or to avoid hitting other plane.

Kingfisher's net loss more than doubled to Rs 2,328 crore (Rs 23.28 billion) in 2011-12, from Rs 1,027 crore (Rs 10.27 billion) in the previous year.

Its total long-term borrowings stood at Rs 5,695 crore (Rs 56.95 billion) as on March 31, 2012, down from Rs 6,306 crore (Rs 63.06 billion)
a year ago.
Besides, it had short-term borrowings of Rs 2,335 crore (Rs 23.35 billion) at the end of 2011-12, up from Rs 604 crore (Rs 6.04 billion) as on March 31, 2011.
For these loans, the airline has used as security all its movable assets, trademarks, 'goodwill' of the company, credit card and other receivables and a mortgage on Kingfisher House.
The airline said the the government is actively considering relaxing FDI norms to allow foreign airlines to pick up equity in domestic players, after representations made by it and other domestic carriers.
"This change in policy could provide your company with widened access to equity capital and potential to induct strategic partners," the airline told its shareholders.
Mallya said India's airline industry is currently exposed to one of the toughest operating environments and is expected to struggle with profitability pressures, with one of the highest prices for jet fuel across the world, rupee depreciation and high cost of borrowing.
"The government of India is in the process to usher in fiscal measures and reforms that will make the operating environment more conducive for profitable business," he said.
He also said that the government is in the process of modifying the foreign direct investment policy that will allow foreign airlines to invest in Indian carriers.
Kingfisher said its 'employee relations remained cordial'.
In recent months, there have been various reports about Kingfisher staff abstaining from work due to non-payment of salaries on time, thus affecting the airline's operations.
On the heels of a strike by its pilots demanding salaries, a section of engineers did not report for work on Monday protesting non-payment of March salaries.
Listing out the measures proposed to be reviewed and undertaken to maximise its profits and cut losses, Kingfisher said it would be 'optimising human resources utilisation'.
Other such measures include phased capacity re-induction, transitioning to a single brand offering, strengthening route structures and reconfiguring aircraft for productivity, revising sales and distribution reach.
Improving aircraft utilisation and schedule efficiency, focusing on driving revenue premium through yield management and a comprehensive review of costs across key functions are also proposed.