The Indian information technology industry is familiar with mergers and acquisitions (M&A) and if one goes by the participation the topic received at the 19th edition of the Nasscom Leadership Summit, it seems 2011 is going to be action-packed.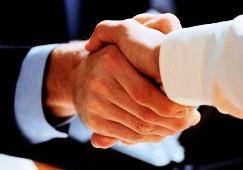 Even going by January's deals, the IT & IT-enabled services (ITeS) segment has emerged as the largest ranking sector in inorganic strategy.

According to Grant Thornton's January data, IT & ITeS tracked the highest in terms of value, with the industry investing $1.2 billion in M&A over 12 deals.

The sector also led the chart in terms of investment from private equity firms.

"The deal activity for the new year has started with a significant momentum, with the overall deal value at over $2 billion including two M&A deals worth $800 million closing during the month of January. IT & ITeS has come back as the largest ranking sector on the M&A deal value, as well as volume.

We have also seen several mergers and group restructuring transactions during this month, where absolute deal values cannot be reported," said C G Srividya, partner, Specialist Advisory Services.

Take Tata Consultancy Services. The company has said it was eyeing acquisition in the $500-million and above segment. N Chandrasekaran, CEO, said, "We have been looking at acquiring new skills, specifically in new platforms like cloud computing where we see the industry moving in. We would like to acquire these firms, as it makes sense in our ecosystem."

But, he adds, M&As in 2011 need to be looked very carefully, as capital needs to be carefully deployed by Indian companies.

Driving factors

Industry experts and participants also agreed M&A will tend to change, as the industry looks at re-drawing strategy. R 'Ray' Wang, principal analyst and CEO, Constellation Research, believes it might make sense for companies to look at inorganic strategy to grow non-linear initiatives.

"Every company is talking about cloud and it is a reality but they are still far from the actual work. The good news is that they have realised this and are building their infrastructure. In terms of their readiness, they are probably 12-18 months away from some of the global players.

In terms of acquisition, I think it does make sense to focus on three areas. First, they could acquire firms that are into cloud servicing. Two, the targets could be product providers on the cloud. A third could be looking at acquiring cloud centres or data centres, though this could be an expensive one," he added.

Aegis, the business process outsourcing arm from the Essar Group, that has done 15-odd acquisitions in recent years, believes in buying firms that have disruptive capability.

"I think we as a industry have been focusing more on the services segment. One fallout is is that we tend to ignore white spaces within our strategy that have potential to be disruptive in the future. We ourselves are looking at acquisition targets that can give us some white space to give non-linear thrust," he added.

Agrees Pramod Bhasin, President and CEO, Genpact. "Most of us want to buy. But we want to acquire something that adds to scale and not my topline. We'd rather buy something new in insurance or technology capability that we don't have.

Spending money on another me-too type of company does not make sense. We would like to acquire a niche firm or an IT firm that gives me a new platform approach."

Expectations

B V R Mohan Reddy, founder-chairman, Infotech Enterprises, said the company had marked $100 million for the inorganic route.

"We will acquire at least two firms. We know the verticals that we are going after -aerospace engineering services and network engineering and we are also clear about how much we will spend for inorganic growth."

"I think the IT-BPO space in 2011 will see high inorganic momentum. I will not be surprised if the cumulative transaction value for the IT services segment alone hits more than a few billion dollars.

While the large deals like iGate-Patni will be few and far between, the focus would be driven by three factors - access to IP and technology platforms, access to new capabilities and, lastly, for  geographic expansion," said Amit Singh, head of IT and outsourcing practices at Avendus.