Durable goods companies and retailers say online sales won't compensate for the fall in offline sales.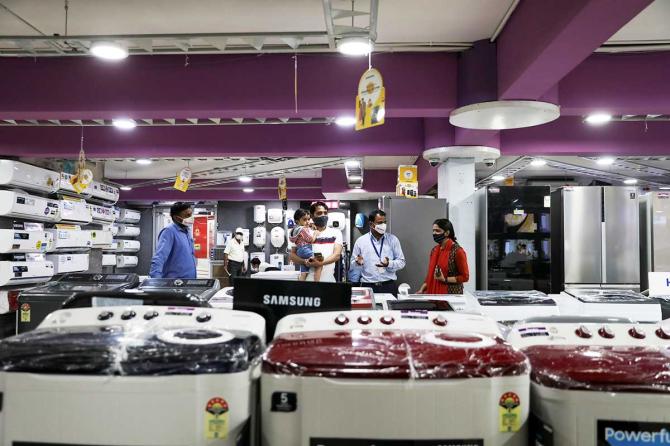 Restrictions, curfews, and partial lockdowns in various states amid a continuing surge in cases have plunged retailers, car makers, and consumer appliance manufacturers into despondency.
The timing could not be worse.
April is a crucial month in the consumer appliance annual calendar since it kicks off their summer season sales.
Almost 10-15 per cent of home appliance sales in the June quarter are contributed by April alone.
"The COVID-19 surge across states is certainly worrying us," said Manish Sharma, president and CEO, Panasonic India and SA. "We are monitoring it very closely right down to the district level across regions."
The company is aligning its inventory levels accordingly to ensure minimum disruption in the supply-chain in places where there are localised lockdowns.
With localised lockdowns in key states such as Maharashtra which constitutes 10-15 per cent of industry sales, the movement of people and goods has been curbed and sales of air conditioners, fridges and coolers have taken a hit, despite the heat.
Eric Braganza, president, Haier Appliances India, said sales will definitely suffer because of the retail lockdown in Maharashtra.
"This year will be a challenge because of the restrictions," says Braganza.
Both durable goods companies and retailers say that online sales will not be able to compensate for the fall in offline sales.
"While digital adoption has grown, it cannot compensate for offline sales," said Nilesh Gupta, director, Vijay Sales, a popular consumer durables retailer in Maharashtra, Gujarat and other parts of the north.
"All non-essential retail is shut and we have nearly half our stores in Maharashtra alone."
At Daikin, the only thing left is hope that some restrictions may be lifted.
"We have already been dealing with challenges such as input cost-led price hikes. Now these localised lockdowns. We are hoping some of the curbs may be eased, otherwise harvest period sales will not take off," said Kanwal Jeet Jawa, managing director and CEO, Daikin India.
Given the strong underlying demand for personal mobility, auto companies are hopeful that the festive season will accelerate demand.
Auto sales have been advancing month-on-month since October and most firms reported a 100 per cent jump in March in wholesale volumes, on a low base of last year.
But the revival will get a booster shot only if the dealerships are allowed to function.
Shashank Srivastava, executive director at Maruti Suzuki India, said the overall bookings have been strong and he did not expect weekend lockdowns to impact sales too negatively but there was a 'lurking fear' of a harsh lockdown.
"Cars being a discretionary good, the demand gets disproportionately impacted by any change in sentiments," he said.
Vinkesh Gulati, president of the Federation of Automobile Dealers' Association, warns that if Maharashtra doesn't lift the curbs and the state remains under the harsh lockdown, overall volumes will dip by 11-12 per cent.
"As of now, though, we are positive and hoping to match April 2019 registration volumes this year," said Gulati.
A total of 250,000 passenger vehicles and 3.5 million two wheelers were registered in April 2019.
His hope is only be possible if commercial establishments are allowed to function, albeit with restrictions and a blanket lockdown is avoided.
Over at real estate firms, the mood is much more upbeat, buoyed by the belief that the second coronavirus wave and the upcoming festivals will add further heft to the recovery seen in the last six months.
People living in rented homes are looking to buy their first home and those in small homes are looking to buy a bigger one.
"I don't think the pandemic will have any negative impact on festive sales. Even today we are getting enquiries and we expect closures soon," said Niranjan Hiranandani, managing director, Hiranandani Communities.
Sales have been very good for real estate in the last six to seven months, especially because of people wanting more spacious homes, he said.
Based on a strong order book, Hiranandani expects his firm's residential sales to be 29 per cent higher in April this year compared with 2019.
Kamal Khetan, chairman at Sunteck Realty echoes a similar sentiment. "People want to buy larger homes, luxury homes and those staying on rent want to buy their own homes," he said.
Expressing a contrary view, Gulam Zia, executive director at Knight Frank India, said he expected the current restrictions in Maharashtra to have a severe impact on festive sales.
"The common man will be confused regarding registration, opening of offices and so on. Today, restrictions in Maharashtra are similar to those in April last year," said Zia.
*Kindly note the image has been posted only for representational purposes.
Feature Presentation: Ashish Narsale/Rediff.com