Customers need to weigh whether they will be better off selling their mutual fund holdings or taking a loan against it.
Priyadarshini Maji and Sanjay Kumar Singh report.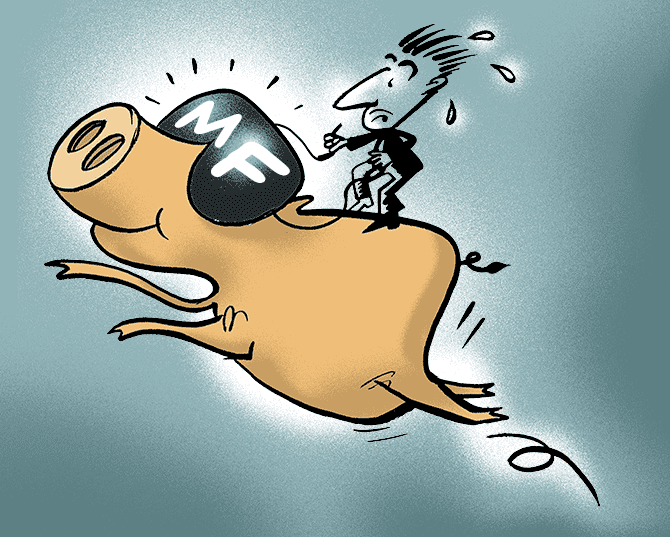 HDFC Bank, in partnership with CAMS -- a registrar and transfer agent (RTA) -- has launched a digital loan facility wherein bank customers can borrow against mutual funds (MFs) in their portfolio.
While the facility for loan against MFs is already available, the HDFC-CAMS overdraft (OD) facility is entirely online.
Currently, this facility is available only to those who hold MF schemes of one of the 10 fund houses for which CAMS is the RTA.
"We plan to add more fund houses in the future," says Arvind Kapil, group head of unsecured loans, home, and mortgage loans, HDFC Bank.
This facility can be availed through the bank's net banking portal. The whole process can be completed online, and requires no documentation.
"If the same process is done offline, it will take at least five to seven working days," adds Kapil.
The interest rate is 10.5% to 11% per annum. Customers also have to pay a processing fee of Rs 1,499.
The loan-to-value ratio will be 80% for debt funds and 50 per cent for equity funds.
"The OD facility can help customers tide over emergency situations that require instant cash. Availing of other loans could take more time," says Amar Pandit, founder, HappynessFactory.in
HDFC Bank claims that loan disbursement will happen within minutes.
Since this is an overdraft facility, you can borrow money repeatedly.
This facility can prove useful to those who can't sell their investments.
"You may have invested in a fixed maturity plan (FMP) or an ELSS fund that has a lock-in. Or you may have invested in a product that is yet to cross the exit load period, or you may have to pay short-term capital gains tax if you sell now. In such circumstances, the OD facility can be useful," says Deepesh Raghaw, founder, PersonalFinancePlan.in, a Sebi-registered investment advisor.
Note that since this is an OD facility, the amount you can borrow can be reduced if the value of your mutual funds falls in a declining market.
Customers need to weigh whether they will be better off selling their mutual fund holdings or taking a loan against it.
"Only an equity fund portfolio will generate the level of interest being charged for this OD facility. If you do not want to disturb your long-term portfolio to meet a short-term liquidity need, use the OD facility," says Pandit.
In the case of equity funds, take into consideration the level of the markets.
If they are low, selling could entail a loss.
According to Raghaw, "Debt funds won't generate a 10.5% to 11% return. In their case, selling may be a better idea."
He says the decision to borrow, rather than sell the investment, can only be justified if the asset earns more than 11%.
Several other loan options for availing of quick cash are available.
A personal loan gets sanctioned quickly and may cost you almost the same or slightly higher if you have a good credit history (interest rate range is 10% to 24%).
A loan against property will cost you less, but the documentation involved is tedious and not worthwhile if you require a small amount.
A loan against gold is another option, but here the valuation and other processes take time.
An offline loan against mutual funds takes around five to six days to process.
Finally, financial advisors warn against borrowing to invest.
"You may avail of this facility for a temporary period, but borrowing to invest is not a sound strategy for the long term," says Pandit.
Illustration: Dominic Xavier/Rediff.com