Some of the workers claimed they were entitled to draw salaries of SGD 2,200 to SGD 3,300 per month but were paid only SGD 900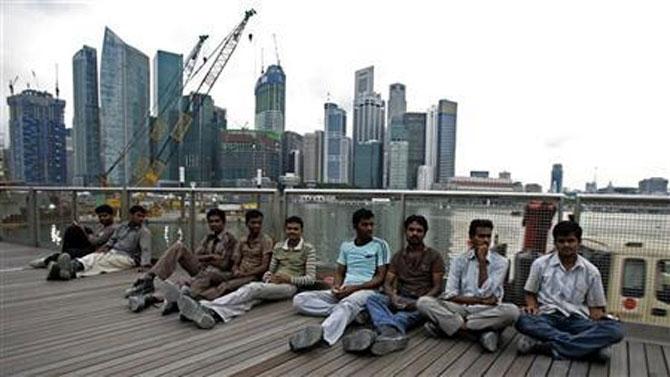 Image: Indian workers on their day off sit on an outdoor viewing platform at Marina Bay Sands integrated resorts in Singapore. Photograph: Tim Chong/Reuters
Singapore is investigating several employers for not providing proper accommodation and salaries to foreign workers, including Indian nationals.
"Our initial assessment is that the (accommodation) units are overcrowded and we are investigating several employers for failing to ensure that their foreign employees have acceptable accommodation," The Straits Times today quoted a Ministry of Manpower (MOM) spokesman as saying.
The spokesman added that the Ministry was also looking into the claims of some workers who said they were owed salaries.
The investigation follows a hotline call from a worker to the Migrant Workers' Centre (MWC), a non-government organisation for foreign workers.
MWC checks found some 16 Indian nationals were living in a zinc-roof hut on the backyard of an apartment block and another check found some 50 construction workers from India and Bangladesh were crammed into two apartments which regulatory-wise were meant for eight persons per unit.
Rotting food, soiled clothes and bags were strewn on the grimy floor of the apartments at Selegie Centre near Little India, a precinct of Indian origin businesses, pubs, restaurants, hotels and motels.
The men slept shoulder to shoulder on the floor or on wooden boards along the corridors outside the apartments. The walls were stained brown and cabinets were broken, while a damp stench permeated the hallways, the report said.
Some of the workers living in the hut in Geylang Lorong 8 claimed they were on Employment Pass and S Pass which draws professional level salaries of SGD 2,200 to SGD 3,300 per month but were paid only SGD 900.
"My agent promised me a salary of SGD 4,800 per month. But I get only SGD 900 and my boss hasn't paid me for many months. I have been cheated," the Singapore daily quoted a worker who has a degree in engineering from India.
All the workers are from Harri Construction & Maintenance, whose manager Nallusamy Narayanan has dismissed their claims.
He said the workers are unhappy because they want three-day off per week but the offer is for only one day.
"I want them to stay in proper dormitories. But they want to stay in Selegie because it is near Little India. They like Geylang, because you know, there are girls there and they can drink," said Nallusamy, a Singapore permanent resident from India.
He also blamed the workers for drinking and causing trouble in some other accommodation areas.
Nallusamy confirmed that some of his workers had complained to MOM that he owed them salaries.
"But later, I paid them their salaries. I don't owe them any money now," Nallusamy was quoted as saying.
The report said that employers found guilty to failing to provide acceptable accommodation can be fined up to SGD 10,000, and or jailed for up to 12 months.